Sell
Brooklyn's median price slips but sellers are doing better than in Manhattan
After nearly two years of hitting new records, Brooklyn's median sales price falls by 1 percent
Bidding wars in Queens accounted for nearly one fourth of all closings
The number of listings in Brooklyn, Queens, and the Bronx continue to fall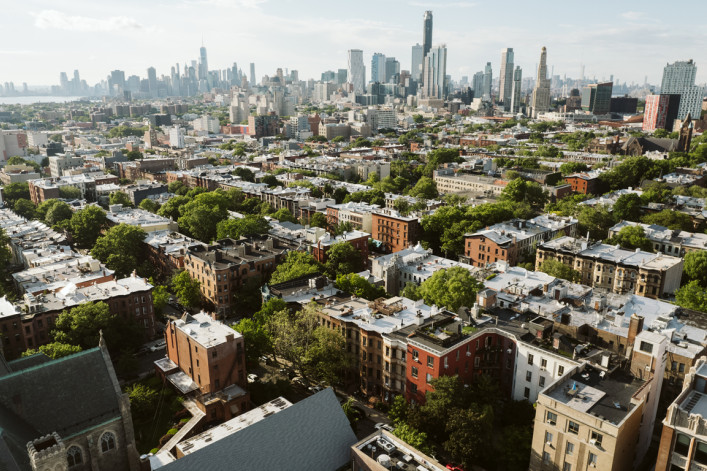 If you sold a place in Brooklyn during the last quarter, you probably got less than you wanted, but at least you're doing better than your counterparts in Manhattan, where the median price fell more precipitously.
In the fourth quarter of 2022, Brooklyn's median sales price slipped quarterly for the first time in eight quarters to $950,000. It was a decline of 0.9 percent from $959,000 in the third quarter, according to the latest edition of the Elliman Report, which covers Brooklyn, Queens, and the Bronx. 
After nearly two years of hitting new records, it was still the second-highest median sales price on record and represents an increase of 1 percent compared to the fourth quarter of 2021.
One major factor behind the recent price drop: Sales activity is slowing in Brooklyn amid economic concerns. The number of sales fell 26.5 percent compared to the third quarter and 19.1 percent year over year.
But if you look back farther, Brooklyn's median price is up 18.8 percent over pre-pandemic levels, and is the third-highest since tracking began, going back to 2003, according to Jonathan Miller, president and CEO of appraisal firm Miller Samuel and author of the report.
"Brooklyn is showing a little bit more pricing strength than Manhattan," Miller says, pointing out that Manhattan's median price year over year is down 5.5 percent and compared to the pre-pandemic period is only up 10.2 percent.
He notes Brooklyn saw a year-over-year rise in median price of 1 percent, "which is not keeping up with inflation," Miller says, adding that the Brooklyn and Queens real estate markets experienced demand similar to what the suburbs saw during the pandemic, while Manhattan took longer to bounce back.
Bidding wars in Brooklyn rose to a new record in the fourth quarter, according to the report, reflecting nearly one-third of all closings. The number of listings on the market fell again, after rising year over year for five quarters. 
In Queens, sales volume fell 2.9 percent, and the median price fell 2.5 percent to $700,000, both comparisons are year over year. The median price was up slightly compared to the previous quarter, but it didn't reach a new record as it has five times in the past seven quarters.
Bidding wars in Queens accounted for nearly one fourth of all closings and the number of listings fell annually for the fifth straight quarter, remaining below pre-pandemic levels, according to the report
For the Bronx neighborhoods of Fieldston, Hudson Hill, North Riverdale, and Spuyten Duyvil, the median sales price fell 2.7 percent year over year to $355,000 and the number of sales was down 24.5 percent compared to the previous year. As in Brooklyn and Queens, listings in these Bronx neighborhoods also fell, dropping 12.5 percent compared to the year-ago quarter.
Low numbers of listings prop up prices
Low inventory levels will be an important protection for the NYC market in the months to come.
"We don't know if there will be a recession and if there is, how hard it will hit, but right now the local economy is strong and because inventory is not bloated, pricing is still flirting with records," Miller says.
Corcoran also unveiled its fourth quarter report for Brooklyn and highlighted the impact of falling inventory.
"There has been a lack of available homes in the borough for five consecutive quarters, with inventory [in the fourth quarter] hitting its lowest level since 2013. This means competition in prime Brooklyn neighborhoods remains high. Many buyers are looking for value, which has driven the overall median price—and the level of lower-priced inventory—downward," says Michael Sorrentino, senior vice president and New York general sales manager at Corcoran. "For example, the number of active listings between $350,000 and $750,000 saw almost a 20 percent drop."
The problem with comparing 2022 to 2021
Miller points out that comparisons to NYC's 2021 real estate markets are problematic. "Last year was a rocket ship," so certain metrics may be distorted. Comparisons to pre-pandemic conditions are more helpful in determining the outlook for NYC.
"The market from a price standpoint is stronger than it was pre-pandemic. Inventory is less than it was pre-pandemic and sales are up. Those are the three points that are consistent across the three boroughs," Miller says.
Gregory Heym, the chief economist for Brown Harris Stevens, which also released fourth quarter market reports from for Brooklyn, Queens, and Riverdale, also notes the challenges of comparing 2022 to a banner year. Last year saw a spike in mortgage rates, a troubled stock market, and a 40-year high for inflation. "But the market still looks a lot more like 2019 than 2009," he says, referring to the Great Recession.
Similar to Manhattan in the fourth quarter, Brooklyn buyers favored smaller apartments, leading to the average size falling by 6 percent, as per Heym.
Luxury condos catch up to townhouses
According to a fourth quarter report from Compass, co-ops were hit the hardest in Brooklyn, with a 21.7 decline in sales. Buyers favored condos and houses and prices were up for both with the average price for a house in Brooklyn reaching $1.4 million. 
The North Brooklyn neighborhoods of Greenpoint and Williamsburg were a bright spot, thanks to new developments with larger units. Sales volume there rose 4.9 percent compared to the previous year, the only submarket to see an uptick, according to Compass.
Looking ahead, the report predicts Brooklyn is well equipped to weather a downturn thanks to its diverse housing stock and broad range of price points.
SERHANT also released its market reports for Brooklyn, Brooklyn new development, and Long Island City covering the fourth quarter of 2022. Garrett Derderian, director of market intelligence at SERHANT, notes that the luxury threshold, representing the top 10 percent of transactions, had an entry point of $2,198,000, up 7.2 percent from the fourth quarter last year, but down 6.5 percent from the third quarter of 2022. Luxury sales are divided as follows: 42 percent condos, 55 percent one-three family homes, and 3 percent co-ops.
While townhouses in Brooklyn Heights and Park Slope have historically netted the highest prices in the borough, luxury condos in waterfront neighborhoods like Dumbo, Williamsburg, and now Greenpoint "are taking almost an equal market share at this point," Derderian says.
Brick Underground articles occasionally include the expertise of, or information about, advertising partners when relevant to the story. We will never promote an advertiser's product without making the relationship clear to our readers.