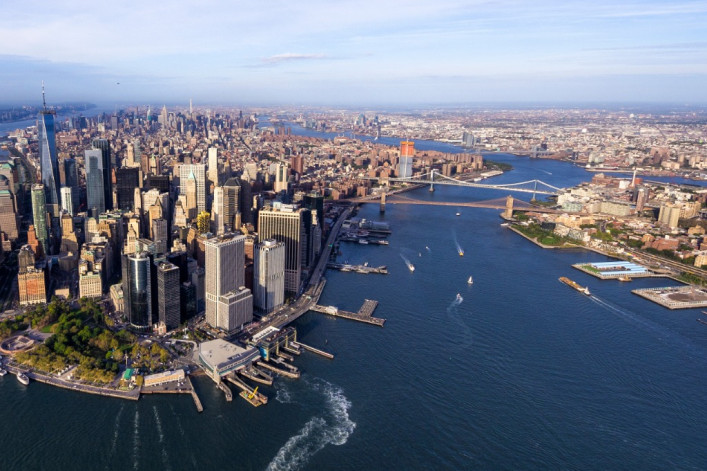 Amid the seemingly innumerable things to consider and decisions to make when you're moving to New York for the first time is the question that, in the end, is the most important of all: Where to live—starting with which borough?
"Most newcomers move to either Manhattan or Brooklyn," says Robert Doernberg, senior managing director at Corcoran. "The price gap between the two boroughs is smaller than ever, but there are plenty of differences in vibe, inventory, and commutability."
So how to pick between two boroughs with justifiably awesome reputations? Choosing where to live depends on a number of factors specific to your situation, but there are ways you can narrow the search for yourself.
Decide what to prioritize
"So many people are moving to neighborhoods that are brand new to them," says Kristin Neinast, an agent with Corcoran in Brooklyn's Park Slope. "It is our job to educate them on the different areas."
That said, before you even interact with a real estate agent, consider what lifestyle factors matter most to you. Here are a few to consider: vibe, walkability, green space, cultural scene, leisure activities, community, food options (from cafes and restaurants to grocery stores and bodegas), commutability (not just for you but for friends and visitors), and aesthetics. Once you connect with an agent, he or she help you hone your list and show you places that fit your criteria.
"I ask people: What are your hobbies? What do you do in your spare time? How do you like to relax in your own home? What is the ideal thing for you to do when you get home?" says agent Asaf Bar-Lev, who works from Corcoran's Chelsea office and specializes in sales in Tribeca, the Financial District, and Prospect Heights. "I always build a matrix for everybody. You might not be able to tick all the boxes, but we are a big team, and we know every neighborhood, every condo, every co-op, so we know right away what's the right fit."
Is it more important to you to be able to walk to work or have a larger living space? Do you cook often or do you plan to eat out most nights? Would you prefer to live near friends and family, or in an area with an active nightlife? Is your commute to downtown Brooklyn or Midtown Manhattan?  How long—and what type—of a commute are you looking for?
"I try to ask questions that get to the heart of what they really need versus what they really want," says Caroline Bass, an agent in Corcoran's West Side office in Manhattan. "Probing lifestyle questions will help me in advising on neighborhoods and price points for those who haven't lived here before."
It also helps to prioritize the amenities you currently have and determine what you might be willing to compromise on. Maybe you'd be willing to forego a doorman or an in-unit washer/dryer if it gets you more space or a shorter commute.
What kind of building do you want?
A corollary to the amenities question is: what type of building do you want to live in? Generally speaking, Manhattan is famous for its skyscrapers and townhouses, while Brooklyn is known for loft spaces and brownstones, though you can find almost any type of inventory in either borough. An in-the-know agent can tell you about the architecture in certain locations.
"In Manhattan, Soho and Tribeca have more loft residences, so if you're looking for large, open spaces, that's a good area to concentrate in. The Upper East Side and Midtown East are full of post-war doorman buildings, so if you want 24-hour security and no wasted space and big rooms, those neighborhoods are a good bet. If charming prewar apartments are your thing, in the Upper West Side you'll find more mid-rise buildings with foyers, fireplaces, and high beamed ceilings," says Bass.
Looking in downtown Manhattan? Be prepared to see a lot of walkups in Greenwich Village, as tenant-style architecture is ubiquitous in those neighborhoods. And in the Financial District, you'll find towering skyscrapers with luxury amenities, stunning views, and higher prices.
Contrast this with Brooklyn.
"You'll find beautiful examples of famous Brooklyn brownstones in rows on tree-lined streets in neighborhoods like Park Slope, Fort Greene, and Bed-Stuy," says Doernberg.
Williamsburg, meanwhile, has great diversity in housing: "You'll find prewar buildings and townhouses in the heart of the neighborhood, and loft spaces and new luxury construction along the waterfront," says Doernberg. "To the north, Greenpoint is quieter and more family-friendly, with similar inventory and more mid-rise buildings."
South of Prospect Park, you can find single-family homes with outdoor space in Windsor Terrace and Kensington, and stunning Victorians sharing geography with prewar co-ops in Ditmas Park. Downtown Brooklyn looks a lot like lower Manhattan, while Dumbo has tons of converted warehouse space.
One big financial advantage to buying in Brooklyn in Manhattan: The property taxes for Brooklyn apartments and brownstones are usually much lower than for Manhattan properties.
What are your commuting needs?
One of the first things you'll learn after moving to NYC is that getting around the city has only a glancing relationship with physical distance; things like subway access, frequency of trains, and traffic are much more determinative. Dealing with the subway is a frequent topic of discussion, and for good reason: it's one of the great unifying experiences of every New Yorker, for better or worse.
While several lifestyle factors will determine what your commuting needs are, the most influential one is where you work. "If someone is being relocated for a job, then we want to make sure their commute is on the top of the list," Neinast says.
"Generally speaking, subway coverage declines the further north you go in Manhattan and the further south and east you go in Brooklyn, though this can also work in your favor, since prices drop accordingly and you may still be able to find an apartment near the line you ride to work,"  says Doernberg.
If you're more than 5-10 minutes walking distance from the train, ask your broker or check online to see about alternative means of transportation, such as buses, Citi Bike, or increasingly, ferries. And remember that the subway map is often theoretical: many lines have altered service on nights and weekends, and/or delays and detours due to maintenance. Your agent can help you prepare for multiple scenarios, and you can stay abreast of scheduled work on any subway line by checking the MTA's website.
What kind of lifestyle are you after?
"Typically, where you live is where you spend most of your time after work and on the weekends, so keep that in mind when choosing where to move," Bass says.
The short version is that many Brooklyn neighborhoods have a more open, spacious, residential feel; the buildings aren't as tall and the streets tend to be wider. But if you crave the fast-paced NYC lifestyle and proximity to world-class cultural institutions, nothing beats living in Manhattan.
That's not to say you won't see strollers on tree-lined streets in many Manhattan neighborhoods, where you'll get to know your neighbors on weekends in the park. And Brooklyn has its fair share of nightlife hotspots and cultural lodestars, from crowded bars and nightclubs in Williamsburg to the Brooklyn Museum near Prospect Park. (Both boroughs are tremendous foodie spots.)
"Broadly speaking, the party hubs in Manhattan include the East Village, Chelsea, Murray Hill, and the Lower East Side," says Doernberg, In Brooklyn, there's Williamsburg, Greenpoint, Bushwick. For a more relaxed vibe on the weekends, check the West Village, the UES, the UWS, and Washington Heights in Manhattan, and consider Park Slope, Fort Greene, Cobble Hill, and Carroll Gardens in Brooklyn.
Welcome to New York! Visit corcoran.com today to take the next step toward getting into the right home for all your needs.
Brick Underground articles occasionally include the expertise of, or information about, advertising partners when relevant to the story. We will never promote an advertiser's product without making the relationship clear to our readers.