With each passing primary, Donald Trump's presidential campaign seems increasingly unstoppable. Today is Super Tuesday, during which residents of 13 states vote for the Republican and Democratic candidates, and the number of people who say they'll choose Trump is higher than ever. New York's primary isn't until April 19, but the businessman and erstwhile reality show host has strong support here, at least in spirit: A recent poll indicates that voters in this supposedly blue state might elect Trump over Hillary Clinton, should they face off in a presidential election.
But what about NYC voters? To longtime city residents, Trump is hardly a novelty, the rare straight-talking, non-establishment candidate that many Americans perceive him to be. (It's hard to be an outsider with your name emblazoned on so many buildings.)
So does familiarity breed contempt or adoration—and could your neighbors be Trumpeters? Using the Federal Election Commission's disclosure reports, which detail individuals who donate over $200 to candidates, RentHop has created a map revealing each state's percentage of Trump donors.
In New York State, the infographic shows, a modest 0.81 percent of donors—238 people—gave to Trump, for a total of about $126,000 in campaign contributions, averaging $530.18 per donor. Compare that to Nevada, where the real estate titan recently won the primary with a staggering lead of 20 percentage points, and where 2.12 percent of donors gave (although thanks to Nevada's smaller population, this only amounted to a total contribution of $35,000.)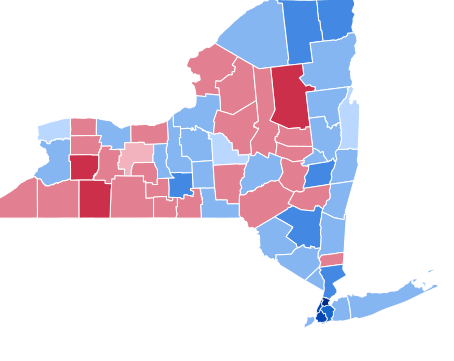 Since the numbers on RentHop are statewide, they don't tell the whole story: Upstate New York tends to be redder than the famously liberal NYC metro area. In the 2012 election, for instance, a number of counties north of the city went for Romney.
Unsurprisingly, the FEC data reveal that Trump's city-based fans are few and far between. Here's the breakdown by borough:
Brooklyn
A mere eleven donors call themselves Brooklynites—and if you live in Brooklyn Heights, Fort Greene, or Williamsburg, they may be in line behind you at the bodega, for better or for worse. 
Bronx
Move it along: zero Trump donors here.
Manhattan
Manhattan appears to be prime territory for admirers of the Donald: Of the 38 unique donors, the majority live in business-centric Midtown, with a large handful on the Upper East Side. (We wonder if any of them are Trump Tower residents.)
Queens
The twelve donors from Queens are scattered across the borough, though two of them call leafy Forest Hills home.
Staten Island
In Staten Island, Trump has 14 donors, a small turnout in what's generally considered the most conservative of NYC boroughs. (In the 2008 presidential election, 52 percent of S.I. voters elected John McCain.)
Before you draw any conclusions about how this reflects on your favorite neighborhood, remember that the number of NYC donors to the Trump campaign is very moderate, in light of the almost 400,000 people across the country who have made significant contributions. 
Brick Underground articles occasionally include the expertise of, or information about, advertising partners when relevant to the story. We will never promote an advertiser's product without making the relationship clear to our readers.