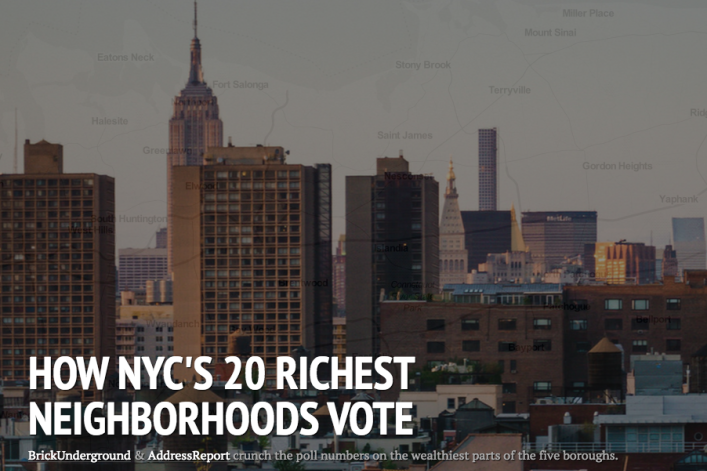 We've all got plenty of nosy questions about our neighbors, and this is especially true if we suspect they're filthy rich. (Or have a parent chipping in on the rent.) And with midterm elections in the rearview mirror and presidential debates heating up, we thought we'd ask the million dollar question: How do New York's rich people vote, anyway? 
We asked data site AddressReport to comb through the numbers, and they pulled info on the 20 neighborhoods in the city with the highest median incomes. "The list of top-earning NYC neighborhoods leans far more Republican (17 percent, on average) than do the neighborhoods' underlying boroughs—no great surprise there," says AddressReport co-founder Kayvon Bina. "DUMBO and Park Slope, however, jump out as significant exceptions," he adds. "Both are higher-income than most of Brooklyn, yet both tilt far less Republican than their income data (and even their borough) would suggest." (Also, Tribeca—a neighborhood long known as more expensive than the UES—is the richest neighborhood with a median income of $201,391.)
A note on methodology: data on income was pulled from the US Census American Community Survey, and voter registration info was obtained via a FOIL request to the NY State Board of Elections.
Other points of interest: The Financial District has a relatively high percentage of voters registered as "other," raising obvious questions about whether this is the result of laissez-faire-minded Libertarian bankers or non-commital ones. Also, more generally, it's still a little mind boggling that Park Slope residents are apparently wealthier overall than their counterparts on the Upper East Side or in Greenwich village.
You can play around with the interactive map below or open it in a larger window here (highly recommended if you have a large browser window/monitor), and if you'd rather take a quick pass at the data, you can check it out in chart form here, and graph form here. 
Related:
Track income, crime, rents, and more with the NYC data map to end all data maps
Air rights map lets you know if developers may be headed for your neighborhood
New map lets you scope out your neighborhood's Airbnb situation
Brick Underground articles occasionally include the expertise of, or information about, advertising partners when relevant to the story. We will never promote an advertiser's product without making the relationship clear to our readers.