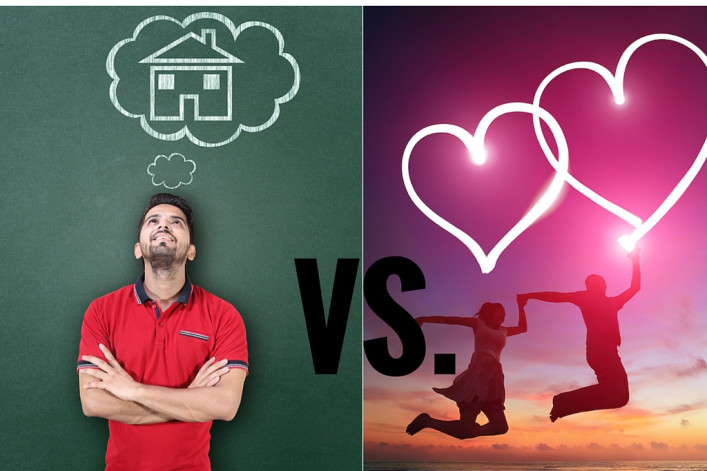 Ah! L'amour! As Valentine's Day approaches (it's next Sunday, in case you consciously/subconsciously forgot), we put six New Yorkers to the test to see where their hearts truly reside. We asked: At this point in your life, would you rather find your dream partner or your dream apartment?


Wherefore art thou? I'd rather find my dream apartment. Right now it seems like it's so much harder to find a decent apartment in a decent area in the city! —Cecilia, Inwood (pictured at left)
If you build it (or rent it, or buy it), they will come Is it weird to say I'd kind of rather find an apartment? Well, because I also think that when you've got things in order in your life, love will come. —Angela, Harlem
Real estate, real love My parents never told me I had to get married and find a husband. But they always told me I have to own my own place as soon as possible and not waste money on rent. So, at this point in my life I'm all about saving money and learning the market and I love it! —Amaya, Washington Heights


When a house isn't a home I'd definitely rather have the perfect partner. I wouldn't be able to love the perfect place if I never wanted to come home to it! I know…awwww!  Feels! —Jessie, Park Slope (pictured at left)
Lesser of two evils At this point in my life, I don't really want to be tied down by either a guy or apartment! I want to travel and be able to leave for long periods of time. I guess If I really had to choose, I'd choose to find a partner, because that would be more flexible. We could travel together. —Jennifer, Hamilton Heights
Apartments are forever Apartment for sure. You know how they say diamonds are forever? Not really. Relationships are great when it's great, but owning real estate in NYC is solid and just goes up in value. I mean, my perfect partner for life, would also be great, of course. But right now, it feels like owning real estate is more elusive. I sound like a jerk.— Brandon, Upper West Side
Verdict: True love! New Yorkers' hearts truly reside in their apartments.
Related:

How to keep real estate from ruining your love life
Brick Underground articles occasionally include the expertise of, or information about, advertising partners when relevant to the story. We will never promote an advertiser's product without making the relationship clear to our readers.