Sales Market
The season of rental deals is upon us—but what does it really mean for Manhattan renters?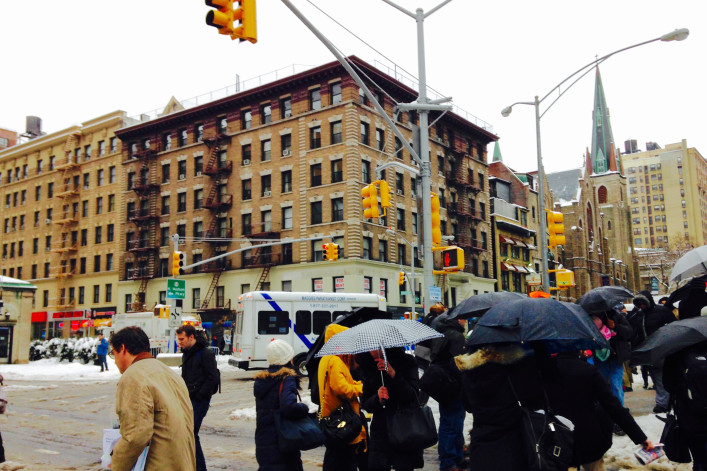 Good news for those looking to move in Manhattan over the next couple of months: The rental market won't be completely insane. (What, you were expecting us to say dead? This is New York City, after all.)
Since winter is traditionally the rental market's slow season, landlords often mark down rents a bit, or offer concessions like a free month or two in rent or a waived broker fee to get tenants in and avoid apartments lingering vacant through the holidays and colder months.
According to Citi Habitats' October 2015 Manhattan rental report, this winter is on track to be (slow) business as usual.  In October, according to Citi Habitats, the market continued to shift in the tenant's favor, with the exception of concessions, which became slightly less prevalent (though those tend to rise after Thanksgiving, anyway).
Citi Habitats found that the average Manhattan apartment rented for $3,491 in October this year, $14 less than in September. But before you break out the champagne, keep in mind that,  as opposed to last year, rents are up across the board. And this is despite the fact that, per the firm's data, the borough's vacancy rate increased (to 1.81 percent from 1.62 percent) in October.
Douglas Elliman, on the other hand, has the vacancy rate at 2.3 percent in their monthly report out today (and the average rental price at $4,096); either way, it's an increase over the month before.
"The vacancy rate has been edging up but at the same time, but at the same time landlord concessions remain low," says Jonathan Miller, author of the Elliman report. And rents remain higher. "Owners have been slow to react to rising vacancy rates, but signs are there and the rents will likely go down," says Gary Malin, president of Citi Habitats.
Right now, the most expensive Manhattan neighborhood for rentals, per Citi Habitats, is (unsurprisingly) SoHo/Tribeca (where the median rent is $5,250). The least expensive: Washington Heights (median rent: $2,000). Below 96th Street, the lowest median rent was on the Upper East Side, at $2,475. "Lower-priced apartments are seeing higher price increases and the the luxury market is seeing either slowing growth or declining rents," says Miller.
Interestingly, non-doorman buildings are seeing larger gains than doorman buildings. That could help when it comes to getting some concessions on higher-end apartments, which tend to be more generous in that regard anyway. "The number of concessions that we've seen are increasing every day," says Malin.
But Miller thinks that concessions are likely to stay low compared to last year. Sure, they'll be more common than in other seasons, but if you're looking to do much better than winter 2014, you're probably out of luck, he says.
Related:
Winter is for renters: How to get a deal in the "cheap" season 
For renters, Queens is now more expensive than Brooklyn
Major NYC landlord admits "we pushed too far" on rents—take advantage with these tips
An autumn in New York guide to rental concessions
Your landlord wants you to commit for 16 months. Should you?
Brick Underground articles occasionally include the expertise of, or information about, advertising partners when relevant to the story. We will never promote an advertiser's product without making the relationship clear to our readers.