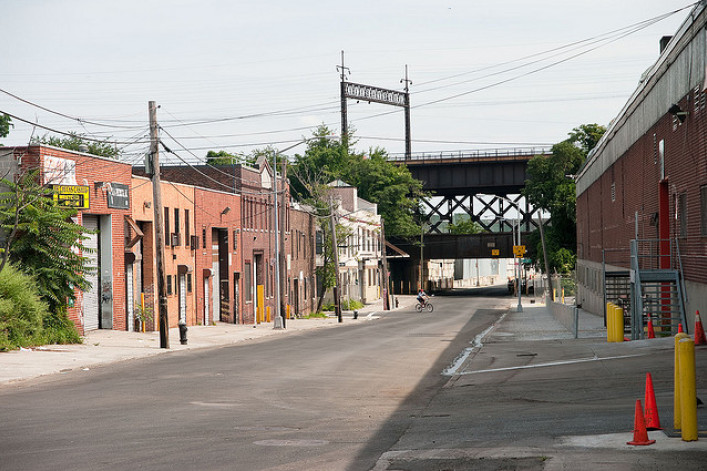 The Bronx has been the source of much hype as of late (including one ill-advised, instantly-notorious, "Bronx is Burning" theme rave hosted by developers), prompting speculators to compare it to that other much-hyped borough farther south. But in spite of aggressive moves like the effort to rebrand the South Bronx as "the Piano District," the Bronx has a long way to go before it reaches Brooklyn-level prices, status, and hype.
The Real Deal took a deep dive into Bronx's development boom in their November issue, and though there are plenty of telltale signs like spikes in subway ridership and a rush of developers trying to get in while the getting's good, the borough's still got plenty of issues to iron out before it becomes any kind of gold rush.
"Investing [in the Bronx] comes with some significant challenges," writes E.B. Solomont. "Air, land and noise pollution chief among the concerns, particularly in areas such as the South Bronx, where the borough's vast network of highways loudly deposits trucks onto local roads every few minutes." On top of that, two thirds of development sites are contaminated enough that they require some level of environmental cleanup.
Childhood asthma rates are high as a result of the pollution, and half of the borough's students live just a couple of blocks from a highway or truck route, meaning that while housing prices are cheap, quality of life issues are significant enough that the area likely won't be attracting the finicky, ultra-wealthy Williamsburg waterfront crowd anytime soon.
In fact, prices are still low enough that the borough isn't necessarily a sure thing for developers. As one told the Real Deal, "The tipping point hasn't come for market-rate housing yet. [...] The rents aren't there today, but they should hopefully be in the not-so-distant future." (We're willing to bet most Bronx residents would disagree with that use of "hopefully.") 
All of which means that if you're a developer, you should tap the brakes on your dreams of a brand-new, ultra-hip Bronx empire. But if you're a New Yorker looking for a deal on housing, you can still find it in the borough. And also, that it might be a good idea to focus on improving the Bronx's environment for all its residents before trying to cash in on luxury housing.
Related:
Air rights map lets you know if development may be headed for your neighborhood
Bushwick vs. Washington Heights: why this twentysomething would rather stay uptown
The 5 best Bronx neighborhoods to discover right now
What you need to know about 'Sobro,' and where to buy in the South Bronx for under $500k
Brick Underground articles occasionally include the expertise of, or information about, advertising partners when relevant to the story. We will never promote an advertiser's product without making the relationship clear to our readers.