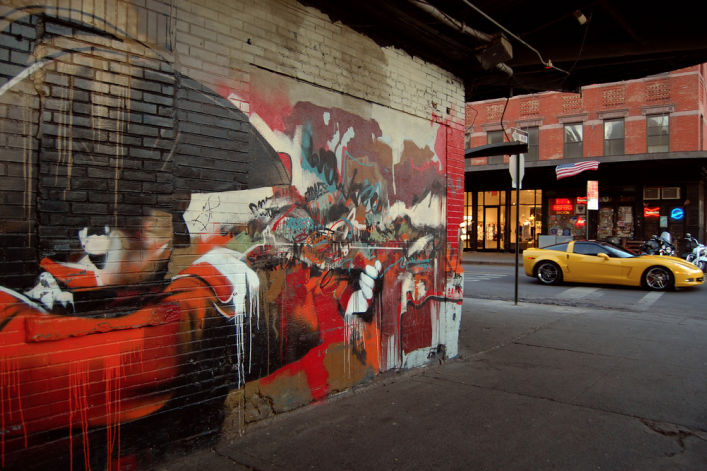 The arts aren't just key to New York City's cultural identity, they're also a significant economic engine for the city, responsible for eight percent of jobs, according to Adam Forman, a senior researcher at the Center for Urban Future, who was a recent guest on the PBS show Metrofocus. 
Forman presented findings from CUF's research on the creative industries—which include architecture and advertising, as well as dance, theater and music—that drive the city's economy, and said that compared to finance and real estate, this segment has seen "tremendous growth." Per the report: 
"New York's creative industries are also the single biggest draw for tourists, and thus a critical catalyst for growth in the city's hospitality sector. In the last dozen years, the number of tourists visiting the city rose 60 percent, from 35.3 million in 2002 to 56.4 million in 2014. Foreign visitors more than doubled, from 5.1 million annually to 12.2 million, and the number of tourists visiting cultural institutions rose from 19 million to nearly 25 million. Events like the biannual Fashion Week have attracted attendees from around the globe, generating $547 million in direct visitor spending and $887 million in total economic impact each year."
But as New York continues to grow increasingly expensive to live and work in, "affordability is a huge issue. These are not the most renumerative of fields—performing arts, visual arts." Check out the Metrofocus interview below:
He says Brooklyn used to be an "affordable haven" for artists, but no more—it's now "280 percent more expensive than Nashville, Tennessee," Forman tells MetroFocus host Jenna Flanagan.  (Student loans and unpaid internships in these fields also exacerbate the issue, he notes.)
Housing woes top the list of NYC challenges for creatives. According to the report: 
The appeal of other creative hubs is no mystery. Compared to its peers around the nation, New York City is crushingly expensive. Housing costs in Manhattan exceed those in Nashville by 473 percent, Austin by 401 percent, Philadelphia by 225 percent, Portland by 173 percent and L.A. by 114 percent. In Brooklyn, once an affordable refuge, real estate costs have now surpassed all locations but San Francisco and Manhattan. "The speed at which rents are rising, there won't be any artists here in 20 years," says playwright and puppeteer Robin Frohardt. "People can keep spreading out to Queens or the Bronx, but ultimately they want to live in a hub with a community of artists. If everyone is living on the outskirts it won't be as intense of a culture."
Because other cities like Nashville and Detroit are vying to lure creatives, Forman says NYC should pay attention and start coming with creative solutions for the need for performing, working and living spaces. If not, it may be so inhospitable it could lose its "artistic" edge.
Then again, can the unaffordability tide be turned? Watch this space.  
To read CUF's entire report, click here. 
Related:
In honor of the 2nd season of Cinemax's 'The Knick,' take a trip back to 1900s NYC
Calling all history buffs: the Museum of the City of New York's affordable housing exhibit opens today
Rent in Lightstone's massive Gowanus development for as cheap as $833/month
Brick Underground articles occasionally include the expertise of, or information about, advertising partners when relevant to the story. We will never promote an advertiser's product without making the relationship clear to our readers.