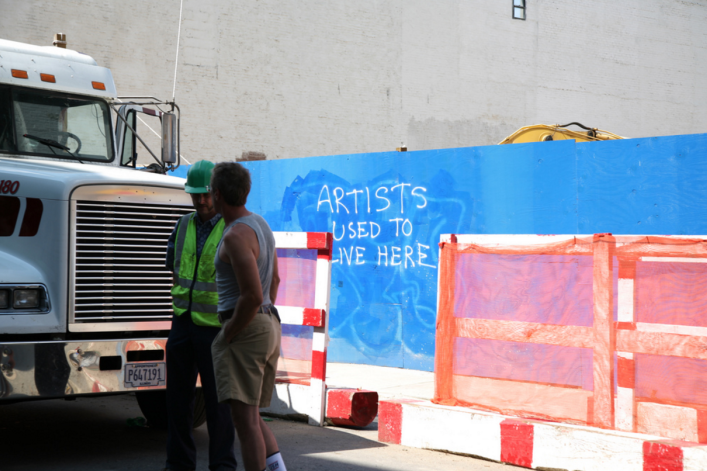 "When people think of New York," says Amanda Thickpenny, an actor who has performed with the Pearl Theatre Company, "they think of the arts—Broadway, Lincoln Center, the Met, MoMA." But the people who create that art increasingly cannot afford to live here, given the exorbitant housing and living costs. 
Even the most famous and successful of artists seem to agree. In an editorial for The Guardian, David Byrne recalled the NYC of the 70s as "a center of cultural ferment"; today, he wrote, "most of Manhattan and many parts of Brooklyn are virtual walled communities, pleasure domes for the rich… there is no room for fresh creative types." (The piece is straightforwardly titled "If the 1% stifles New York's creative talent, I'm out of here.")
And in a recent sit-down with Elle magazine, Patti Smith pointed out that in the same era, housing was much more easily had by aspiring creatives: "You can have a bookstore job and a little apartment in the East Village. There were so many of us, so many like minds. You can't do that now." 
Defining affordability
Of course, finding inexpensive housing is a struggle for more than just artists. (And, it has to be said, the 70s weren't all that kind to the city, what with hobbling budget cuts and rampant crime.) To address this, Mayor Bill de Blasio announced a plan to build 200,000 affordable units over the next 10 years. His goal, he says, is to make New York more livable for a range of people, from extremely low-income to middle-income households, who increasingly find themselves priced out. In 2015, 20,000 affordable homes were financed by the city, providing housing to 50,000, the biggest jump in 25 years. 
But further complicating the situation is the thorny question of what "affordable" really means in NYC. Risa Shoup, Executive Director of Fourth Arts Block, an organization that advances the East 4th Street arts and cultural district, says, "If you as a developer parachute into a community and want to provide affordable housing to artists, what are you doing to displace other people? For how long will it be affordable? And what is your affordability based on?"
The question we need to ask of our elected officials, she says, is this: "What kind of affordability programs are you advocating for?" 
Federal law categorizes low-income households as those earning between 50 and 80 percent of the AMI, or average median income; in New York, the 80 percent AMI for a single person is nearly $50,000—not necessarily anywhere near the typical (and lower) salary of a working artist, especially one starting out. And until the housing situation improves, the artists, writers, and performers who have long been hailed as crucial to the city's vibrancy may find themselves tempted to move somewhere less hostile to the non-wealthy; consider the essay collection Goodbye to All That: Writers on Loving and Leaving New York. 
In a mission to battle creative brain drain, Steve Buscemi has been appointed to the city's Cultural Affairs Advisory Commission, which advises the Department of Cultural Affairs on issues like enhancing diversity in the arts and improving the housing situation for artists. Surely the Brooklynite turned NYC firefighter turned actor has insights to offer on city living, but until new units become available, what other options do artists have? 
The choices and the challenges 
Thickpenny found her current apartment—a subsidized studio in the heart of the theater district, perfect for someone who goes on lots of auditions—through a non-profit called Breaking Ground. The organization's primary mission is to combat homelessness, as well as aid low-income New Yorkers—which often includes aspiring artists—in securing housing. 
Breaking Ground owns 15 buildings throughout the five boroughs, and Thickpenny's has several amenities: 24-hour security, a gym, laundry facilities, a roof garden, even a rehearsal room. But nabbing a spot wasn't easy. She had to provide her tax return and pay stubs; her bank had to turn in forms and her employers had to fill out statements about her working hours and pay rates. Then, there was an in-person interview, which Thickpenny describes as an assessment of how getting the apartment would impact her life. 
Getting into a Breaking Ground unit takes between six months and a year, due to the amount of paperwork that needs to be processed. Tenants are accepted based on their financial situation—each building has a minimum and maximum income requirement—as well as their ability to abide by the terms of the lease. Currently, seven of the organization's buildings in the city are accepting applications.
Elsewhere, the wait for artists is much longer. Westbeth Artist Housing, a complex that takes up an entire block in the West Village, stopped accepting applications after its waiting list hit the 10-year mark. So precious are its apartments that many tenants are the original residents, and have lived in the building since it opened in 1970, transforming it into a de facto retirement community. 
Uptown, Artspace PS 109, a converted school building, opened its affordable work/live units to artists last year after a decade-long renovation process. After receiving 53,000 applications for 89 spots, tenants were selected through a lottery system; doors are now closed to newcomers. Artspace has fielded plenty of criticism that its construction was too expensive and time-consuming to yield so few units, and that it may end up displacing East Harlem residents and hastening gentrification in the neighborhood.
What we have isn't enough—and a suggested fix
That tens of thousands of artists spent years vying for a spot at Artspace PS 109, only to be turned away, indicates the city has a long way to go toward providing enough affordable units to meet the overwhelming need for them. Working artists, on their own, have little recourse, and may find themselves stuck in a cycle of applying, waiting, and hoping.
To Thickpenny, the situation looks bleak. She said that when people move out of her building, it's because of its single occupancy apartments. "This wouldn't work if I had a husband and kids. If I had that, I probably wouldn't be able live in the city at all," she said.
Referring to Manhattan's many luxury towers, which often stand empty because its owners use their apartments as pied-a-terres, Thickpenny said, "If we don't fix this, New York will end up with a giant dead zone."  
Shoup noted that, given the glut of BFA and MFA programs in the city, as well as the number of major presenting, producing, and exhibiting institutions they want their work in, artists will always come to New York. "The problem is they cannot stay here because they can't afford it," she said. "It's a question of who can stay. And that's a problem with student debt, the price of housing, wages, the cost of materials, and the cost of property." 
To contend with the property side of this problem, some artists may opt to go the grassroots route. The NYC Real Estate Investment Cooperative, of which Shoup is a facilitator, proves that investing in property and respecting local communities don't have to be mutually exclusive. Participants become member-owners by making investments of at least $10, which will go toward financing permanently affordable space to support small businesses, plus social service and cultural organizations. 
In addition to the minimum investment, members sign an agreement, attend a quarterly meeting, and act in accordance with the principles of cooperation; each member gets one vote, which allows for a democratic selection of space to invest in. As of now, the group has identified six potential properties in four boroughs, and is seeking planning grants and funding for operating expenses.
It's a model that empowers, allowing individuals to act collectively and vote democratically on how to use their resources, purchasing spaces where they can create art while still honoring existing communities. Writ large, such co-ops could be one way of keeping up-and-coming talent in New York City.
Related:
What can be done to make NYC more hospitable for artists?
Calling all NYC history buffs—the Museum of the City of New York's affordable housing exhibit opens today
Brick Underground articles occasionally include the expertise of, or information about, advertising partners when relevant to the story. We will never promote an advertiser's product without making the relationship clear to our readers.