Due Diligence
Nom Wah's Wilson Tang on winning the affordable housing lottery, the best LES eateries, and more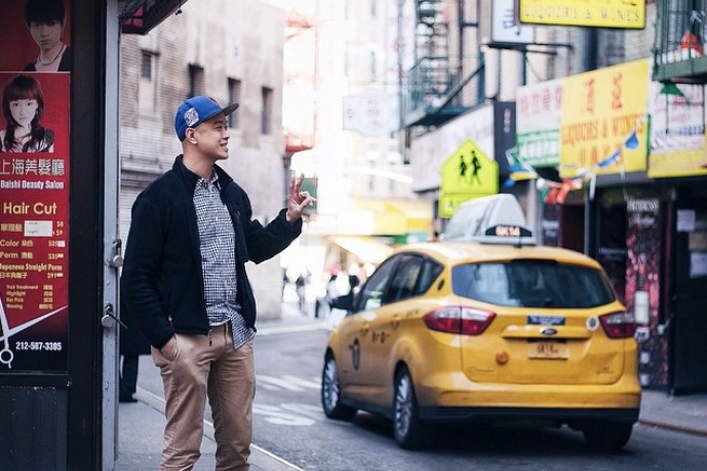 Nom Wah Tea Parlor has been a Chinatown institution since 1920, and it also happens to be located on one of our favorite streets. But since Wilson Tang took the reins of the family business in 2011, the restaurant has experienced a wave of newfound popularity among neighborhoods restaurants and visitors alike. (Read: all-day dim sum.) 
We caught up with Tang, a lifelong New Yorker, about his other favorite restaurants downtown, his lucky break with the affordable housing lottery, and his strict no-roommates policy:
What neighborhood do you live in?
The Financial District.
Is this your dream neighborhood or is there someplace else in NYC you'd prefer to settle in?
I like the Financial District a lot; it's close enough to Chinatown for me to be close to work, but it's far enough away to not live and work in the same 'hood. The schools are good, and fast dining and shopping is great.
I like Tribeca as well, and wouldn't mind living there. The public schools are just as good as FiDi. It's also close to Chinatown; it's family-oriented (Asphalt Green, Whole Foods, the Community Center, restaurants) and has nice architectural buildings.
Do you own or rent?
Own.
How'd you find it?
Found it online. My wife is a real estate salesperson with Remax Midtown and always has her eyes on listings.
What's the one thing you love the most about it?
I love that I am a 10-minute walk to work and all the food and shopping options that are here.
If there's one thing you could change about your apartment, what would it be?
We are in a two-bedroom, two-bathroom. I could use one more bedroom so the kids don't have to share a room.
In three words, describe the first apartment you've ever lived in.
Tiny luxury high-rise.
Do you dream of old New York or prefer the 2015 version?
I am on the fence on this one. I can't say I dream of old New York because I am seeing a lot of walk-up tenement style buildings, and small apartments with the bathtub in the kitchen. But I can appreciate how buildings were built back then. They were (and still are) solid and with beautiful detail and cornices. I love the tile and tin ceilings, just like the ones inside of Nom Wah Tea Parlor. But unfortunately, a lot of these century-old buildings are unsafe now because of age and/or lack of upkeep.
The 2015 version is pretty good, too. I love seeing new development in NYC and how modern things are as well as how tall buildings have become, but hate that fact that there are no longer any good deals out there. The market is too hot! The marriage of the old and new is what makes NYC a great place to live.
Tell us about the favorite apartment you've ever had.
My favorite apartment was also my first apartment on my own in NYC. It was affordable housing that I won via lottery for a new luxury rental building looking for tax breaks. I was in between jobs at the time and my income made the qualifications. I was living in a 444 square foot efficient studio. It was great! I was single, scored a deal, and in Midtown West!
And the worst?
The year was 2003. It was a shared two-bedroom apartment with a friend in Santa Clara, California, before Google happened. I was driving a yellow Dodge Neon and making the hour drive to and from SF everyday on the US 101 for a few months to get my foot into and learn the food service business at a bakery. The commute was horrible and the experience just made me realize that I can't ever live with a roommate. It was the first and last time.
Name one NYC service you couldn't live without.
Two words: food delivery. My favorite is trycaviar.com with meals from well-curated restaurants from all over the city. And of course all the rest: Seamless, GrubHub, Maple, and Postmates.
What's your favorite spot in the city?
I really love the Lower East Side where it borders Chinatown, if you're talking about a neighborhood. I grew up there and it has everything that I need. I co-own a restaurant on Orchard Street called Fung Tu. The dining scene is explosive! Some of my favorite places to eat are in this neighborhood: Blue Ribbon, Meatball Shop, Contra, Wildair, Russ and Daughters, Mission Chinese, Katz, Forgetmenot, Kiki's, Wassail, and Dimes, just to name a few.
I'm also into running and when I am training with my running crew, Black Roses NYC, we are at the East River Park Track by the FDR.
Which would you rather: Brooklyn brownstone or a penthouse in a shiny, new condo?
I would have to say penthouse in a shiny, new condo because I am a city kid, and with two young toddlers, the stairs of a brownstone would be a nightmare right now. I don't want to deal with the upkeep, the snow shoveling, and the looking for a parking space.
If you could live elsewhere, where would it be?
Lakeshore Blvd, Incline Village, Nevada. I will always have a love for the west coast and have fallen in love with this place after many visits via San Francisco to Lake Tahoe for sun and relaxation in the summer, and snow sports in the winter.
Any advice for a recent New York transplant?
New York is a tough city, but as Frank Sinatra says, "If you can make it here, you can make it anywhere." I would add that building up a network of people is of the utmost importance. New York is a hustle. Everyone is doing a few things at the same time and you just never know when you will catch your break in this great city!
Related:
Win the NYC affordable housing lottery: how to get an "80/20" rental
Chinatown is the center of everything—for better or for worse
How to ward off gentrification: take a page from Chinatown's playbook
New must-have neighborhood amenity: a high-end food court?
Check-in: is the Financial District still an "affordable" downtown alternative?
Brick Underground articles occasionally include the expertise of, or information about, advertising partners when relevant to the story. We will never promote an advertiser's product without making the relationship clear to our readers.