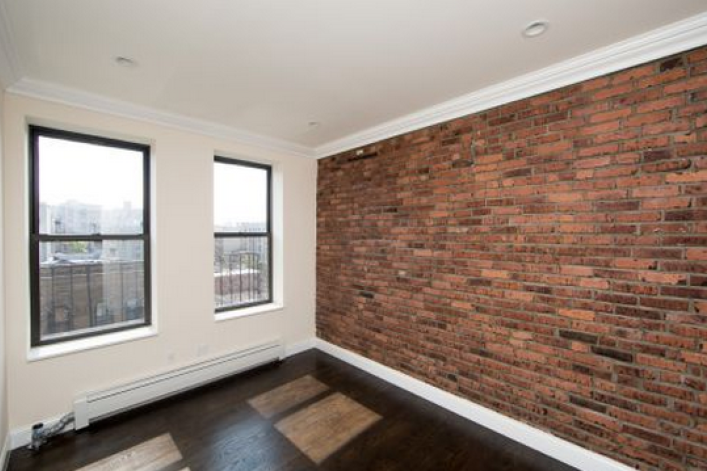 It's a familiar conundrum to anyone who's ever searched for a rental with roommates (and on a budget): the so-called "convertible" apartment. In this week's 'Ask an Agent' column, the folks at The Agency--a tech-savvy brokerage that gives buyers and renters access to the same database of listings used by the city's real estate agents, and pays their agents bonuses for client satisfaction--explain what the term really means, and how you and your roomies can actually "convert" the place once you move in.
Q:My roommates and I are looking for a three-bedroom, and most listings we see in our price range are "convertible." What does that term really mean, and will we be allowed to put up a temporary wall?
"I get this question a lot and I feel like a ton of people shy away from a convertible apartment because they aren't sure of what it is! A convertible apartment or a 'Flex' is (in this case) a large two-bedroom that has a temporary wall placed in the living room in order to create a third bedroom. The wall separates the room in order to create a bedroom and keep living room space. There are a few different types of walls that can be built and each management company is different in regards to which one they will allow. In my experience, most will allow a wall with a 12-inch gap at the top that can be filled in with plexiglass in order to have light flowing throughout. If you're lucky, your management company will allow a full wall creating the idea that it is indeed a true three-bedroom! These temporary walls generally run anywhere from $750 to $1,200 depending on the type and size of the wall. It is an additional cost upfront yes, but if it's in your budget and the space is right, this is a great option." - Michael DeSena, Real Estate Specialist
"Many apartment hunters in NYC are looking for a budget-friendly option, which is why they will come across 'convertible or 'flex' apartments. These convertible apartments have large enough living areas that when walled off, it would allow you to create an extra bedroom. A fatal fire back in 2005 began to raise red flags on flex apartments. Firefighters were sent into an apartment with many new temporary walls that made it nearly impossible to navigate, resulting in two deaths and other injuries. While NYC has been cracking down on these temporary walls due to fire-safety issues, there are still ways to divide your room. To be above board, the landlord has to get a work permit to put up the wall, the new room must meet certain size minimums, and the wall can't block any exits, as the Times wrote when the crackdown first started in 2010. Many people use "bookshelf" walls that will safely give you that extra privacy, while also abiding by the law. Pat Lehman, Real Estate Specialist
"Another word for a 'convertible' apartment is a 'flex.' A three-bedroom flex is a two-bedroom that has been converted into a three bedroom by adding an additional wall. Some building management companies will allow this practice and others will not, so be sure to clarify your intent before the lease signing and let your agent know so they can help you search efficiently. Some buildings will allow a wall, but not all the way to the ceiling, and others will allow a full wall. Keep in mind that you will have to budget extra money for the addition of the wall. High rises are often more amenable to 'flexing' and some of the best neighborhoods to find flex-friendly apartments are Financial District, Murray Hill, and Gramercy. You may be sacrificing some of the living room space you would get in a true three bedroom by flexing, however you will cut costs and you may be able to score some sweet amenities like a doorman, gym, elevator, and outdoor space that might come with a luxury high rise. - Anne Richmond, Client Experience Manager
"With the prices of two and three bedroom apartments going through the roof, many landlords allow tenants to share really large one and two bedroom apartments by converting (commonly known as flexing) them into two-bedroom and three-bedroom apartments. In your specific case, you would be looking for a large two-bedroom that would allow 'flexing.'
Flexing can be done in a number of ways, and what is permitted will be different for different landlords. Some will allow you to build a temporary wall with different specifications depending on what the landlord allows. Others will only allow a curtain or some other form of separation between rooms. Some buildings allow a wall, but not a door, and others specify that the separation can only be a bookcase wall which is exactly what it sounds like, a book case that separates the bedroom from other living areas. Your broker should be familiar with which management companies will allow flexing, and can direct you right to them with ease. " - Eric Rivera, Real Estate Specialist
"In a convertible three-bedroom apartment, some of the space (such as a living space or dining space), has been walled off to create a third bedroom that was not in the original floorplan. Converted three-bedroom apartments can often be cheaper than true three-bedrooms and can be a great option when budget is an issue. Sometimes the walls are already up in a flexed apartment, and other times you will have to pay to have them installed yourself. Each building also has its own rules about what kind of walls you can put up and which installation companies you can use, so make sure you understand those requirements before signing a lease, too." - Shelly Place Real Estate Specialist
"Converting or flexing an apartment simply translates into physically adding temporary walls or dividers to accommodate more people. When searching for a three bedroom, you will open yourself up to many more options if you agree to look at large two bedrooms with floor plans that allow some sort of division of the common space. Constructing a temporary wall to convert or flex an apartment is only allowed by certain landlords on a case-by-case basis. Some landlords do not allow a wall to be built in the apartment, but tenants are welcomed to find other ways to separate the space (like big pieces of furniture placed strategically). If the wall is permitted to be put up, there are very particular guidelines that have to be followed because of the fire safety laws of the city. Your best bet is to be sure your broker checks to ensure you're acting within the parameters of the law." - Joel Bubnack, Real Estate Specialist
Give The Agency a try if you're looking for an apartment in NYC!
---
The Agency is a technology-enabled real estate brokerage that is the refreshingly simple way for New Yorkers to buy, sell and rent apartments.
Brick Underground articles occasionally include the expertise of, or information about, advertising partners when relevant to the story. We will never promote an advertiser's product without making the relationship clear to our readers.