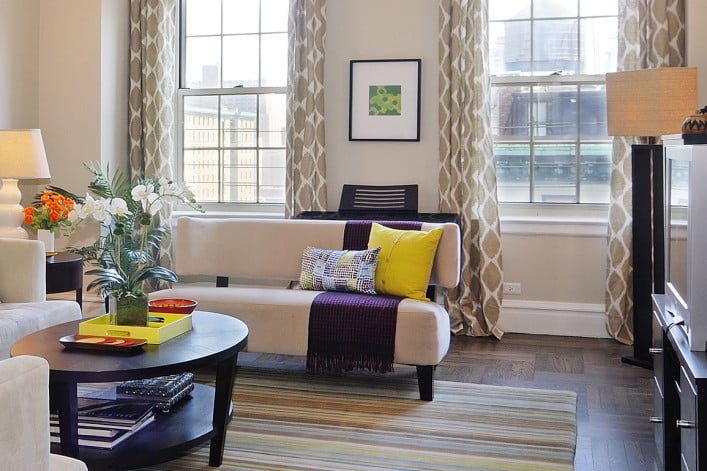 You may think your apartment is an easy sell: It's in a great building, has a terrific layout, gets awesome light, and the location is ideal. But if it doesn't look great to potential buyers, it may not garner the attention (or offers) it deserves. That's where a stager comes in. These talented interior designers adapt the décor of a space to create a more visually appealing—and sale-worthy—space.  And as we embark on slow sales season here in New York City, staging your apartment right can mean it won't sit on the market for months on end.
Here, some of the city's top stagers share their most successful tips:
1. Declutter and organize
"The number one reason people search for properties is the need for space," says Sid Pinkerton of Manhattan Staging. "And space in NYC is at a premium so you want to show off every square foot you have." He recommends removing excess accessories from all the surfaces throughout your apartment ("I typically like to have three to four accessories max on each surface," he says.)  
Pro Tip:
If you're unsure how your apartment will come across to buyers, how much time and money you should invest in staging or renovating, or if you simply want to test the waters, consider "pre-marketing" your co-op, condo or brownstone before you publicly list it.  The pre-marketing platform at New York City brokerage Triplemint is a no-risk way to quietly test your asking price and marketing strategy among actual  buyers shopping for a place like yours.  There's no charge to participate and no obligation to sell or enter a traditional listing agreement if you haven't found a buyer by the end of the pre-marketing period.  To learn more, click here. >>
Pack away and store any and all collections. Edit and organize all closets (so buyers can see how spacious they are). Remove all photographs of family and friends (they're a distraction). And make sure each room has a clear identity: Living room, dining room, master bedroom, guest room, child's room, home office, etc. Each should be furnished with those ordinary pieces everyone has; for example, a living room should have a sofa, two chairs, a coffee table, and end tables.
2. Repaint
One of the highest staging investment returns you can make, besides decluttering and organizing, is painting walls, says Pinkerton. Even if you think the new owners will redo the colors themselves, a coat of paint will make your apartment feel newer, cleaner, and better maintained. Pinkerton believes painting the entire apartment the same neutral color throughout increases the visual flow of the apartment and makes it feel larger. He gravitates towards colors that feel clean looking (strong colors tend to turn off buyers).
If you're up for it and want to try creating an accent wall, use a darker version of the wall color selected, or if you're comfortable with colors and can make it part of the design scheme, use a contrasting or complementary color.  If you're apartment is light challenged, try using a color with yellow undertones as the yellow will bounce the light around the room.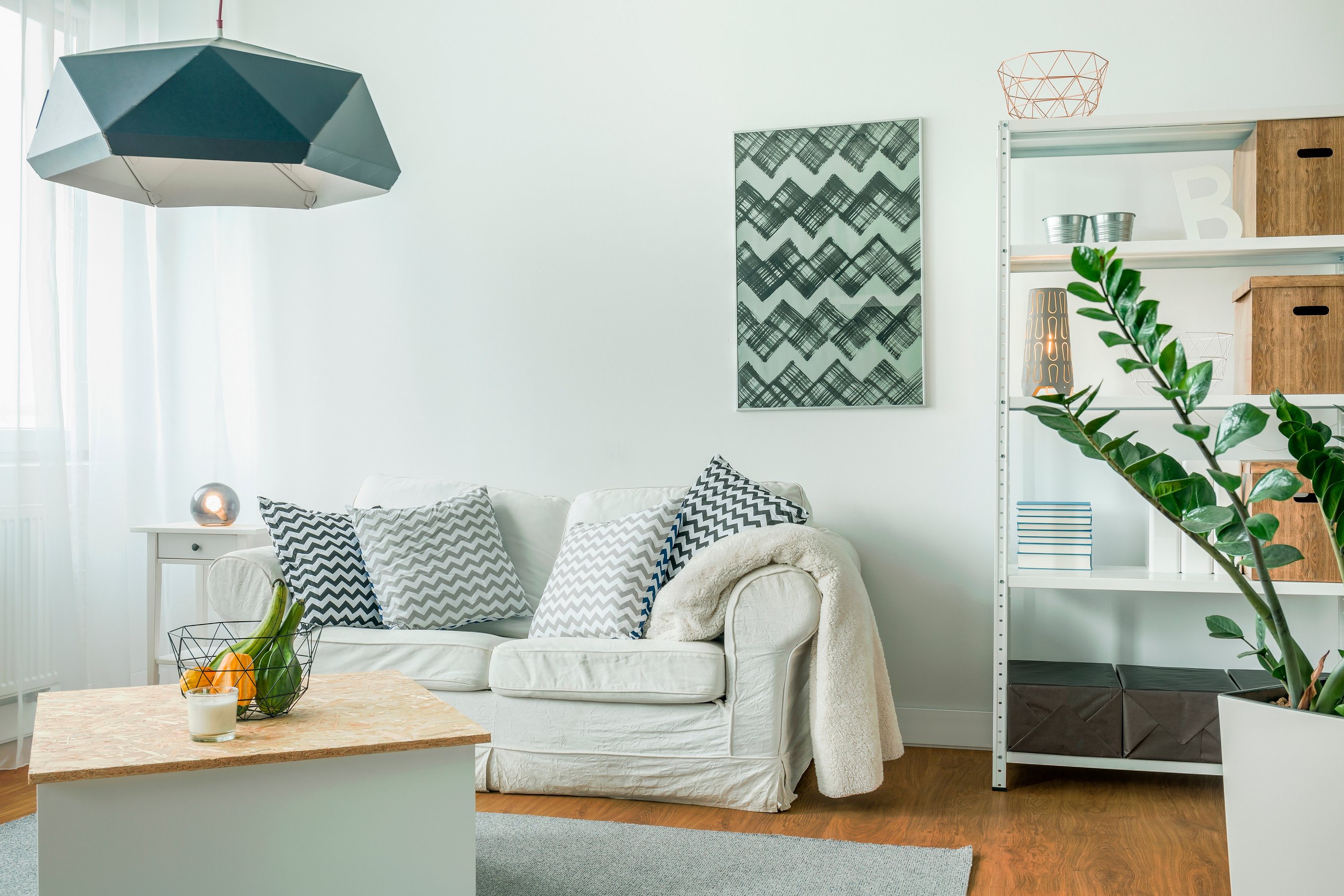 3. Scale your furniture to your space
Oversized furniture and floor coverings can make a space feel smaller than it is—and who wants that in an NYC apartment? Instead, scale your furniture to the room, say Thomas Buczkowski and Ana de la Pava of Rough Luxe. A large sofa is not going to fit in a small space, so you may have to go the love seat route and add some small extra seating cushions.
4. Divide an open layout by creating areas
Even in square-foot-challenged apartments in the city, a large room can feel cold and impersonal—and that won't show well. If you have such a space, Buczkowski and de la Pava recommend creating separate areas within the space by utilizing area rugs, shelving and/or drapery to portion the room into separate useable areas.
5. Show off windows and light
As you declutter and pare down, don't forget about your windows, reminds Joni Rentz of StylHaus. Often, a key real estate asset—light—or appealing moldings are unwittingly minimized by drapery and window treatments. "Show off a light filled room by either opening up draperies or removing them altogether," she says. "This dining room came to life once the lace valances and curtains were removed."
6. Add a splash of color
While a neutral color palette will appeal to a broader audience, Rentz suggests using a spot of color as a focal point. Here, a yellow chair makes a fresh and eye-catching statement in an otherwise neutral-colored room.
7. Increase the perception of space
A room doesn't necessarily have to be big to feel big. You can increase the perception of space, says Barbara Brock of Sold with Style with a few simple design tricks. She recommends adding a mirror (their reflections make a room look larger) and downsizing bookcases (tall ones can overwhelm a room). And don't crowd a room with heavy furniture says Rentz. "By removing visual barriers you can create the illusion of a much larger space," says Rentz.
8. Add one exceptional piece of art
No matter how impressive the art, a wall full of it can make a space seem crowded. Instead, choose one great piece and hang it solo for added impact. "It's all you need to make a room appear more glamorous, says Brock.
9. Furnish in neutral tones
Choose light, neutral-colored, low-profile, modern and comfortable furniture, says Stephanie Ros of Interior Marketing Group. "It won't break up the lofty feeling of the space the way a high-back, chunky La-Z-Boy might." The image above also demonstrates how mirrors can double the light and the space of an apartment. "We never shy away from a grand wall lined with large minimalist mirrors. They're great for tighter spaces," she says.
10. Leave no nook unstaged
When it comes to staging, every corner of an apartment needs to have a purpose. If you can't figure out how to use a area of your home, chances are the buyer won't either and that confusion could put an end to their interest. In order to avoid such a situation, Ros recommends staging with a purpose, minding each square foot.  "We never leave a nook unstaged," she says. Here, an unused corner is transformed into an elegant home office that adds unexpected value to an easily overlooked area of the apartment.
Brick Underground articles occasionally include the expertise of, or information about, advertising partners when relevant to the story. We will never promote an advertiser's product without making the relationship clear to our readers.