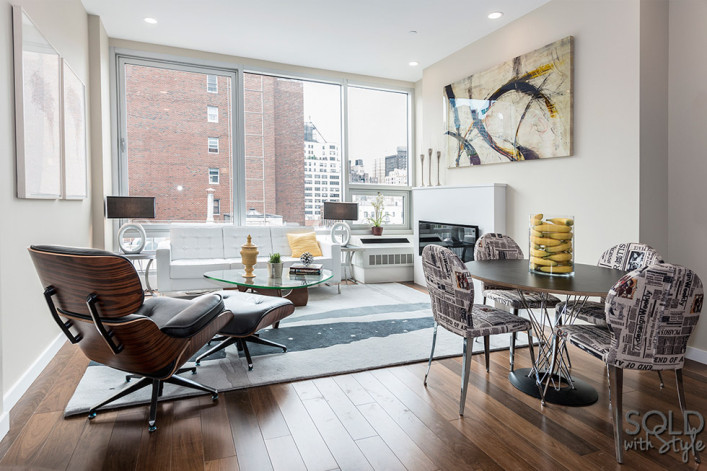 Staging your apartment for sale is an inexact science, but one thing is for sure: Designing a place to be functional and beautiful—the things you'd normally want from a residence—is far less important when it comes to tempting buyers, according to Jay Hart, founder of staging firm Sold With Style.
Instead, like a retail expert mapping the aisles of a big-box store, Hart aims to lay out an apartment's interior for the maximum return on investment. It helps if it looks pretty, sure, but more important is creating a space that communicates a message: living here means leading a peaceful, rewarding and luxurious life. That's what ensures you sell for the highest price. 
It's also not cheap.  It can cost up to $10,000 to stage a studio in need of minor touch-ups, including furniture rental for 90 days, and  up to $70,000 for larger apartments that need new wallpaper, refinished floors or other upgrades. And it's difficult to gauge how much profit staging will bring in, though Hart estimates a two-for-one return on what you spend.
Whether you hire a stager or DIY,  take note of Hart's go-to strategies:
THINK ON YOUR FEET
Like grocery shoppers, open house attendees browse your apartment on foot, so it's crucial to establish clear traffic patterns between (and within) rooms. Think about where the buyer enters the apartment, and where she'd go next: Left to the bedrooms? Right toward the kitchen? "Those pathways should be clear," Hart says. Envision an "imaginary hallway"—a three-foot-wide space free of furniture, rugs and other objects—in every room.
Also, since buyers will undoubtedly scope out the views and the storage areas, establish clear paths to windows and closets. Zig-zagging around furniture makes a place feel smaller, and thus, less expensive, Hart says.
IGNORE THE TV
In real life, the focal point of most living rooms is the television. In a staged apartment, you want to create an idealized space. Organize the room for interaction, with a cluster of couches and chairs that lends itself to conversation with family and friends. (Don't we all wish we spent our evenings that way?)
This is particularly important in studios, since buyers often have a difficult time envisioning how they'd decorate (let alone live in) a small, boxy space. For example, Hart makes a point of staging a dining table with two chairs in every studio, subconsciously hinting at a life of sit-down dinners across from a loved one.
SUBTRACT
This is solid advice for just about any apartment dweller, and it goes double for sellers: Remove extraneous pieces of furniture, pare down your clutter, and clean out closets (buyers will peek inside). Indeed, storage is one of a seller's best investments, Hart says. (Tip: BrickUnderground sponsor Manhattan Mini Storage is offering a free move, free shelves and up to 20 percent off when you rent a unit  for four months or longer.)
SKIP THE "CASEGOODS"
Cupboards, dressers and other storage pieces may be essential in real life, but in listing photographs, "casegoods" read as clunky and boxy, and at open houses, they take up space, effectively shrinking a room. Neither effect is enticing for buyers. When you're prepping to sell, put these items in storage and, instead, use accent chairs to create a sitting area—and, thus, a more photogenic and idealized room.
TWEAK FOR PHOTOS
While most staging advice applies equally to the open house and the listing photos, you'll want to make a few changes to the room before you snap the pictures. First, move the furniture so every piece is either fully inside or outside the frame (you don't want an ottoman bisected by the edge of the photo). But pull the coffee table away from the sofa; most people position them 10 to 18 inches away from the couch, but that distance will look cramped on film, Hart says. Lastly, arrange accessories on an angle. If they're stacked up in a line, they'll look jumbled in front of the lens.
Related:
Hide the flatscreen, go tall and other tips from a staging expert
9 questions to ask before renting a mini-storage unit in NYC (sponsored)
Selling your place? 6 tips for getting it camera-ready
"Exposed brick," "Whole Foods" and more: Ranking the buzzwords that reel in buyers
Everything you need to know to show off (and sell!) your home
Brick Underground articles occasionally include the expertise of, or information about, advertising partners when relevant to the story. We will never promote an advertiser's product without making the relationship clear to our readers.