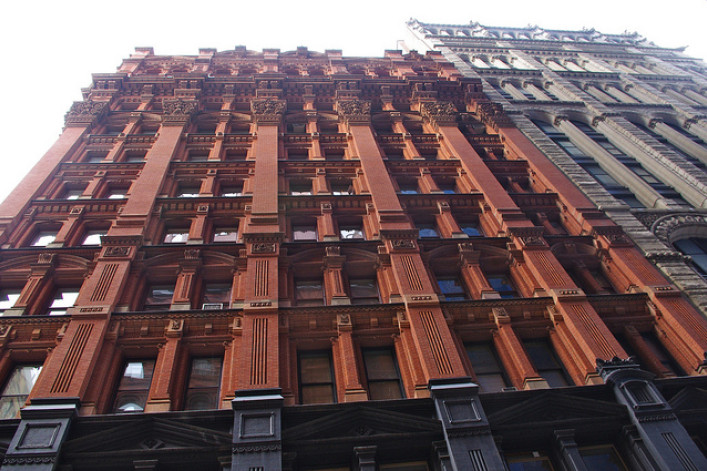 Considering the near-constant barrage of headlines about apartment prices consistently breaking records in each borough, you could be forgiven for taking a sky's-the-limit approach to pricing your own apartment. But you really shouldn't.
In fact, according to appraiser Jonathan Miller, author of the Douglas Elliman market reports, those reports shouldn't serve as pricing guides. "Market reports are meant to show you what's trending and point to the ebb and flow of the market," says Miller, "not to help you price your apartment."
As anyone who's ever watched even a single episode of Million Dollar Listing (in any city) knows, sellers tend to value their apartments higher than brokers do. "There's a natural inclination for sellers to overvalue an apartment," says Joe Quiros of Compass. "It's a very emotional thing." 
But overpricing can hurt. To begin with, your apartment will probably stay on the market longer. "If you see an apartment with a bunch of price reductions, it doesn't seem desirable," explains Quiros. "People will attempt to bid lower and lower if they see that." 
And even if you get that high price, the appraisal may come in lower than your asking price and your buyer may have trouble getting the bank to finance their loan, costing you time and money.
So what's a seller to do? For one thing, take into account what comparable apartments are going for. Also, listen to your broker. Here's what else:
Don't focus solely on listing prices
Most sellers will peruse sites like StreetEasy to see how similar apartments in their neighborhood are priced. But listing prices can reflect another seller's unrealistic goals, says Sara Rotter of Halstead.
It's better to look at prices for apartments already in contract. And on StreetEasy you can see how long it took for the apartment to go into contract. "That's a good way of seeing what the market could bear," Rotter says.
Consider the uniqueness (or lack thereof) of your apartment
Keep in mind that every apartment has different features that can add or subtract from the sales price. "Housing in New York is not homogeneous," says Miller. "That's what makes it so cool." 
Usually, Miller says, an apartment's value will go up about 1 to 2 percent as it gets higher up the building; better views can add 5, 10 or even 20 percent to the asking price. Condos will typically get about 20 percent more than a comparable co-op, says Compass' Quiros.
And you'll typically pay about 12 percent more for an apartment in a building with an attended lobby versus one without a doorman, according to a 2006 analysis conducted by Miller.
"The more unique the amenities you possess, the more strength you can have in pricing," he says.
Press your broker for more information
"You want to have them tell you the story of the listing and why it is and isn't worth a certain amount," says Miller, who adds that what you ask for can sometimes depend on your building. Some buildings—those that are "in demand" or have what is considered superior service—may be more expensive than nearly identical buildings. "740 Park Avenue or 834 Fifth Avenue get some of the highest prices in Manhattan as co-ops. There are plenty of pre-war co-ops with attended lobbies in similar locations but they don't see the same prices as those two buildings," he says.
That's why it can be particularly helpful to opt for a broker who has had experience selling in your particular building. They know the nuances of your apartment versus others and they know what buyers will pay. 
Check out the competition in person
"If the seller is overconfident, sometimes I'll take them out to see other apartments," says Quiros. 
"There are nuances to an apartment and a building that you're not going to see on StreetEasy," says Quiros. He points to things like renovation quality of the apartments and also what's going on around the building. "An empty lot next door means there's going to be construction soon and it will be loud. You wouldn't know about that if you just saw the apartment listed online," says Quiros.
Taking a field trip to other similar apartments also allows the seller a chance to experience the lobby, hallways, and service style of other buildings so you can accurately gauge where theirs stacks up compared to yours, says Rotter.
Take monthly costs into account
When deciding how much buyers who will need financing are willing to pay, you have to consider monthly costs, says Quiros. That means that assessments and high monthly maintenance matter a lot to them.  If your monthly maintenance is high, you may need to lower the asking price a bit.
Figure out what the monthly cost will be to the average buyer (depending on how much the building makes them put down) and tweak the price to reflect that. 
When there's another similar apartment on the market in your building
Try to check out the competition and quantify the differences between yours and the other apartment. 
"People see neighbors selling apartments for crazy prices and it's difficult to not get greedy," says Quiros.  But if you price your apartment a little better than another apartment in the building that's also for sale, that's a surefire way to get more foot traffic to your open houses.
Consider under-pricing a little
"Prices that are really competitive go over ask," says Quiros. And, he says, apartments that fetch more than the asking price tend to go into contract more quickly. "The best way to get more is to price it a little lower." 
Rotter agrees: "Maximum exposure equals maximum price," she says. "The more realistic buyers  you can get in,  the more likely you are to create a competitive situation and end up over ask."
But she advises against going more than 5 to 8 percent lower than the market value, a number "determined by the broker based on comps and solid reasoning."
Signs you've gone too high
You can tell whether a property's been priced properly in the first three weeks. "Your phone should be ringing off the hook," says Quiros.
Your broker should have scheduled two weekday open houses and one on the weekend and they should have been busy, he says. "If you've had two Sunday open houses, you should have an offer already or at least be close to it," says Quiros. "At the very least you should have interest in the form of multiple viewings and some kinds of pre-negotiations," 
According to the Douglas Elliman third quarter sales market report for Manhattan,  the average market time was 73 days.  If you're getting near that time with no offers, you might be pricing too ambitiously.
Related:
Get your head in the game: Psychological tricks to pricing your apartment right
5 red flags that could slash your apartment's selling price
The NYC seller's guide to working with a broker
Selling your NYC apartment: A timeline from conception to closing
Brick Underground articles occasionally include the expertise of, or information about, advertising partners when relevant to the story. We will never promote an advertiser's product without making the relationship clear to our readers.