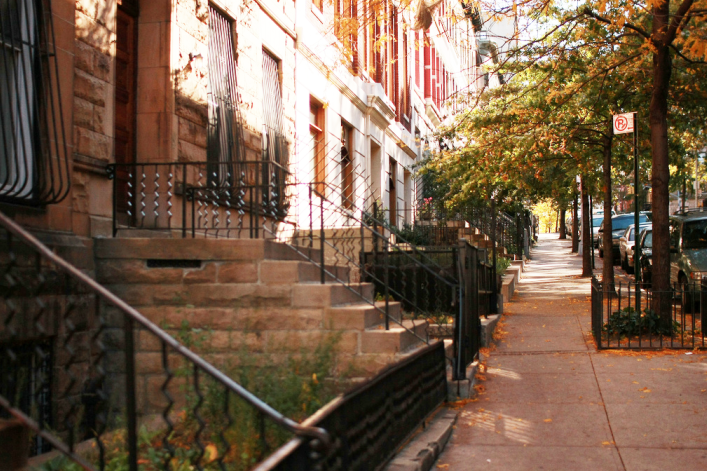 When we decided to move back to New York in 2012, we were eager to buy an apartment but weren't sure we could afford one on a university salary. I had started a new job just a year earlier, working at NYU, the same school where I first met my wife and cineaste soul mate, Salaama. We had quickly bonded over movies, rap, and our New England roots, and wound up in Brooklyn with one baby and then another.
But that was more than a decade ago, before a stint in Washington D.C. The kids were now teenagers and the New York we were returning to was filled with luxury high-rises, upscale eateries, and concept stores. The price of housing in the city had gotten so expensive that even millionaires were getting sticker shock. Still, I couldn't imagine living anywhere else. We were expecting a lump sum of cash from the sale of our home that we could use as a down payment on an apartment and, well, this is New York, and anything could happen.
That summer, we rented a small duplex in a midrise building on the margins of the Upper East Side and began combing apartment listings for a three-bedroom. Price was important, but so were neighborhood, condition and size. The kids, Langston and Sadie, wanted separate rooms (Sadie, who had had such a difficult time saying goodbye to friends in D.C., was promised first dibs). In addition to a kitchen large enough for more than one person, Salaama and I wanted a spacious living/dining area to entertain. Our budget cap—$500,000—narrowed the pickings for a three-bedroom, but also wasn't entirely far-fetched.
Discovering the beauty (and limitations) of HDFCs
Weeks turned into months as we shuffled in and out of buildings and doors around the city, like we were stuck in some never-ending apartment-hunting loop. Then one day, one popped up in a prewar on Central Park North. It was a corner unit, unoccupied since its renovation, and had large, beautiful rooms, with south and west views of the park that unfurled at your feet. The building was a Housing Development Fund Corporation co-op, or HDFC, which I learned is a form of housing meant for New Yorkers with limited income. I checked the requirements for a family of four, and we qualified.
I wasn't the only one dazzled by this place. "If this wasn't an HDFC," my agent said, "it would be a million-dollar apartment." I wanted to buy it on the spot and move in the next day, but the sale of our place in D.C. hadn't been finalized. So, for weeks, we kept a close eye on the apartment—we watched as the price dropped from $525,000 to $475,000, which was its own form of torment. But our dream apartment was gone long before we could close.
At least now we knew where to look. It turns out that these income-restricted buildings (abandoned by derelict landlords in the 1970s and fixed up by the city, which then sold the individual apartments to tenants) are a conundrum of sorts in the New York real estate world. To be eligible to purchase an HDFC co-op, you need to be paycheck-poor but savings-rich. And there are only about 1,200 HDFC properties scattered throughout Manhattan, Brooklyn and the Bronx.
We decided to focus on Manhattan and contacted several brokers before we connected with Rebecca Brooksher of Warburg Realty to help with our HDFC hunt. Every week, Rebecca and her colleague Jason Haber would email us listings that matched our criteria. We looked out for red flags (missing photos or floorplans), but even still, very few apartments were actually worth the subway fare.
Loitering and noise were the problem at one location; another had an immaculate lobby but upstairs, we discovered the apartment was a gutted mess of beams and debris that we had to navigate with cell phone flashlights because there was no electricity. Then, there was the open house where we saw a mangy dog pee on the floor and no one did anything about it.
The one apartment that we did like had an asking price of $475,000 and a view of Morningside Park, but it set off a bidding war and eventually sold for much more. By that time, it had been well over a year since our search began and our chances of finding a place were looking bleak. We were also bleeding money. Except for a few essentials, all our stuff had been crammed into storage units, which were costing hundreds of dollars every month. 
Some family members tried to convince me to follow them out to New Jersey, but if I was going to be miserable I wanted to be miserable in New York. Instead, we thought of partnering with someone on a multi-family unit, but no one we knew and trusted was in a position to do it so we expanded our search to Deep Brooklyn.
Conducting due diligence
Prior to open houses, we toured the neighborhood using Google Maps and, once we got there, checked out local businesses, visited grocery stores, and chatted up folks in the community to get a flavor for what it was like to live there. Naturally, we found ourselves comparing other hoods to the Upper East Side, where our rent was $2,600 (practically a bargain by current Manhattan standards).
The area where we lived on First Avenue, a few blocks west of Gracie Mansion, had become a magnet for postgraduate renters, dog owners and professional pot smokers, but we loved it. Our duplex was a stone's throw away from Carl Schurz Park, a picturesque spot as any in the city, where we often took Hitchcock, our adorable Jack Russell, to stroll along the riverfront promenade or stretch out on the lawn and read the Times.
Although we'd never planned to live on the "UES," leaving it wasn't going to be easy. The neighborhood was both quaint and convenient, with bars, shops and a variety of restaurants, which is helpful when you have a picky eater at home. (I'm not mentioning any names, Sadie.) There's also 86th Street, where we could browse the racks at Barnes & Noble or catch a movie at one of two multiplexes. The one drawback is the neighborhood's lack of racial diversity. Sometimes I felt like Will Smith in that bar scene from Focus where he drunkenly yells, "Where are all the black people?" Even my son, who sports a large afro, complained of cold looks from whites as he walked the streets—and the kid favors Dante de Blasio more than DMX.
That wasn't the case in Harlem, the symbolic home of Black America. In recent years this section of Upper Manhattan has been undergoing a revival of sorts, yet in many parts it still feels like authentic New York—that bustling, edgy concrete jungle that exists in old black-and-white photographs. Here, the predominantly African-American and Hispanic population pulsates to the sounds of hip-hop and merengue as the old-timers hold court along the Broadway Malls.
As we walked around shopping for apartments, we spotted signs of change, like a trendy draft house where you can go for drinks with friends and stylish eateries, but also plenty of street vendors hawking discount foods and children playing games. The neighborhood crime report told another story of muggings and assaults. Part of me thought that moving to Harlem would be a little like traveling back in time to the late '70s and early '80s, when the rich and poor were stuck together and living in New York required a certain measure of courage. It was rough, in a wonderful kind of way.
I have always idolized New York, or should I say "romanticized it all out of proportion," to borrow a line from Woody Allen's Manhattan. The city, so ripe with opportunity, where so much of the art I loved was produced, was also the backdrop for many of my earliest memories. It's the place where our family gathered for holidays. My oldest brother, Tony, was married here (three times). I remember all the late nights I spent taping the Kool DJ Red Alert mix show and the day I copped my first pair of Jordans in midtown.
New York is where I watched Derek Jeter play in pinstripes and Savion Glover trace the history of African Americans through tap at the Public Theater. I published my first magazine piece here and waited tables in the East Village during my starving artist phase. We were determined to find a place, not just for us but also for our kids, whom we wanted to experience the city and maybe fall madly in love with it, as we did years ago.
I liked the vibe of Hamilton Heights, which has a rich history and access to parks. Close to the Harlem Fairway on 12th Avenue, Columbia University is building a large research facility expected to be a boon for the neighborhood's residents. So far, though, most of the apartments we found through open houses were genuinely crummy or too small. So we were glad to hear about a three-bedroom on 140th Street that came on the market in April for $375,000. It was on the fourth floor of a century old walk-up building that was meticulously maintained and had a live-in super.
The apartment was considerably larger than our rental, with handsome hardwood floors, high ceilings, oversized windows, a washer-dryer in the renovated kitchen, decent closet space, as well as a living room that could fit our sofa, dining table and bookshelves. I thought the long hallway connecting all the bedrooms could double as a gallery. Halfway through our second turn around the apartment, we decided to make an offer. A week later, during a sealed bidding process, we gave our best offer of $386,000, which was accepted. And just like that, we were in contract.
The real deal
​When you buy an HDFC property, be prepared to go through a lengthy process that involves a medley of professionals including brokers, lawyers, a loan officer, bank, the city and the co-op board. Luckily, we had Rebecca to guide us through the application maze. Over a three-month period we submitted countless documents (tax returns, letters of recommendation, AIR disclosures) before our scheduled board interview, which we aced.
Everything was going great, until it wasn't. First, our scheduled July closing date — timed perfectly to the end of our lease on First Avenue — came and went. We ended up in Queens, where we booked a hotel room for two nights but stayed for a week, ringing up a $2,000 bill. Meanwhile, all of our things were sitting in a moving truck in a city lot. Apparently, the bank was waiting on financial documents from the co-op, which I learned hadn't had a sale in a long, long time so there wasn't a clear system set up for the approval process or closing.
We were majorly stressed out and, at the last minute, just when the mover was about to empty out his truck for another job, we managed to strike a deal with the seller to take "pre-possession" of the apartment while the sale went through, paying rent to the seller. This was highly unusual and badly needed. But before we could move in we first had to agree to a $2,800 rent on top of a yearlong commitment if the sale fell through, essentially trapping us in another high-rent situation.
Then it got worse. While heading to the apartment to get the keys so I could let in the movers, we got word that the seller was now demanding an extra $750 to cover her "additional lawyer fees." It sounded pretty shady and she didn't offer proof of the charges. Furious, and with my hands tied, I wrote the damn check, moved in and continued to monitor the sale.
A few weeks later, there was more drama at the closing. While sitting across the table, the seller refused to reimburse us for our last week's rent, even though everyone, including her lawyer, explained that that is common practice. The seller turned surly. After blaming "this mess" on her agent (who she accused of working for us), the seller then got into it with our lawyer. She threatened not to sign, but in the end, put her signature on the papers.
Finally, we were NYC homeowners. 
Related: 
My exasperating, enlightening, ultimately successful search for rent-stabilized digs
Buy a co-op at a discount: all about HDFCs and how to snag one
Brick Underground articles occasionally include the expertise of, or information about, advertising partners when relevant to the story. We will never promote an advertiser's product without making the relationship clear to our readers.