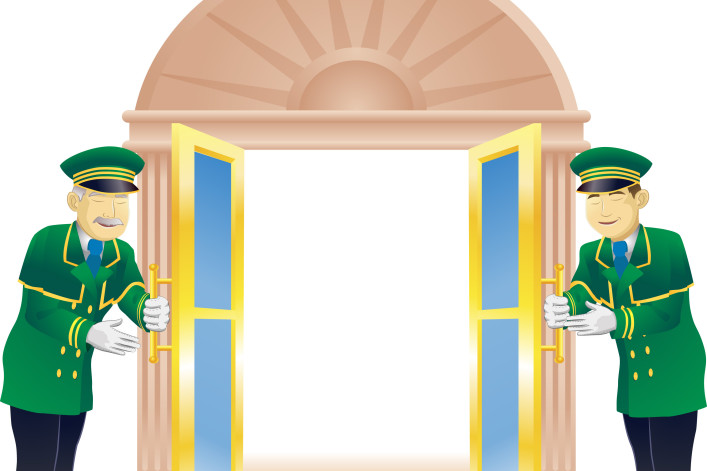 Doorman buildings are an essential part of the New York City cityscape, whether we like them to be or not! We asked five New Yorkers: Would you rather have a super chatty doorman or no doorman at all?
Cell phone to the rescue I'd rather have that chatty, super-friendly doorman, even though I don't really want to have to talk to anyone. I want somebody who can take my packages and open the door for me and help with bags when I need it! What I would do is, when I really don't feel like making small talk, I'll pull out my cell phone and pretend to be having an important conversation when I walk through the lobby. —Benji, Bed-Stuy
My doorman, my friend I loved living in a doorman building and I do miss it now that I don't live in one. The guys were great. Just really friendly, and yes, they were chatty, but whatever. It put me in a good mood to talk to people who were cheerful. The porter and doorman were always joking around with each other, they just got along really well. And coming home to that made me feel like I was coming home to hang out with some friends, if I wanted to. They'd never keep me for a chat if I was in a hurry. And it was great having somebody take care of my packages, not to mention keep me safe! —Brandon, Upper West Side


Lifestyle choice I would not want a chatty doorman. I don't want any doorman at all, actually. It's not how I see myself living. When I'm walking through my lobby I'm usually in a rush to get out or to get home. I don't want to have to do small talk before getting up to my apartment. —Nana, Hamilton Heights
The ol' song and dance There's no reason to have a doorman. There isn't. My neighbor takes my packages, and to be very honest, sometimes chatting with her is a bit of a chore. But she's a lovely lady who takes my deliveries and checks my mail when I'm away for trips. I wouldn't want to go through a song and dance with my doorman every time I passed through the building doors. -Lucas, East Village
Safety first I don't like the idea of a doorman in general, because that would increase my monthly expenses. But if that weren't a factor, I'd like a friendly, chatty doorman. Those are people who make your life easier! Take it! Packages, and somebody to greet you home when you come home late. Makes you feel safe! —Meredith, Harlem
Verdict: Chatty doormen rule (by a hair)!
Related:
18 ways to get the white-glove treatment in a non-doorman building
Brick Underground articles occasionally include the expertise of, or information about, advertising partners when relevant to the story. We will never promote an advertiser's product without making the relationship clear to our readers.