Take Five
Pomander Walk: The English country village on the Upper West Side you've probably never heard of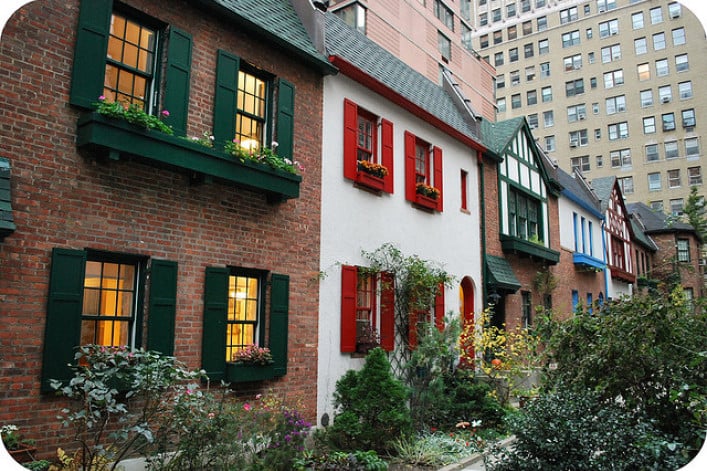 If you've ever walked on 94th or 95th Street between Broadway and West End Avenue on the Upper West Side, you may have noticed the gates that appear mid-block: The steps right behind it lead to what appears to be a lane more suited to a little English country village than the heart of Manhattan. Neat rows of houses stand on either side of the narrow path, looking as though they belong in the Cotswolds. Meet Pomander Walk, one of NYC's most charming (and mostly undiscovered) gated communities. The entrance is marked by a sign with the symbol of a crowing rooster and that is about as far as most people get: Unless you're invited in, you'll have to make do with a peek through the gate.
Many long-time New Yorkers, even if they live on the UWS, don't even know that this picture-perfect complex exists. Now in the shadow of high-rises, Pomander Walk remains a testament to the growth that the area around 96th Street experienced at the very beginning of the 20th century. Once remote farmland, the area's boom times began in the late 1800s when approval was given for an extension of the proposed Broadway subway line that included a stop on 96th Street. (In the annals of NYC development, subway stops are reliable precursors to development.) By the mid-teens the area around Pomander Walk had become a mix of apartment buildings, tenements and small stores with a few underdeveloped or undeveloped sites for sale. 
A New Yorker named Thomas Healy knew a good deal when he saw one, and bought the vacant lot where Pomander Walk now stands in 1920. He had the homes on the Walk built one year later. Since the property was designated a landmark in 1983, the  Walk still looks exactly as it did almost 100 years ago and retains, as the Landmarks Preservation Commission report describes it, the look and feel of "a carefully-planned secluded enclave set apart from the bustling Upper West Side"  with "a unique sense of place and lasting appeal."
For this edition of Take Five,  we're offering up five facts even those remotely familiar with Pomander Walk might find surprising:
1. Pomander Walk is probably the only NYC development designed to replicate the look of a Broadway play. 
The quaint, cozy look of Pomander Walk was inspired by the quaint, cozy stage set of a play of the same name. The play, based on an earlier novel, was quite the rage when it came to Broadway after a successful run in London. The architects, Shiras Campbell and Beverly King,  used the sets as an inspiration but they chose to make the Georgian design look more Tudor-y. Healy's daughter-in-law had a slightly different spin: she speculated that the small village look of Pomander Walk was meant to remind Healy of his native land. 
2. Developer Thomas Healy's life story is the quintessential American success story.
Healy was an Irish immigrant who came to America in 1886 when he was 15 and found work at a restaurant shortly after he arrived. He obviously had a head for business because he eventually owned five popular restaurants and held the catering concessions for both the Empire City and the Aqueduct Race Tracks. When Prohibition came along, Healy was one of the first to be indicted under the Prohibition Laws. With his restaurant businesses threatened by the new laws, he made a career change and channeled his considerable energy into real estate speculation. Clearly a good decision since  when he died in 1927 he left an estate that was said to be worth 3,000,000 dollars. Not bad for a penniless newcomer. 
3. If you get past the gates of Pomander Walk, you may very possibly think you're in a dream. 
The residents of the Walk guard their privacy and unless  you're invited in, the best you can do is look at it from the gate. But, if you do get in, what you will  see is a drop-dead adorable row of eight houses on either side of the walkway. Each house is two stories, originally built with a two-bedroom apartment on each floor. Over the past years,  some have been converted into single homes. The diminutive houses are built of brick, stucco and wood and each has a different facade, a teeny-tiny front stoop and a carefully-tended front garden. (If  you visit now, expect pumpkins on the stoops.) The homes are trimmed in bright reds and greens and blues and the effect is of undiluted charm. The square footage is modest--each floor is about 700 square feet--- and what began as a rental property is now a co-op. The homes that face the walk are the most coveted but there are several more apartments that face onto West 94th and 95th Street that are part of the complex as well. 
4. Lots of show biz folks have lived at Pomander Walk.
Healy loved the theater and many of the best known actors and actresses of his time frequented his restaurants. So, when he built Pomander Walk, some say that he wanted it to be especially appealing to visiting performers--folks who wanted what was called a "light housekeeping" apartment ( the kitchens are really, really tiny) that would be just fine for a six month stint on Broadway. Although there has been lots of conjecture about exactly what theater people lived there, it has been reported but not confirmed that Humphrey Bogart, Lillian Gish and Margaret Hamilton all lived there, but Nancy Carroll, Paulette Goddard and Rosalind Russell most certainly did. 
The recent residents may not be quite so glam but they seem to love their "Walk." One resident described living there as "pretty fabulous." Neighbors celebrate holidays together--even Bastille Day. And Natalie Weiss, a sales associate with Nest Seekers International, grew up in Pomander Walk and lives there still. "Growing up on The Walk was magical and living here now still is. It's my own 'Secret Garden' in the middle of the bustling streets of New York."
Given Healy's penchant for the theater, it seems particularly fitting that Symphony Space, a popular performing arts venue, should sit on the land adjacent to the Walk that was part of the parcel that Healy owned. 
5. If you want to live in Pomander Walk, you'll have to be patient.
Since there are so few of them, properties for sale in Pomander Walk are understandably few and far between. Weiss says that in 12 years, she has sold 12 properties. However, over the past year, there have been some moves in and out. The last two sales that Weiss made were for $795,000 and $880,000: Both were the same size apartment but one had been converted from a small two bedroom to a one-bedroom. Having two properties for sale so close together "was really just a fluke," she said.
Related:
Ridgewood is still a middle class haven (and is making a return to its boozy roots)
Henderson Place: a charming corner of Manhattan probably never heard of
Brick Underground articles occasionally include the expertise of, or information about, advertising partners when relevant to the story. We will never promote an advertiser's product without making the relationship clear to our readers.