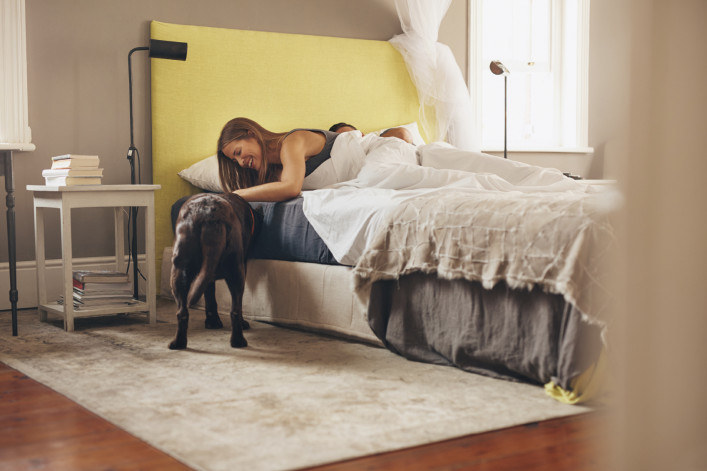 So you've always wanted a dog, but thought you had to wait until you were married and living in the suburbs? Not necessarily. But there are definitely things you'll need to consider before bringing a dog into your square-footage-challenged apartment. Here's what you need to know:
Size doesn't really matter: While most people think that a small dog would make the most sense in a small space, large, calm dogs can also exist happily in your tiny apartment.
Dogs take time: You'll need to walk your dog multiple times a day to relieve itself, take it to a dog run to get some exercise, and make sure it isn't lonely or cooped up too much during the day. Great if you work part-time or from home—less so if your work schedule is long or erratic. If it is, make sure to hire a dog walker to take your pup out to stretch its legs periodically during the day.
They'll make a dent in your budget, too: Even if you adopt or rescue your dog, there are vet costs, plus food, potty pads, a crate, bed, toys and (possibly) a dog walker and/or doggie day care. Plus many buildings charge one-time fees for dogs, usually anywhere from $250 to around $600. In rare cases there can be a monthly fee.
Which breed is best for you? While they're adorable, Corgis are herding dogs and long to run around. Same goes for Boston Terriers. For single people who work a lot, smaller breeds like Poodles, Yorkies or Shih Tzus make the most sense. 
Is your building dog-friendly and open to all dogs? Even buildings that allow dogs often have weight restrictions (usually small dogs, up to 25 pounds) and some prohibit aggressive breeds like Rottweilers and Pitbulls. 
Will you make your pup happy? Can you afford him? Do you want him? Will you love him with all your heart? It sounds stupid, but if the answers to any of these questions are "no," a dog's not for you. If you answered "yes" to all, congrats! You're ready to be a puppy parent.
For more, read "9 things to consider before introducing a dog to your NYC apartment."
In Case You Missed It: Every so often, BrickUnderground digs through the archives to find the best advice our experts have shared through the years.
Related:
Big dogs are not always a big problem in NYC: Here's how to look (and where)
Ask an expert: Handling dog drama in the building's elevator
Brick Underground articles occasionally include the expertise of, or information about, advertising partners when relevant to the story. We will never promote an advertiser's product without making the relationship clear to our readers.