Due Diligence
Clara Hemphill, founder of Insideschools.org, raised two kids in a one-bedroom, but wouldn't live anywhere else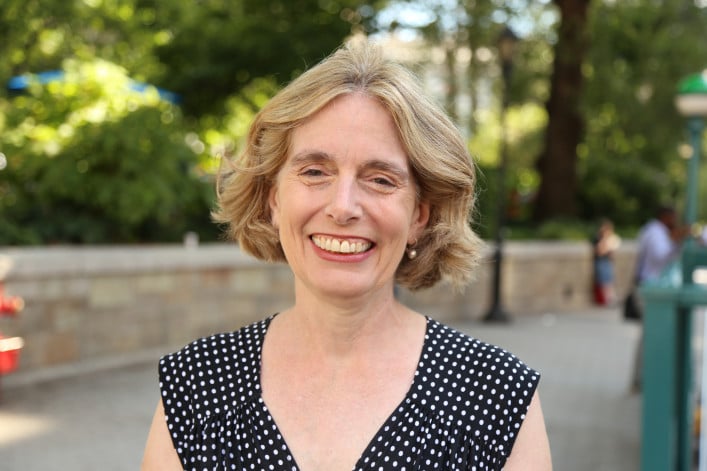 After having spent years as an investigative journalist, Clara Hemphill  thought she understood bureaucracies. But she still found herself baffled by the New York City public school system when it came time for her son to go to kindergarten.
So, in 2002, she created 
Insideschools.org
 to help other parents navigate what was going on at the Board of Education.
Hemphill, editor of Insideschools at the New School's Center for New York City Affairs, tells us about her favorite NYC park, and why she loves NYC public schools.
1.  What neighborhood do you live in?
Upper East Side.

2. Is this your dream neighborhood or is there someplace else in NYC you'd prefer to settle in?
I love the whole city! 
3. Do you own or rent?
Rent. It's a one-bedroom. My husband and I sleep in the dining alcove, and we gave my kids, who are now in college, the bedroom.
4. How'd you find it?
I moved here in 1987, when it wasn't so hard to find a place.  
5. What's the one thing you love the most about it?
High ceilings and moldings. 
6. If there's one thing you could change about your apartment, what would it be?
I'd make it bigger. 

7. In three words, describe the first apartment you've ever lived in.
Chicago's South Side.

8. Do you prefer old NYC or this NYC?
I don't miss the crime and grime, but I wish things weren't so expensive. The physical changes in the last 10 years—the new parks, the pedestrian malls—are great. I love the Highline.
9. Tell us about the favorite apartment you've ever had.
I lived in a Renaissance palazzo with a terrace in Rome when I was a foreign correspondent in the 1980s.

10. And the worst?
Cockroaches in Chicago when I was a college student.

11. Name one NYC service you couldn't live without.
The public schools! New York is a magnet for talent and you get teachers and administrators from all over the country. Among the art teachers, dance teachers and music teachers, you get hugely talented people. The National Dance Institute came into my kids' schools to dance. 
Also, the diversity of the students is amazing. My daughter would often go down to Chinatown and have dim sum with her friends of Chinese descent. My son, who went to high school in the Bronx, has friends of all races and ethnicities. They're all the better for it.

12. What's your favorite spot in the city?
Central Park. We were married in the Conservatory Garden, so that's a place I like to go back to.

13. Which would you rather: Brooklyn brownstone or a penthouse in a shiny, new condo?
Brooklyn brownstone, no question: outdoor space, crown moldings, high ceilings, fireplaces, wide wooden floorboards.

14. If you could live elsewhere, where would it be?
I don't want to live anywhere else. 

15. Any advice for a recent New York transplant?
Don't pass judgment on the place right away. The bad things about the city (noise and congestion and sky-high prices) are noticeable right away, but the good things (Shakespeare in the Park, free summer concerts, endlessly fascinating ethnic neighborhoods, friends within walking distance) grow on you over time.
Related:
YA author Carolyn Mackler once lived in a shrink's office—and lived to tell the tale
The author of "Good and Cheap" talks about her dream (brownstone) apartment, living in a Canadian building in NYC, and why you shouldn't give up on your housing fantasies
Brick Underground articles occasionally include the expertise of, or information about, advertising partners when relevant to the story. We will never promote an advertiser's product without making the relationship clear to our readers.