Live
Upgrade your apartment without losing your security deposit with these rental-ready renovation ideas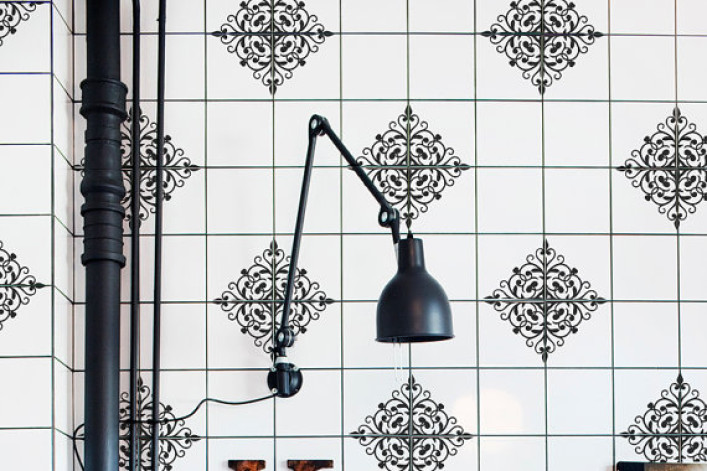 It's a truth universally acknowledged that a renter in possession of a good lease must be in want of home improvements that will never be done (because landlords). It doesn't have to be so, according to how-to expert and trained engineer, Isabelle LaRue. Her website and hugely popular YouTube channel, aptly called Engineer Your Space, focuses on DIY projects that can truly transform space, many of which are rental-friendly and won't incur the wrath of landlords. (We watched a whole bunch of them so we could share some of her wisdom with you, and got in touch with her, too, to get tips.) A caveat: If you aren't handy, you may need to enlist the help of a carpenter for some of these projects.
Let there be (fashionable) light. Contrary to common practice, lighting can be both functional and stylish. One simple fix for the kitchen that adds task lighting and makes it look more upscale: adding under-cabinet LED lighting in a kitchen. Another easy and eye-pleasing fix for rooms with no overhead lighting—the bane of many NYC apartments: plug-in pendant lamps or wall sconces that don't need extra electrical work.
Instead of having just one source of room brightening, try "layering," which is basically having a mix of both overhead lighting, table lamps and wall sconces. (This YouTube tutorial shows you how to install one.) You can also build decorative wall panels lit from behind to set a romantic mood and create architectural interest in a room.
Swap incandescent light bulbs for LED light bulbs, preferably ENERGY STAR certified LED light bulbs. They save on energy which in turn saves you money on your electrical bills. (We have more tips on LED lightbulbs and why they're better.)
You could also upgrade light switches to slough off the "standard rental" vibe. Some go beyond rudimentary on-and-off switching: Wall-mounted switches with plug-in receivers can control multiple lamps.
Make a splash. Like lamps, backsplashes are dual-duty, too: They protect walls from stains and add style and color to the kitchen. If your backsplash won't be close to a heat source (i.e. stove), clear acrylic panels are an easy way to modernize a kitchen. (If the wall you're updating is near stove burners, you'll want to use tempered glass, says LaRue.) To personalize your backsplash, stick your favorite fabric (or even pictures or wallpaper) behind the glass.
Another possibility: temporary tile, which you can peel and stick by hand sans tools (except for maybe a ruler or level to make sure they're lined up correctly) or tile decals (fairly easy to install and reposition, not to mention clean).

You-know-what's in the details. As for kitchen upgrades, LaRue suggests removing cabinet doors. (Store them safely as you'll need to re-install them when you move out.) "It can make a small kitchen feel more open and it's also an opportunity to add visual interest by creating a space to display pretty dishes," she explains. Adding extra half-shelves helps get you more storage—see LaRue's online workshop on installing new ones in the cabinets or the upper shelves of closets or even above cabinets .
Adding decorative molding is a great project that is removable but may take a bit of time. While it's subtle, this small detail adds architectural interest to plain doors and gives them a higher-end look well worth the effort. The same concept can easily be applied to walls, she says, and can add pizzazz to plain white walls. Temporary, paint-able wallpaper helps create an accent wall. (Click here for our own adventures in temporary wallpaper.) Just be sure to enlist the help of a friend or relative—this is definitely a two-person job. "I did this project on my own and I wouldn't recommend that," she says. "It's very sticky so you want to line it up right the first time as it's very difficult to reposition, unlike traditional wallpaper."
Divide and conquer clutter. Creating any kind of room dividers can truly change and optimize how you use a space. LaRue has used Ikea's Billy bookcases to create an entryway and an office. With a clever combination of DIY panels, bookcases, and decorative elements, you can create temporary dividers that can also act as storage solutions. "Any bookcase can be used for this or you could also use a dresser to create the base for a dividing wall with storage. If additional storage isn't a requirement or if you don't have any floor space at all, you can use curtains, or panels hanging from the ceiling," she says.
Lease up? Cover up! It goes without saying that you'll need to undo much of your work once you move out, unless you have an agreement with your landlord to leave the apartment as is. Check here for more landlord-approved fixes.
Related:
Want to update your rental? Start thinking like a landlord
Landlord-approved apartment upgrades
A real person's 5-step guide to putting up temporary wallpaper
Brick Underground articles occasionally include the expertise of, or information about, advertising partners when relevant to the story. We will never promote an advertiser's product without making the relationship clear to our readers.