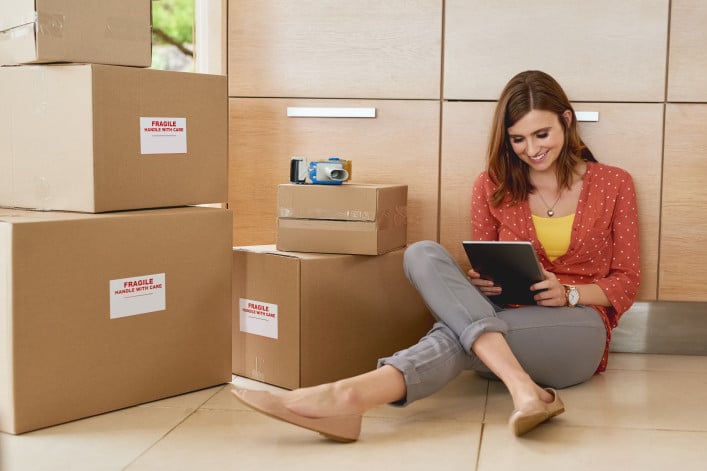 Thanks in large part to high NYC rents (for starter apartments and dorms alike), parents may opt to buy--or help buy--apartments for their grown children, rather than pay their rents. Brittney Baldwin, vice president of National Cooperative Bank in Manhattan, says she gets many inquiries from parents about this sort of thing. So what do you need to know about getting a mortgage in a case like this? 
Basically, there are two ways to go about it:
Option 1: Buy the apartment as an investment property
In this case,  you (the parent) are the only borrower and the mortgage won't have your child's name on it. That also means that your offspring's financials aren't considered in order to be qualified, and they won't be taking on any debt, or be responsible for the payments. Most parents do it this way, says NCB's Baldwin, either because the child doesn't have any credit established yet (which they need in order to borrow),  or because they don't want their child to take on the debt.
The downside is that many co-op boards don't allow investment properties, so buying an apartment as an investment could limit your choice of apartments.  However, even co-op boards that frown on investment properties may make an exception if you explain you are buying for your child and that he or she will live in the apartment as long as you own it. As long as the board knows you're not planning to rent it out  — and create a revolving door of tenants renting from you — they may actually be okay with it.  Many apartment listings in parent-friendly buildings will note that parents can buy for children in the property description.
Keep in mind that your mortgage bank will likely require a slightly bigger down payment of around 25%  for an investment property than for a primary home. Also, your interest rate will likely be somewhat higher. The amount varies based on the lender, says Baldwin, but NCB charges a quarter percent higher.
One more thing to keep in mind: Since Fannie Mae doesn't allow for parents to buy for kids unless a child is disabled, you'd have to opt for a portfolio loan rather than a conventional loan. Portfolio loans are held in-house by a lender and not sold on the secondary market, so they're not subject to Fannie Mae and Freddie Mac guidelines, but often have slightly higher interest rates.
Option 2: Get a non-owner-occupied co-borrower loan
With a non-owner-occupied co-borrower loan, your child's name is on the loan, which means the bank will be looking at your progeny's debt-to-income ratio, too (usually requiring 43 percent or less). "As long as the child has an income, and can prove it on pay stubs, we can count that income," says Baldwin.
NCB, for one, offers a blended ratio, meaning that parents must be able to support their own debt and their kid's debt.
While your child doesn't have to have a job in order to be a co-borrower, he or she does need to have credit of 720 and above (so do you).
For a co-borrower loan, NCB will allow a 20 percent down payment — about the same, maybe slightly higher than regular, primary home — and  does not charge a higher interest rate.
Some borrowers object to doing it this way because it means their child is financially obligated to pay back the loan if they don't, and it could affect their credit if they default on payments.
On the other hand, says Baldwin, it will also help them build credit —  good credit -- as long as mortgage payments are made on time.
One further nuance to be aware of: When there's a primary borrower and a secondary borrower, typically only the primary borrower can deduct their interest payments and their property taxes from their taxes come April 15.
Pro Tip:
Looking to buy a co-op apartment?  National Cooperative Bank offers competitive rates and easy pre-qualification. With 40 years of lending to buyers in New York City, NCB is the bank for co-ops. After all, Cooperative is our middle name! Call us at (202) 349-7455 or email Ryan Greer [email protected] #507534. Equal Housing Lender.
So which option should you pick?
A mortgage loan officer can tell you which is the best way to go, advising what's best for your experience.
And if you have a particular apartment in mind, ask for the building's input. Parents should reach out to the building management and see what they say about the type of loan they prefer. Additionally, note, that the bank will require the board's approval for the child who's actually occupying the unit. 
---
Brittney Baldwin (646-201-4714) is vice president at National Cooperative Bank in Manhattan. 
More from National Cooperative Bank:
To get a mortgage you need a rate lock. What is it anyway?
Selling your NYC apartment? Your top 5 mortgage questions answered
5 ways to get a lower mortgage rate
Get the 411 on financing an investment property 
Top 12 questions New Yorkers ask their mortgage bankers
Buying, renovating or refinancing next year? 5 mortgage trends to watch in 2014
4 good reasons to refinance your super's apartment
Brick Underground articles occasionally include the expertise of, or information about, advertising partners when relevant to the story. We will never promote an advertiser's product without making the relationship clear to our readers.