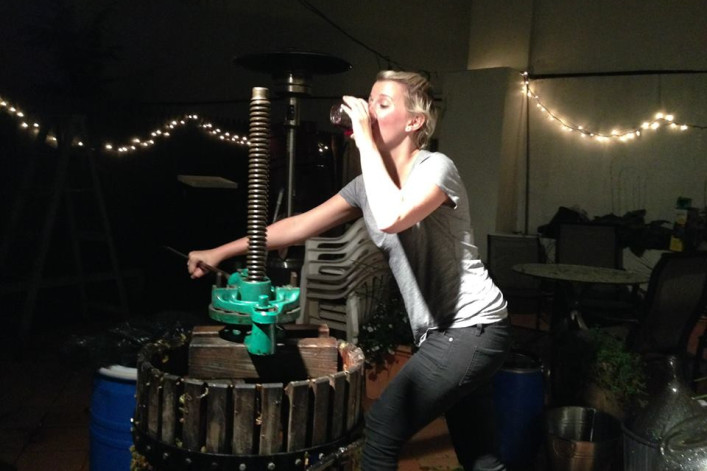 By now (thanks to Brooklynites), we all know that beer-making is rather easy to do in New York City apartments, but wine? Believe it or not, that's doable too.
East Village resident Matt Baldassano, for one, is an urban winemaker, running a winery out of his 550-square-foot rental that produces 200 gallons per year, which he distributes via his members-only Village Winery Club. As soon as we read about Baldassano on Thrillist, we had to know more.
"My grandfather, like most traditional Italians, made his own wine, in Staten Island," Baldassano told us. "If it weren't for him, I'd probably just be making beer like everyone else."
While Baldassano told us he recently secured some cellar space elsewhere in the East Village in hopes of turning his hobby into a commercial operation — you can't run a business out of a residential apartment — he stresses that it's entirely possible to make wine (for fun) in a small NYC apartment. Here's how:
Q: How did you make room for all the barrels and equipment?
At first I gave up my kitchen table, but I found a way to get it back by putting a glass top of one my barrels. I have enough furniture, though. Like all New Yorkers, I make room for what's important.
Q: You have private outdoor space. Is that necessary?
You could make maybe five gallons — or two-and-a-half cases — in an apartment. To do what I do, and service 100 people, I need that extra space.
Q: What would you tell people trying to do something like this, albeit on a smaller scale?
The equipment is expensive. Everything — the crusher/de-stemmer, press, filter, 59-gallon barrels — all cost about $500 each. Of course, if you don't need a barrel that big,  you can also get  smaller, 10-, 15- or 20-gallon barrels or even a "carboy" to ferment the wine.
You can also save on some  of that equipment by simply buying the juice and fermenting it. But you won't get the same flavor. Temperature is also important to think about. You never want it to be over 70 degrees. I have central air, so it's easy to keep the temperature in my apartment between 66 and 68 degrees at all times.
UV is also issue, and you want a dark space. A barrel works, of course, but if you keep it in a carboy, make sure to keep it in a closet, or wrap a t-shirt around it.
Q: You live on the lowest floor in the building. Is that a coincidence?
I lived on the second floor in the same building for two years and scoped out the cellar floor apartment. It's helpful, but you can honestly make wine on any floor. I have a friend in Philadelphia who does it on the 11th floor. [Editor's note: We suggest not stomping grapes if you're above ground level or have thin floors and walls, lest neighbors underneath start to despise you.]
Q: How long does the process take?
Fermentation takes 7-14 days (depending on mother nature), but the aging process usually takes nine months for a white or rose, 12 or 16 months for a red.
Q: You rent your apartment. Has the landlord ever given you a problem?
Other than questions regarding the huge pallets of grapes that get dropped off outside my building, no one's ever asked me anything. I keep it all inside my space and I'm a good neighbor. Honestly, everyone in the building is extremely happy to have me as a neighbor. Sometimes, I'll offer a sample.
Related:
7  fruits and vegetables you can grow in a NYC apartment
How to start a garden in event the smallest NYC apartment
7 ways to grow a (little) garden in your NYC apartment
Compost 101: All the dirt New Yorkers need for "organics collection"
Brick Underground articles occasionally include the expertise of, or information about, advertising partners when relevant to the story. We will never promote an advertiser's product without making the relationship clear to our readers.