Due Diligence
Union Square Cafe's Sam Lipp lives within walking distance of work, loves his neighborhood's gardens and dreams of a brownstone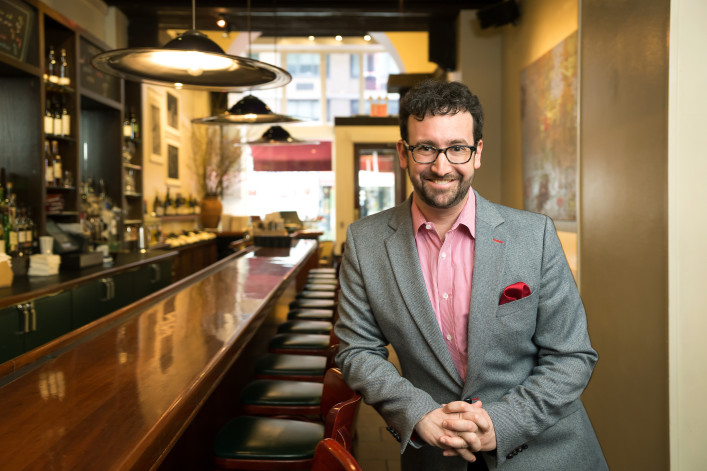 As the general manager and a managing partner at Union Square Cafe, Sam Lipp oversees the the New York City institution, which turns 30 this year. The Madison-Wisconsin native worked at several Danny Meyer-owned restaurants, including MoMA and Maialino before becoming general manager at the Union Square Cafe, which will soon announce its new location.
Lipp lives with his wife and two young daughters downtown, at 20th Street and Avenue C, in Peter Cooper Village. He moved there about two years ago; before that he lived in the adjacent Stuyvesant Town complex.
1.  What neighborhood do you live in?
Peter Cooper Village.

2. Is this your dream neighborhood or is there someplace else in NYC you'd prefer to settle in?
With my daughters, Madeline (age 3) and Hadley (age 3 months), and my two dogs Reeses and Henry, it's a pretty awesome place to be right now. Tons of playgrounds, paths, grass and trees; idyllic for parents with young families. My wife Amanda and I do dream, that said, of either water or park (the Prospect Park kind, not Central) frontage, you know the story — big old brownstone, well-preserved, with our own distinct style incorporated into the renovated interior.   

3. Do you own or rent?
Rent.
4. How'd you find it?
Friends of ours who work with us at Union Square Hospitality Group; there was a critical mass of us living in Stuy Town and "commuting" to Union Square that really felt impressive.  It also made for some great happy hours and impromptu adventures.

5. What's the one thing you love the most about it?
The density of children is astounding, as are the resources available to entertain them. Being able to walk to work at Union Square Cafe, well, let's just say that doesn't suck either. Given the impending expiration of our lease at Union Square Cafe at the end of December, we are working very hard to try to keep this commute intact!

6. If there's one thing you could change about your apartment, what would it be?
Okay, two things, I can't help it: First, my kitchen would be open to my living room.  There is currently a full wall separating the two, and we love to entertain.  It would be amazing to be able to cook and still be a part of the party. 
And then next, I would take over my neighbor's apartment, which has an extra bedroom and bathroom, plus a stunning view of the East River, Long Island City and Williamsburg. Yeah, that means she would have to move somewhere else, but with six heartbeats all crammed into our one bedroom, one bathroom unit, can you blame a guy for having thoughts?

7. In three words, describe the first apartment you've ever lived in.
Railroad-style (that's one, right?); concave-floored; happiness.

8. Do you prefer old NYC or this NYC?
I feel it's important to remember and even celebrate the past, but we can't go back there. Just like with work, we've had some incredible times and created great memories, but I am forward-thinking and prefer to continuously look for ways to enjoy the present.

9. Tell us about the favorite apartment you've ever had.
I am so lucky to have such wonderful neighbors in my current apartment and friends in the neighborhood, so I suppose my current apartment is my favorite. Being surrounded by great people really enhances the overall experience. 

10. And the worst?
When my wife (then girlfriend) and I first graduated college we moved into an apartment in a huge high-rise complex where she was the property manager. The amenities were fantastic, the apartment unit was new and spacious, but it was so stressful for her having no separation between home and work. As nice as the perks were, I wouldn't wish those pressures on anyone!

11. Name one NYC service you couldn't live without.
Ridiculously tasty and diverse food options at all hours of the day, dine-in or delivery. This city is an embarrassment of culinary riches, truly. We love the sandwiches and biscuits from Empire Biscuit on Avenue A. It's like late night drunk food but it's also great family food. They also deliver. We also use Caviar sometimes, because we like Blue Ribbon fried chicken and Han Dynasty, and we get a lot of Mexican delivery, of varying degrees of fineness.

12. What's your favorite spot in the city?
Alphabet City contains a treasure trove of community gardens. One in particular (I'm not saying which, because part of the reason it is my FAVORITE place in the city is because it's always nearly empty!) boasts a koi pond, herb gardens, hanging wisteria and a giant weeping willow.  Early summer is pretty stunning here for a picnic, and really transports you to another place. 

13. Which would you rather: Brooklyn brownstone or a penthouse in a shiny, new condo?
I suppose I tipped my hat on this one earlier, but I love old bones! Give me that Brooklyn brownstone any day and let me mold and shape the inside…There is no substitute for warmth, character and soul.

14. If you could live elsewhere, where would it be?
I grew up in Madison, Wisconsin and have many cherished memories of that place. I've heard Portland, Oregon and the Pacific Northwest are a great place to live (certainly to visit), but then again, I can live anywhere I choose, and wouldn't choose to make anywhere else home right now.

15. Any advice for a recent New York transplant?
You can spend four lifetimes chasing the latest and greatest in New York; don't forget to search out the classic and iconic. New York has so many wonderful(ly) old treasures worth seeking out.  Also, go see live music all the time. Seriously. New York has the most incredible concentration of world class music of all genres running through its depths and dives.  You will discover a deeper appreciation for the city in doing so, I promise.
Related:
The Naked Cowboy lives in Queens, doesn't need a lot of closet space and dreams of living in a penthouse -- in his underwear
Brooklyn Spaces author Oriana Leckert on the Williamsburg waterfront's last secret spots and the Importance of "like-minded crazies"
Brick Underground articles occasionally include the expertise of, or information about, advertising partners when relevant to the story. We will never promote an advertiser's product without making the relationship clear to our readers.