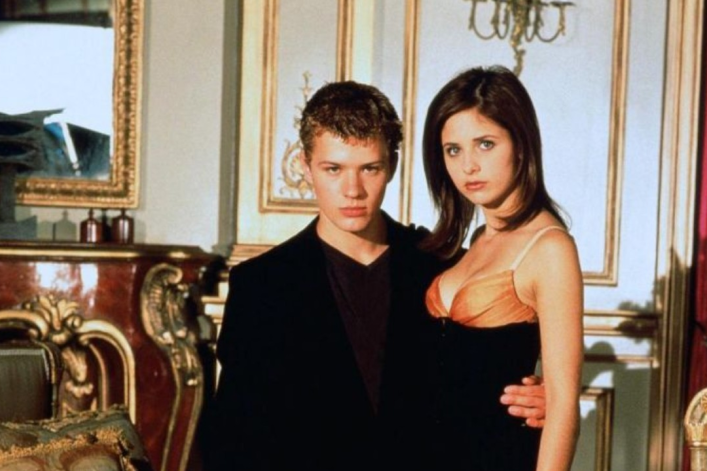 When a movie or TV show is set in New York City—and if the people making it are savvy—real estate becomes part of the story itself. In Reel Estate, we look at some of the more memorable domiciles to grace the screen.
If New York Times trend pieces are to be believed, New York's uber-rich teenagers are voracious, borderline creepy consumers of all things real estate. But if, like us, you get all your intel about teens from Cruel Intentions, this isn't true at all! We recently we re-watched the entire thing, and while everyone in it seems super comfortable swanning around preposterous mansions, not once does anyone mention anything even remotely related to real estate. (We feel like Sebastian would have gotten into it later in life, but who's to say. RIP.)
Anyway, even with real estate mostly in the background, there's still plenty of fodder for gawking. Let's start with the Valmont mansion, where step-siblings Kathryn (Sarah Michelle Gellar) and Sebastian (Ryan Philippe) do most of their scheming:
Their "house" is actually the Ukrainian Institute of America, located at 79th Street and Fifth Avenue (those Central Park views!). As On The Set of New York points out, the building is a gilded age gem designed by Cass Gilbert, and was home to various industry tycoons over the years before being sold to the Ukrainian Institute in 1955 for — wait for it — $255,000. (It's also been a landmark since 1978.) As for all those spooky interiors, those were shot at a different mansion in Los Angeles.
After Sebastian hatches a plan to seduce publicly-declared-virgin Annette Hargrove (Reese Witherspoon), he heads out to visit her at his aunt's lavish estate (in an unspecified location), where Annette has been staying for totally unclear reasons. The place is a doozy:
This one you can actually visit for yourself; the exteriors were shot at Old Westbury Gardens on Long Island, another grand, formerly private estate. (Listed on the National Register of Historic Places, the estate now hosts various events like car shows, outdoor concerts, and readings, as well as tours of its formidable gardens). But if you're hoping to take a dip in that pool, you'll have to head all the way out to the Biltmore Hotel in downtown L.A., where those scenes were shot. (As far as we can tell, there isn't any kind of pool whatsoever at Old Westbury.)
Back in Manhattan, we finally see an apartment a real-life person (and not a 19th century oil magnate) might live in, when we come upon Cecile (Selma Blair) in the middle of a sexually charged cello lesson:
Though the interiors were, yet again, filmed in L.A., the exterior shown for Cecile's building is 952 Fifth Ave. (between 76th and 77th), a tony co-op building that also has a number of rentals. It doesn't come cheap—there's currently a two-bedroom on the market for $6,695/month, according to CityRealty—but it's by far the most attainable building we see throughout the movie ("attainable" here being loosely defined).
As for Annette, we don't see much of her New York digs, but she seems to live at the Alden, a co-op at 225 Central Park West, where current listings range from a $329,000 studio to a $3.45 million three-bedroom, according to StreetEasy. Not a bad set-up, but then again, given how the movie ends, we kind of think she'd never want to lay eyes on Central Park West again.
Related:
Reel Estate: The Upper East Side (and Urban Haute Bourgeoisie) apartments of Whit Stillman's Metropolitan
Reel Estate: Empire lets Chicago stand in for Bushwick
Go big, THEN go home: 6 NYC houses worthy of the "mansion tax"
Brick Underground articles occasionally include the expertise of, or information about, advertising partners when relevant to the story. We will never promote an advertiser's product without making the relationship clear to our readers.