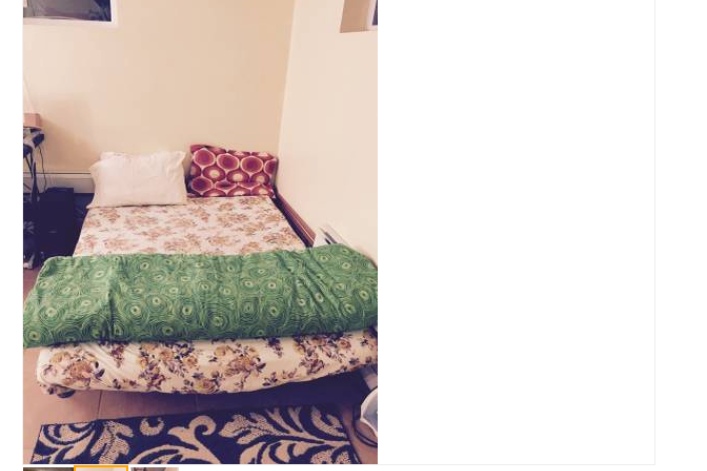 There's no such thing as a free  lunch — or free rent. Just take a look at this apartment/roommate post from a 26-year-old entrepreneur/math tutor on Craigslist (of course).
He's super busy, of course, which is why he's taken to the Craigslist real estate section to find a "friend" — it's not because he's a weirdo or anything.
This guy, who's got  "more education than you would expect from a creep," is up to for sharing his Flushing, Queens, studio (which he repeatedly mentions is NOT in downtown Manhattan, if geography was the deal-breaker) for free, in exchange for "friendship," which may or may not lead to more.
"This is NOT for sexual favors ," he writes, "BUT I would expect you to understand as logical people would, if it happens it happens, nothing is pushed, we are friends not FWB [editor's note: "friends with benefits"]. Though I would expect you to be not averse to something more and I am not here to be used by some trying to be clever girl. You might be a smart girl though I am not stupid I have seen my fare [sic] share of life." 
If you wanted a love shack situation further upstate, you're out of luck. Though we spotted a listing from a 40-something "average to attractive looking" man  — with a four-bedroom house 10 miles from Albany — looking for a live-in friends with benefits, it was removed over the weekend. Just so you know what you're missing, he has a hot tub, workout room and pool. The rent included Wi-Fi, cable, and oh did we mention, sex?
He was looking for someone  "in fairly good shape. laid back. geeky, nerdy, or shy works too, as long as you can be adventurous when needed."  He could be referring to adventurous Albany-area day trips, but somehow we think not. Looks like he found what he was looking for (or realized how creepy his listing sounded).
So ladies, if you're looking to live and (possibly) have sex with a total stranger,  a Flushing, Queens, studio might be your best bet. (Please tell us you're thinking four words: Hell. To. The. No.)
Related:
How to find a roommate on Craigslist (and avoid the freaks)
Proof that you can find a roommate no matter what your Craigslist ad says
"Seeking employed, 420-friendly young professional": decoding Craigslist roommate ads
Reel Estate: Everybody knows a "roommate" like Broad City's Bevers
​How to kick out a roommate—with minimal drama
Rocker Andrew W.K. on his life as a bad roommate—and why having one isn't so bad
Brick Underground articles occasionally include the expertise of, or information about, advertising partners when relevant to the story. We will never promote an advertiser's product without making the relationship clear to our readers.