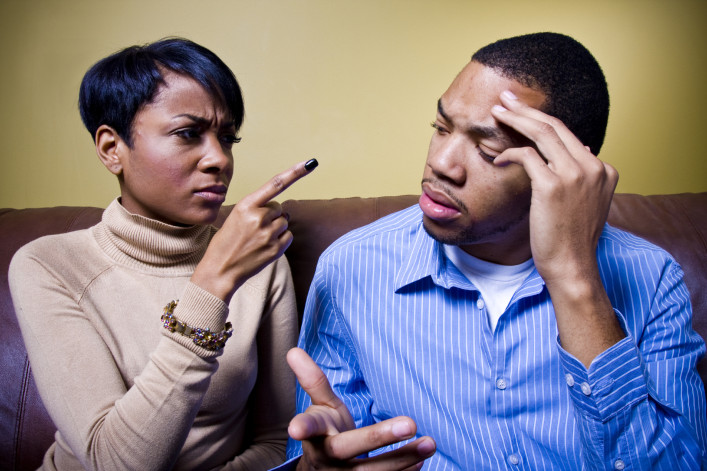 When you settle in New York City you have to accept the fact that you're going to be living thisclose to your neighbors. (If you don't like that, we suggest you save yourself some serious grief and relocate. Or magically inherit millions.) Whether or not you choose to befriend your neighbors, chances are you'll overhear enough that you start to feel like you know them — and their personal frustrations.
"It happened this Saturday, I was in the bathroom, and I could clearly hear my neighbors having an argument,"  says Dr. Jeff Gardere, a clinical psychologist with a master's in real estate development (and experience dealing with difficult issues among residents). "Arguing is part of living, and it's certainly part of relationships."
In fact, according to 311, the city's  non-emergency information hotline, neighbor noise is the number one noise complaint from New Yorkers (more than construction din and bar/restaurant noise). So far in 2015 there have been about 42,000 complaints. So what is a New Yorker to do? Buy earplugs? Sure, but there's more.
HOW TO QUARREL IN A NYC APARTMENT—CONSIDERATELY
In an ideal world, we'd all speak calmly when in a disagreement. But this being the real world, we could all use some help. Assuming you don't want your neighbors to hear every detail of your argument with your spouse/partner/kids, steer clear of certain places where noise travels, like by the front door, near an open window (especially if you're on a low floor), in the hallway or near a vent in the kitchen or bathroom.
"It's important to know when we do raise our voices our neighbors can hear us, so we should all find a room that's more private, more interior, that doesn't allow our conversations to have an audience," says Gardere.
On the plus side, sometimes knowing that your neighbor can overhear your dirty laundry may keep you in check. "It's a good way to ensure you don't say anything below the belt. A byproduct of that closeness may be that we're not as disrespectful when we fight," says Gardere.
WHEN YOU'RE THE ONE HEARING THE FIGHTING
First things first: If you think the conflict you overhear is more than run-of-the-mill, everyday arguing and suspect that a neighbor may be in danger, call 911 immediately. But if the fighting is more annoying and embarrassing than concerning, there are several things you can do. 
Cynthia Graffeo, director of client relations at Argo Real Estate, a company that manages around 8,000 rental units across Manhattan, advises tenants to reach out to to building staff — doormen, concierges or supers  or the building's managing agent —  when their neighbors' fighting is bothering them. "Usually we'll place a quick call to the apartment and tell them that the neighbors are bring disturbed by the noise. Most of the time that resolves it," she says.
Depending on your relationship with your neighbor, you may be tempted to confront them yourself, but Graffeo warns against doing that when people are in the middle of an argument. They may be too emotionally charged at that pointand the managing agent and/or the building staff are probably best equipped to handle it," she says.
Gardere also discourages neighbors from confronting each other. "It's just too embarrassing for them, and for you." 
You could also hint at the problem next time without explicitly pointing to their fighting. "You could say 'Have you noticed how thin our walls are? I can imagine you can hear everything we're saying.'" They'll get the point, Gardere says, and the onus will be on you. Plus, he says, anonymous notes won't usually help, since it's usually pretty easy to figure out who the complainer is.
But some of it is just about accepting the fact that city life can be loud. "With living comes noise," says Gardere.
Related:
Can I get out of my lease because of noise problems? 
Ask Sam: Can I get evicted because of my neighbors' noise complaints?
Brick Underground articles occasionally include the expertise of, or information about, advertising partners when relevant to the story. We will never promote an advertiser's product without making the relationship clear to our readers.