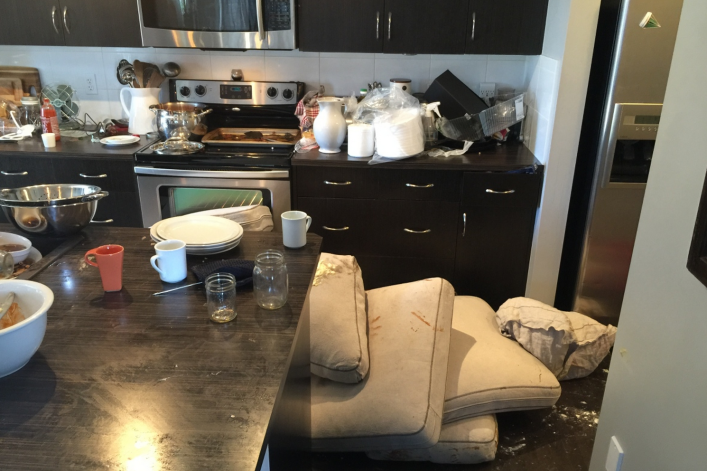 We were about due for another Airbnb orgy story, and this one's a doozy: a Calgary couple had their home completely trashed by a group of Airbnb renters who were supposedly in town for a wedding, and turned the house into a "drug-induced orgy," CBC news recently reported.
"Our hardwood floors are all popping because there are pools of liquor. There's glass shards, there's dent in our walls, toilets flooded and plugged with condoms," said Star King, who rented out the place while she and her husband Mark were visiting family over the weekend. The guests also apparently threw paint all over works that King, an artist, had planned to sell.
The trouble started when a "huge luxury party bus" deposited 100 revelers at their home (the Kings almost immediately started receiving noise complaints from neighbors), and ended when the couple came home and had to beg the guests—who were still "wasted"—to clear out. Below, a few more photos of the carnage:
"We came and wished the home was burnt down to ashes," Star said. "It would have felt way better." Thankfully, this story has a happy-ish ending: Airbnb has said the couple will be reimbursed for the estimated $50K in damages through its Host Guarantee program, and authorities are trying to track down the guy who originally booked the house. The Kings are lucky, at least in this respect: as we've written previously, Airbnb's coverage isn't always guaranteed to cover property damage, and if you're renting out your place for profit, most other insurance companies aren't going to want to touch you with a 10 foot pole. Next time you rent out your place, read the fine print on your policy, and for god's sake, read your prospective renters' user reviews.
Related: 
There are probably going to be a lot more Airbnb sting operations
Good news: your Airbnb host might be spying on you
6 summer mishaps that are covered by your apartment insurance [sponsored]
Free insurance for Airbnb hosts—but with a catch (or several)
Brick Underground articles occasionally include the expertise of, or information about, advertising partners when relevant to the story. We will never promote an advertiser's product without making the relationship clear to our readers.