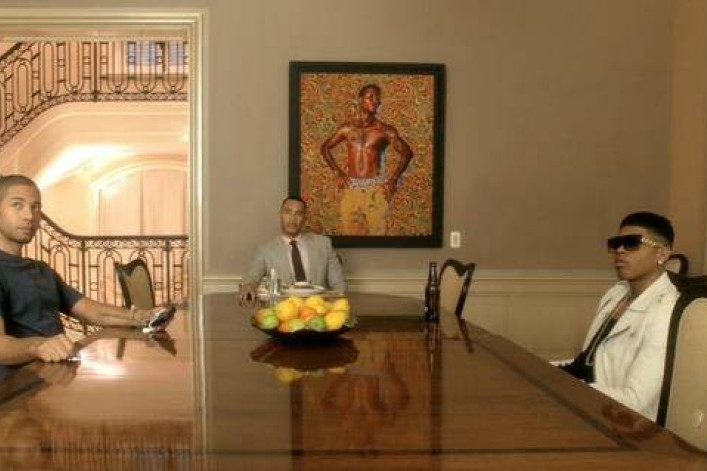 When a movie or TV show is set in New York City—and if the people making it are savvy—real estate becomes part of the story itself. In Reel Estate, we look at some of the more memorable domiciles to grace the screen.
We're going to go ahead and assume that you've been spending all your spare time these past few weeks plowing through episodes of Empire, keeping obsessive tabs on the totally-realistic-and-plausible goings-on of the Lyons family, a "New York" hip hop dynasty. This might be the least New York "New York" show since Two Broke Girls, but we love it anyway.
The whole show is actually filmed in Chicago (kind of surprising, given the degree to which New York officials will bend over backwards to lure in film shoots), which might explain why Lucious lives in a gated mansion that barely looks like something you'd find in Westchester county:
The interiors are palatial, marble-intensive, and packed with on-trend Kehinde Wiley pieces, like the above painting in the dining room.
We don't see much of his three sons' apartments, though his oldest son Andre is sometimes shown in a suspiciously well-lit, enormous townhouse, Hakim (the youngest) has some kind of giant hot tub set up in his place, and his ex-wife Cookie seemingly goes straight from prison to a giant, well-decorated apartment of her own. Generally speaking, no one on Empire wastes much breath on real estate. (Even the address shown on their record label's massive, midtown HQ is given as 3353 Madison Avenue, which in real life would place it up at 135th street a block away from the Harlem River Drive.) 
The one big exception here is Jamal, who in the early episodes lives in a sprawling loft—unclear what neighborhood—paid for by his dad to the tune of $12,000 a month. It even has an old school elevator with doors you have to open manually. (Let's be real; a loft this big would cost way more a month.):
However, when Lucious threatens to cut Jamal off financially if he comes out of the closet—not even his most despicable parenting move, unfortunately—Jamal and his boyfriend clear out of the loft and move to a roach-filled "Bushwick" apartment that they can afford on their own terms.
It's not ideal, but all the screaming, banging of garbage cans, and above-ground train noise that filter into the apartment eventually inspire Jamal to write his breakout hit, "Keep Your Money" (below). The season's not over yet, so if the proceeds end up landing Jamal in nicer digs, we'll update with the details.
Related: 
Reel Estate: Desperately Seeking Susan's blue-tinted downtown loft
Reel Estate: The Loft may be ridiculous, but the apartment is dead on
How my $600/month Bushwick loft turned into a renter's worst nightmare
Go big, THEN go home: 6 NYC houses worthy of the "mansion tax"
Brick Underground articles occasionally include the expertise of, or information about, advertising partners when relevant to the story. We will never promote an advertiser's product without making the relationship clear to our readers.