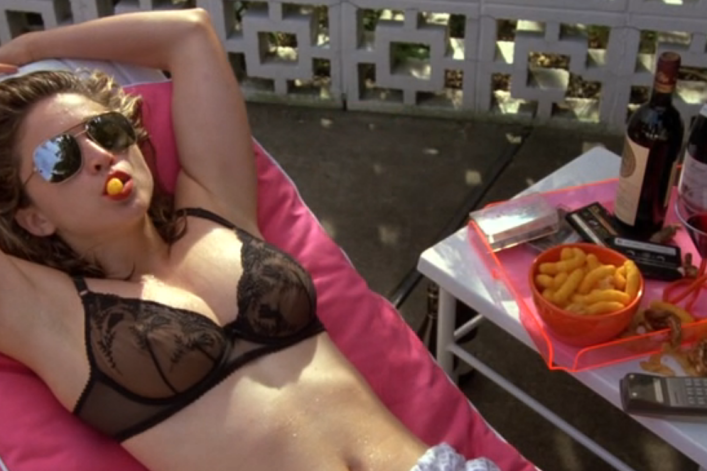 When a movie or TV show is set in New York City—and if the people making it are savvy—real estate becomes part of the story itself. In Reel Estate, we look at some of the more memorable domiciles to grace the screen.
Desperately Seeking Susan is iconic for a lot of reasons—early Madonna at her early Madonna-est, endless on-location shots of '80s lower Manhattan—but to the surprise of probably no one, all we're really here for is that loft.
So let's get right to it: Roberta (Rosanna Arquette) is a Jersey housewife, understandably pretty bored with her husband, a small-time Jacuzzi salesman. She spends her days reading the classifieds, and ends up engrossed by Susan (Madonna) and her boyfriend, a couple who communicate with each other and arrange meetings via ads in the personals. After stalking the pair to a rendezvous in Battery Park, Roberta ends up being mistaken for Susan by a mobster, attacked, and knocked on her head. (In the process, her purse falls into the water, conveniently ridding her of any form of identification.) She wakes up unsure of who she is, and is taken in by Dez (Aiden Quinn), a friend of the actual Susan's boyfriend. Some version of this has probably happened to all of us at least once, right?
Anyway, Dez takes pity on Roberta (whom he thinks is Susan) and brings her back to his unbelievable downtown loft, located above a Chinese restaurant that seemingly has no problem lending him its delivery moped whenever he asks. It's unclear where exactly this was shot, but based on the exteriors, it looks to be Soho (albeit a long-forgotten version of it):
Once they get upstairs, Dez realizes that his ex, Victoria, has taken the liberty of clearing everything out of the loft, fridge included. After asking Dez if "people actually live here," Roberta-as-Susan tries to cheer him up by offering that, "You could do a lot with this place, there's a lot of light." (You can take the housewife out of Jersey...)  Still, the place looks pretty good empty, and some tech millionaire would pay a lot these days if it came with that Bruce Lee painting over the entryway still intact:
While his view of the Empire State Building and tricked-out fish tank are a little suspicious, the now-fridge-less kitchen feels pretty believable. For some reason, he's got a useless doorway in the middle of the apartment, and sets himself and Roberta up to sleep on either side of it.
One more thing about this apartment, before we move on: Dez has roof access, complete with a hammock, and a soundtrack courtesy of the requisite jazzy-sax-man-neighbor that movies seem to hand out to every character who lives in New York:
As for the actual Susan, she eventually teams up with Roberta's husband to help track down her doppelganger (besides inadvertently stealing Susan's identity, Roberta has stolen her stuff), and in the process, makes herself pretty comfortable in their place, a model of the '80s suburban dream if ever there was one:
Suffice it to say that it all works out in the end; the mobster is hauled off to jail, Susan gets her stuff back, Roberta regains her memory and stays with Dez, not the "Hot Tub King of New Jersey." We never see how she (presumably) ends up decorating Dez's loft after they get together, but if her house is any indication, that's probably for the best.
Related: 
Reel Estate: You've Got Mail (and a suspiciously nice Upper West Side rental)
Ahead of "The Jinx" premiere, a look at Robert Durst's landlord side
Living in Battery Park City means free transit, no lines at Shake Shack, and lots of puppies
Brick Underground articles occasionally include the expertise of, or information about, advertising partners when relevant to the story. We will never promote an advertiser's product without making the relationship clear to our readers.