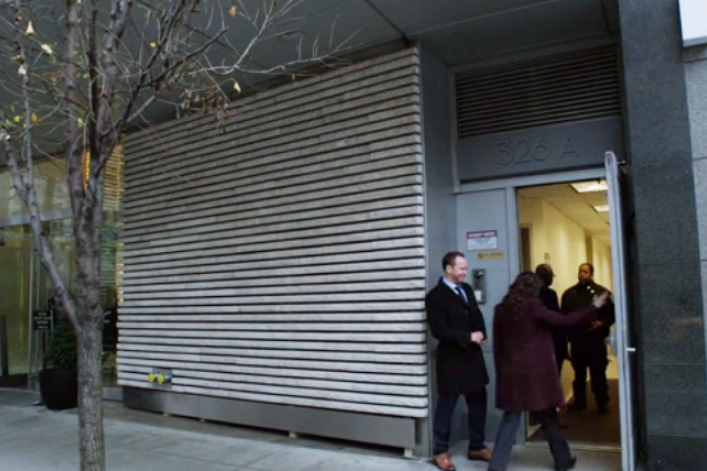 When a movie or TV show is set in New York City—and if the people making it are savvy—real estate becomes part of the story itself. In Reel Estate, we look at some of the more memorable domiciles to grace the screen.
It was only a matter of time until a ripped-from-the-headlines New York crime drama took on the city's growing real estate inequality, and earlier this month, "Blue Bloods" stepped up to the plate with an episode called—you guessed it—"The Poor Door."
Early on, detectives Baez (Marisa Ramirez) and Reagan (Donnie Wahlberg) approach the front door of a luxury building to investigate the murder of a young man, but are told by the doorman to head next door to the considerably less fancy "auxiliary entrance." Detective Baez explains, "This must be an 80/20, we're going through the 'poor door.'"
The building is dubbed "The Conway Residences," with separate street numbers for the market-rate and affordable units, No. 350 and No. 326A, respectively. It's unclear where they shot this, though it looks to be the Upper East or Upper West Side. The setup was seemingly inspired by the UWS' One Riverside Park, where market-rate condos go for millions of dollars, and affordable rentals start at $833 a month. (Applications for the apartments, which have their own entrance, just opened.) In the show, the murder victim was paying $600 a month, while market value would have been between $2,000 and $3,000.
Here's what the affordable residences look like:
And here's the luxury section:
Over on the rent-stabilized side, the murdered young man apparently had a dispute with one of the high-end residents after being called out on his illicit use of the building's fancy gym. (Apparently, in addition to a separate entrance, there are amenity restrictions, which is entirely believable.)
As it turns out, he'd gotten a pass to the gym from Rada, the daughter of Ivan Radchenko, a wealthy Russian oil magnate and a resident of an upscale unit. (Confusingly, the cops note that Radchenko, a former KGB officer, sits on high-profile charity boards across the city, even though New York's foreign real estate investors aren't exactly known for their civic involvement.) For somewhat unclear reasons (other than a general dislike of non-rich people?), it turns out that Ivan had hired a former KGB associate to kill Rada's boyfriend and plant a kilo of cocaine in his closet, just for good measure.
We're not quite sure what's intended to be more of the cautionary tale here: that developers shouldn't segregate their tenants, or that we should all tread lightly around sketchy Russian billionaires.
Related: 
Apply now for affordable rentals in the Upper West Side's "poor door" building
What you need to know about "poor doors," now that one is coming to the Upper West Side
Win the NYC housing lottery: how to get an "80/20" rental
Ahead of "The Jinx" premiere, a look at Robert Durst's landlord side
Reel Estate: "You've Got Mail" (and a suspiciously nice Upper West Side rental)
Brick Underground articles occasionally include the expertise of, or information about, advertising partners when relevant to the story. We will never promote an advertiser's product without making the relationship clear to our readers.