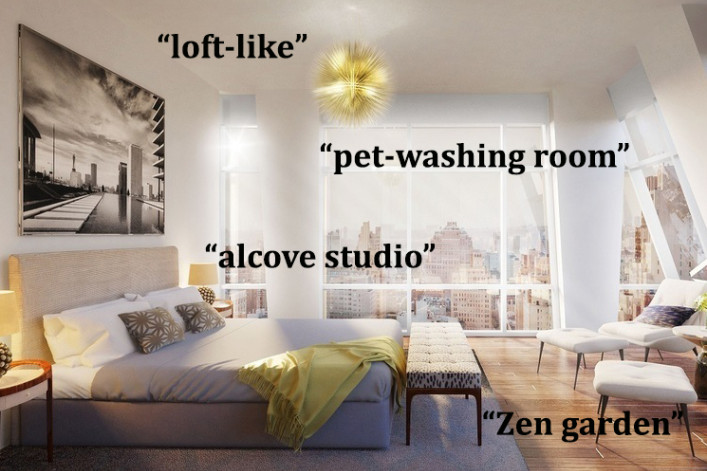 Do you need a passing knowledge of cryptography to hunt for a New York apartment? Sometimes it seems that way, considering the obfuscation, exaggeration and plain old lying common in many listings. But fear not. We've translated some of the worst offenders:
1. "Pet-washing room"
Let's not pretend there is something inherently pet-friendly here. Isn't this just a room with a sink? Admittedly, it's convenient to keep Fluffy's wet fur away from your toothbrush, but is such an amenity really going to lure you to one building over another?
2. "Zen garden"
If you must call this patch of grass and two rocks a "garden," fine. But does it need to be Zen? Can it be an "anger garden"? That seems like something New Yorkers are more likely to use.
3. "Shared roofdeck"
This one is complicated, but bear with us. A roofdeck can be a wonderful thing. The catch with a lot of them is that everyone else agrees with you. As a result, you might have to make a reservation to use it, or pay an added fee—after already paying to live in a fancy new development—to use the bloody thing. Suddenly, that spontaneous white wine on the roof is an onerous bureaucratic undertaking.
4. "Near five trains"
Unless this apartment is in the bowels of the Atlantic Center, above 42nd Street, or in a select few other locations in the city, it's not. Four of those trains aren't at all close once it starts snowing, and the fifth one only runs for 23 minutes on Tuesdays. 
5. "Yoga room"
Again, it's just a room. The ad should read: "One more small room will be available for stuff like stretching." If you live in the kind of building that has a "yoga room," go ahead and splurge on that yoga class. 
6. "Loft-like"
Wait—is it a loft or not? When this phrase is invoked, it usually means, "this is a cookie-cutter condo with slightly higher-than-average ceilings, for which you will pay a lot. more. money."
7. "Laundry in the building"
Again, on its face this is a wonderful thing. The reality, though, is that there's no guarantee the facilities will be well-maintained, available or easy to pay for. In lots of buildings, you have to mail away to get a card to use the machines, after which the rates are considerably higher than your local Laundromat. Be warned! Check out the laundry room before you sign on. Or at the least hedge your expectations.
8. "Gourmet kitchen"
This is the epitome of needless embellishment. If it's an eat-in kitchen, great! If it's a hot plate with a plastic fork, that's fine too. Just be straight with me. 
9. "Alcove studio"
Only in New York is a minor architectural feature not only touted but sought out enough that its existence incurs an extra cost—hundreds of dollars more a month, based on my anecdotal experience. An alcove studio is just a roomier studio, one with a small, added area (but no door!). Brokers: just put a photo in the ad. Then I can see for myself that the studio in question is slightly less soul-destroying than the other ones I'm looking at. 

Related:
From bowling alleys to "Zen rooms": Parsing the difference between good and gimmicky amenities
Apartment features that can make or break your love life
Want a building with all the perks? Manhattan's amenity-heavy nabes ranked
Brick Underground articles occasionally include the expertise of, or information about, advertising partners when relevant to the story. We will never promote an advertiser's product without making the relationship clear to our readers.