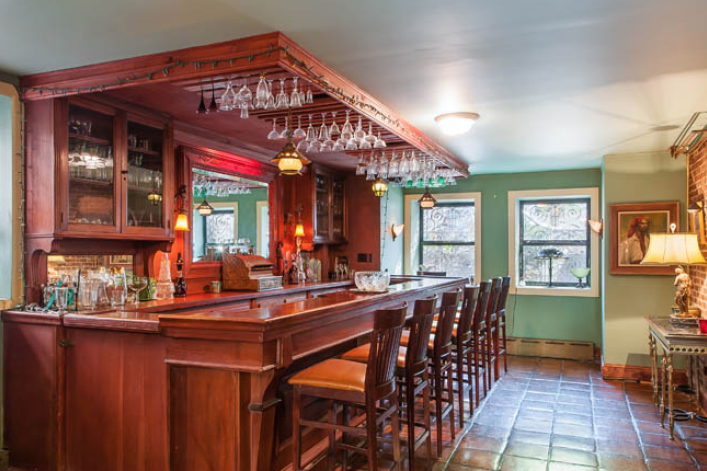 By now, you've likely heard about the $100 million penthouse sold at One57, breaking the already astronomical record for New York's priciest home. As with all such mind-boggling sales, this gives us an opportunity to lament the city's growing unaffordability, but also to fantasize about how we'd spend our imaginary money, were we in charge of this kind of cash. And truthfully? We wouldn't spend it on that penthouse.
Our fantasy $100 million portfolio includes a few splurges, along with some surprisingly sensible options. Read on, and let us know in the comments what you'd buy:
First up, the John C. Kelly mansion in Bed-Stuy, a meticulously restored 1887 standalone home that oozes old world (possibly haunted) charm. Granted, historic houses aren't for everyone—though the spacious backyard and basement bar are pretty strong arguments in this place's favor—but if you need help justifying the $6 million price tag, don't forget that there's an investment apartment on the top floor.
Every fantasy real estate portfolio needs at least one vacation house, and this $995,000 Rockaway multi-family fits the bill quite nicely. (Plus, it's got a 20-year tax abatement and a rental unit, so it's easy to justify as a good investment.) The place is located in Arverne by the Sea, just steps from the water—flood insurance not included, unfortunately.
Who doesn't want a key to a gated park where you can't smoke, take pictures, or walk your dog? The actual utility of Gramercy Park as an outdoor space may be up for debate, but its exclusivity can't be denied, and an apartment that comes with a key is a good bet. So why not snap up the one apartment currently for sale in the tony 50 Gramercy Park North, a $6.9 million three-bedroom? Maintenance is a steal at $14,000 a month.
Putting aside the listing's description of McCarren Park as "Brooklyn's Central Park" (whatever happened to Prospect Park?), it'd be pretty nice to own this $35 million mixed-use building on North 12th Street, which includes 12 market-rate rentals and three retail spaces on the ground floor. It may not have ultra-luxe amenities, but it has the makings of a true cash cow, considering its prime North Brooklyn locale.
One more Old New York option: Lauren Bacall's former spread at the Dakota, a nine-bedroom, $26 million showpiece that comes with its own spectacular views of Central Park.
If we've got $100 million to blow, we should get at least one luxury new condo in the mix. Why not this $16.95 million five-bedroom, the cheapest apartment currently on offer at 432 Park Avenue? We've always preferred 432 Park's matchstick design to the faux waterfall look of One57, and this place has a private elevator (naturally), and even the bathroom has breathtaking views of the city skyline.
After all that, we'd have about $8 million left to play with. Given the neighborhood's meteoric rise in price and popularity, Bed-Stuy's townhouses seem worth snapping up. According to the latest numbers, the average price for a multi-family townhouse in the neighborhood is around $1.08 million, which means we could buy five or six, depending on what's on the market. It may be pretty sweet to live in Manhattan's most expensive apartment, but for our money, it'd be even better to become a small-time mogul.
Related: 
What that $326 million jackpot will get you in NYC real estate
Brick Underground articles occasionally include the expertise of, or information about, advertising partners when relevant to the story. We will never promote an advertiser's product without making the relationship clear to our readers.