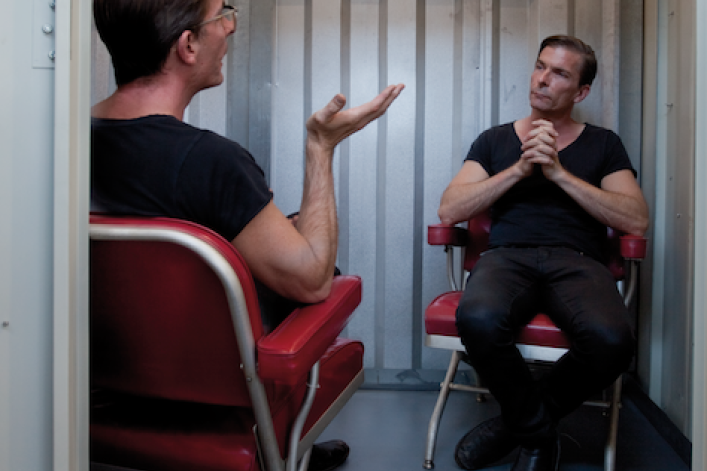 When most people rent out a mini storage unit, they do so for a variety of familiar reasons: Stashing away extra furniture, stowing office files and supplies, saving toys and clothes their kids have outgrown, or, for students, storing their stuff for the summer. But it should be no surprise that space-starved (or secretive) New Yorkers have found creative ways to make use of their mini storage units – whether for art projects, an out-of-hand shopping habit, or just about everything in between, according to the folks at Manhattan Mini Storage.
Here's just a smattering of some of the more unusual ways people have put their mini storage units to use at Manhattan Mini Storage's 17 locations. Check 'em out, and get inspired to think outside the (cardboard) box:
An artist's studio. Can't call upon the muse when your roommate's blasting the TV, but lack the budget for full-fledged artist's studio? More than one artist has set up camp in his or her mini storage unit to work on creating a masterpiece in peace.
A performance artist's studio. Artist and "performance architect" Alex Schweder used a Manhattan Mini Storage unit in SoHo to conduct so-called "performative apartment renovations," meeting with volunteer subjects to advise them on ways to stay emotionally connected to their stored items after they'd moved them out of the apartment.
A miniature library. Short on space for all your extra reading material—as well as a quiet place to read? Take (ahem) a page out of one renter's book, and turn your storage unit into a library/makeshift reading room.
A "Wheel of Fortune" showroom.  One big winner from "Wheel of Fortune" used a storage unit as a showroom to help sell off his winnings. After making sure the place was well lit and temperature-controlled, he walked potential buyers through his new treasures – which included two jet skis, a brand new dining room set and a host of new kitchen appliances.
 Piano storage. Plenty of people store large instruments in their storage units, but NYC's self-titled "Crazy Piano Guy" takes it one step further –  regularly wheeling out his instrument to perform on city streets and subways (which you can check out in the video below).
A second closet. One nationally recognized drag queen stashes extra gowns, wigs, jewels and accessories in her mini storage unit when she's between gigs. (It's a storage room fit for  a queen!)
Surreptitious shopping storage. One New York woman with a major shopping habit rented out a storage unit for the sole purpose of hiding her excess purchases from her husband. Shh…
A supply shop for any kind of party  -- really, any kind. Whether it's runway mannequins for fashion designers, life-sized coffins for a Broadway play, ballroom chandeliers or those giant cakes that you jump out of instead of eating, you name it – someone has stuck it inside a New York storage unit.
Archival storage. After converting all their archives to digital, Columbia University's newspaper, The Daily Spectator, safely stowed all their print editions dating back to 1877  in a nearby storage space.
Related:
9 questions to ask before renting a mini-storage unit in Manhattan
---
Manhattan Mini Storage is New York's premier moving and storage company since 1978. With 17 locations from Battery Park to Inwood and everywhere in between, they're the go-to self-storage solution for more than 250,000 New Yorkers. To find great storage in your neighborhood and take advantage of their free storage taxi service, visit Manhattan Mini Storage or call 1-800-STORAGE.
Brick Underground articles occasionally include the expertise of, or information about, advertising partners when relevant to the story. We will never promote an advertiser's product without making the relationship clear to our readers.