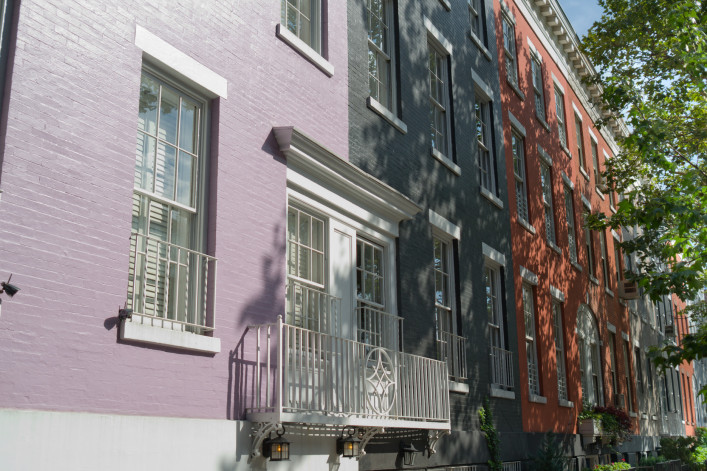 In 2012, William Powers moved to Manhattan to slow down and, yes, he appreciates the irony. Powers, a writer and college professor who has worked in global development aid and conservation, was unhappy in a 1,600- square- foot Queens townhouse, and resolved that downsizing was the answer. So he moved with his wife to a 340-square-foot, fifth-floor walk-up in Greenwich Village, which he describes as "two 12 by 12 foot boxes divided by the slenderest of kitchenettes, with a sidecar of a bathroom attached."
In his new book, "New Slow City," Powers details his year of living "small" and "urban slow" in the city that boasts it never sleeps. Here, he explains why smaller equals happier, the best urban sanctuaries in the city, and why micro apartments are a great idea.
Moving to Manhattan to slow down seems crazy. What were you thinking?
My wife had a job at the UN, so it was closer for one thing. But also Manhattan has all these amazing opportunities: the West Village is close to the Hudson River and the park, which I love. All the winding streets are so beautiful. The cultural creatives concentrate here, and there is a new slow movement here too.
You do know the American dream, not to mention the New York fantasy, is to live larger, not smaller.
Yes, the American dream is to upscale everything, but if you do that, you're never happy. I had lived in a 12 by12 cabin in North Carolina, [which he wrote about in the book Twelve by Twelve] so I was attuned to the benefits to living with less. It's a great opportunity to scale back and get rid of junk, get out of your home and connect to your city, the museums, and to nature.
You write that big cities aren't the enemies of a centered life.
Happiness is intrinsic, and so it's about centering yourself, wherever you are. In New York, it's about you, not the city. So if you can connect your brain to urban sanctuaries and listen to the soundscapes, you will be ok.
Before your move you got rid of 80 percent of your stuff. Miss any of it?
I was shocked that I didn't miss anything. I really believe almost anyone can be happier with less stuff. You just need to keep the things that bring you joy and provide needs. Don't put your extra stuff in mini-storage, get rid of it.
Best thing about living in a small space?
The best was walking into this beautiful, Zen-like space we created, with no clutter. You come out of this crazy, wonderful, stimulating city, and you feel a sense of peace.
And the worst?
There was no room in the kitchen, and the bathtub was really tiny. You had to do a shoulder stand yoga pose to get in there.
Did the downsize affect your relationship?
There was a period of adjustment, but quickly we found our way to accommodate each other, and never once had an issue with the amount of space. I think it's like in Japan where they live in very small spaces and have a graceful culture, you are forced to have more respect for each other.
So are you a fan of former Mayor Bloomberg's plan to build micro apartments?
I am, it's a great idea. It's a cheaper way to live, more environmentally sustainable, it gets you out of the apartment and into the city more. I think people consume less if they have less space.
Best places to connect with nature in the city?
Everyone should find their own favorite. For me it was Pier 45, a great park, and once you're there you can't even hear the West Side Highway. The Ramble in Central Park. Also it's easy to get on a bus to the Adirondacks, to Harriman State Park and Bear Mountain. Or just ride the A train to the Rockaways.
What can Mayor de Blasio do to slow New York down? 
The city can "re-nature." They should create wetlands around the city, so if there is another storm surge we'll be ready. Building more community gardens. All things that encourage New Yorkers to be in contact with nature and create more work/life balance.
Brick Underground articles occasionally include the expertise of, or information about, advertising partners when relevant to the story. We will never promote an advertiser's product without making the relationship clear to our readers.