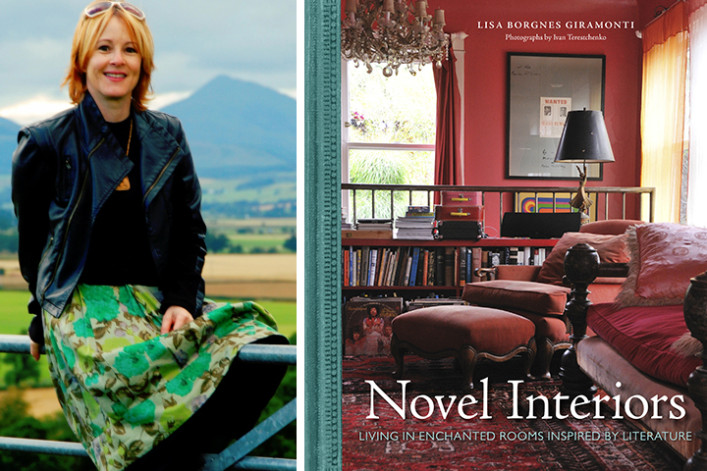 If you've ever wanted to live inside the pages of a novel—sip tea in Mr. Darcy's parlor or jitterbug in Jay Gatsby's ballroom—then you need to meet Lisa Borgnes Giramonti. In her new book, "Novel Interiors: Living in Enchanted Rooms Inspired by Literature," Giramonti plumbs 60 literary classics for inspiration on how to bring the rooms and lives imagined by great writers into your home. A passionate reader and creator of the blog "A BloomsburyLife,"Giramonti explains what F. Scott Fitzgerald, Virginia Woolf and Charles Dickens can teach us about living, and how literature can influence your design style.
How can classic novels inspire home decor?
I definitely believe a well-lived life is in the details; they are just as revealing as plot in a story. We are what surrounds us, and the way a character lives and the decorating  choices they make are the spirit of who they are. I deliberately chose novels that  had a strong spirit of living, be it simply or grandly, but always meaningfully.
But it's not about copying a room or event wholesale.
This isn't about a slavish recreation  of a period movie. It's taking details from these novels that appeal to you, and adding another layer to your home. Whether you like a sofa that gets worn, or a home that is a bit bohemian.
Your picks for writers who brought interesting lives and interiors to the page?
Fitzgerald, who wrote about lifestyles filled with this  jet set confidence and optimism,  D.H. Lawrence and [Thomas] Hardy fervently believed in living in harmony with nature.  Jane Austen and Dickens focus on the home with a well-worn patina, and for Edith Wharton and Henry James, it's about elegance.  Proust and Oscar Wilde created homes that were a stage for what goes on within. In bohemian novels like  those of Katherine Mansfield, it was all about  beautiful chaos.
Virginia Woolf writes that  flowers were essential to a room.  
Flowers  were incredibly important to her. I think they added color and passion. They have this kind of blousy sexiness when they were allowed to droop and fall over a vase. In Ronald Firbank's [novel] "Vainglory," he [the author] suggests scattering flower petals  on a dining table. It adds a sexy disorder to the table.
What's the importance of patina, or possessions and surfaces that age?
When Dickens mentions a worn carpet, he is suggesting a house has soul. Patina can give a home meaning. If you go to a flea market and see a chipped creamer, I love it, as it shows it has a story attached.
How do you bring the style from writers focused on refined living, like Evelyn Waugh or Edith Wharton, into a small apartment?
Start with a tufted sofa, they are elegant and a real workhorse because they hold their shape. Bring in gold-rimmed china or a heraldic crest [which can be found at flea markets]. Also think about upholstering  a door. It's not expensive, you can do it in burlap,  and it muffles sounds. Perfect for a New York apartment.
And bringing the glamor of Fitzgerald into your home?
One idea is a bar cart [topped with a silver cocktail shaker]. I think they are great for apartments,  because you have table service wherever  you are sitting. Vintage steamer trunks [which can be found at auction houses or on eBay] are elegant, great for storage and for use as a coffee table.
Should people use one writer for inspiration or is it okay to mix and match?
Definitely a mix. We are all stylistically a combination of things. Take details that appeal to you. You might be a bit bohemian and bit jet-set, and it's all good.
You live in Los Angeles. How have the classics influenced your own style?
I like chaos and color [from bohemian novels], and I also think things  should be allowed to get old. I don't buy new rugs anymore because older rugs add character to a space.  I have an upholstered door because of [Evelyn Waugh's] "Brideshead Revisited," and  portiere [heavy curtain or drape] curtains to hide my washer and dryer, that came from  Thomas Mann's "Buddenbrooks." When  I was writing each chapter [of my book], I would think,  oh my god, I need to totally redecorate!
Related:
Junk is your friend: Ralph Lauren's Mary Randolph Carter on collecting in a small space
"Good Morning America" host Lara Spencer's shortcut to luxe (but cheap) design
Brick Underground articles occasionally include the expertise of, or information about, advertising partners when relevant to the story. We will never promote an advertiser's product without making the relationship clear to our readers.