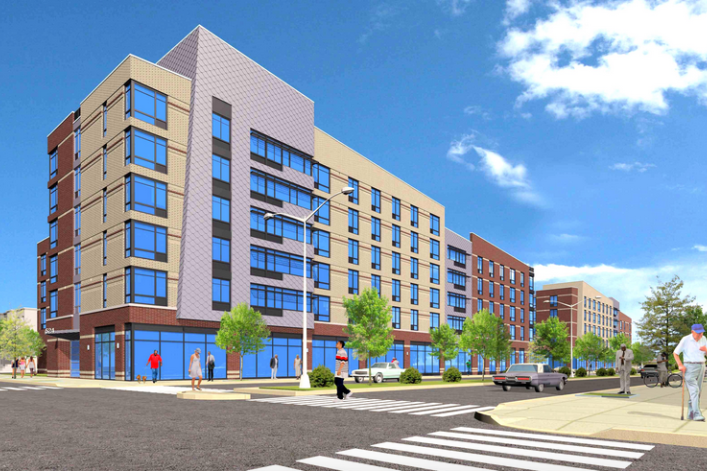 The Gateway Elton II development is said to have some of the most ambitious green architecture New York's ever seen—the rooftop solar panels alone are the biggest on any housing complex in the state—at a fraction of the price of your typical city rental.  Applications open December 19 for subsidized apartments at the much anticipated Gateway Elton II development in East New York, according to the HPD website, with rents for studios starting as low as $494 a month and topping out at $1,317 a month for a four-bedroom. (A full list of apartment options and income requirements can be found here.) 
All told, 175 affordable rentals will be available to families who earn no more than 40, 50, or 60 percent of the area median income—that puts caps for a family of four at $33,200, $41,500, and $49,800, respectively. Along with brand new apartments, residents will get access to extras like parking, a bike room, a fitness center, free WiFi in the common areas, dishwashers, and a shared laundry room. 
Located at 516 and 524 Vandalia Avenue, Gateway II is part of a massive three-part affordable housing project going up along the Elton Street corridor in the Spring Creek section of East New York.  Phase I includes 197 low-income rentals that were rented out last year, Phase II broke ground in May 2013, and construction is expected to start on Phase III in July 2015. The project was initially launched under former Mayor Bloomberg's New Housing Marketplace Plan to create 165,000 units of affordable housing by the end of 2014, and will essentially create a new community from scratch on an area once used as a landfill.
"That street didn't even exist seven years ago," Aaron Koffman, director of affordable housing for Gateway's developer, Hudson Inc., tells us. "We're sort of calling it 'a street grows in Brooklyn.'" There's now a school on the corner of Flatlands and Elton (the development's northern boundary), the Gateway Center Mall to the south, and the Nehemia affordable housing development to the east.
"It is a classic case study in public-private partnership to build a thriving neighborhood with schools, shopping and housing from a former 236-acre landfill," said Koffman when the project broke ground last May.  Phase II is gunning for LEED Platinum certification, and the 300,000-watt rooftop solar panels will likely help toward that goal. When the full project is completed, Elton Street will have more than 60,000 square feet of community space, according to a release from HPD, including retail, restaurants, a grocery store, and pre-k daycare, with an emphasis on bringing on local businesses.
Though the project is a holdover from the Bloomberg administration, it dovetails with—and will likely influence the outcome of—Mayor de Blasio's stated plans to turn East New York (or "the next Bushwick," if you'd rather) into a hub for new development and affordable housing. Located near the 3, the L, and the A/C lines, the neighborhood lies right in the path of gentrification's eastward, L-train-adjacent push, and has enough space and rezoning potential to be interesting to developers.
As usual, preference for half of the apartments will be given to current residents of Brooklyn Community District 5, which encompasses Highland Park, East New York, New Lots, Spring Creek, and Starrett City. Applications are open to everyone, provided you meet the income requirements, so we're guessing competition will be stiff. Based on recent demand for affordable developments, Koffman gives a ballpark estimate of around 25,000, but adds, "I wouldn't be surprised if that number were higher." 
Note: BrickUnderground is in no way affiliated with New York City public housing. If you are interested in applying to this or other affordable housing developments, please go to the NYC Housing Connect website for information and instructions.
Related: 
Win the NYC housing lottery: how to get an "80/20" rental
80/20 apartment living: my life as a 20 percenter
Apply now for Bronx rentals starting at $801 a month
Hit the NYC jackpot: how to get an affordable Mitchell-Lama apartment
An affordable rental in Williamsburg? Now's the time to prepare
Brick Underground articles occasionally include the expertise of, or information about, advertising partners when relevant to the story. We will never promote an advertiser's product without making the relationship clear to our readers.