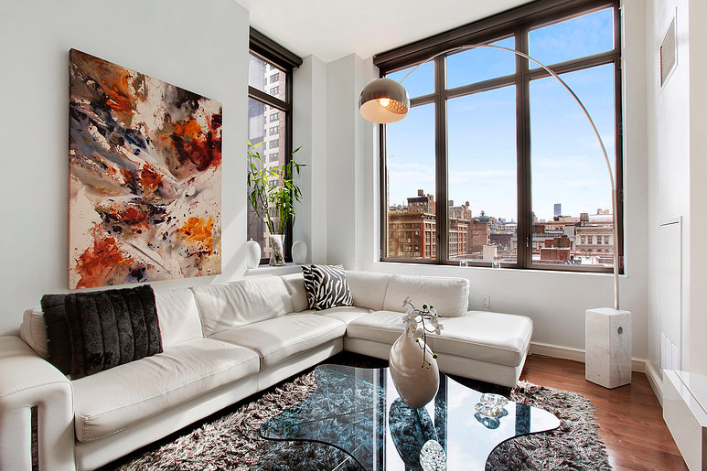 Buyers are liars—or so the saying goes among New York real estate brokers. What they mean is that apartment hunters set out with a list of new-home essentials and, by the time they sign a deal, wind up with something entirely different. "There will always be places in any apartment where people need to compromise, they just don't believe that when they start their search," says Barbara Fox, founder of brokerage Fox Residential.
And these days, as prices have climbed ever upwards, the gulf between dream and reality is even wider. An average Manhattan apartment cost $1.74 million in late 2014, up 13.1 percent from the same time a year ago, and half of all apartments sold at or above their asking prices, according to appraisal firm Miller Samuel. The trend is only set to continue in the year ahead. 
Thus, you want to be smart about the inevitable adjustments, and avoid settling on something that's a surefire source of misery (without taking on more house than you can afford). While some of these qualities are undoubtedly subjective—after all, one person's edgy, industrial loft is another's woeful fixer-upper—others are nearly universal, experts say. For example, things like bed bugs, mold, and less-than-impressive schools almost never offset the money saved. Here, doable apartment compromises, and how to make them work:
Soak the washer/dryer
If you've spent years hauling your dirty clothes to the Laundromat or have young kids, a washer/dryer in your new apartment may seem like the ultimate necessity. But consider that it'll cost up to 5 percent more and, while in-unit laundry is becoming de rigueur in new developments, it's harder to find in older buildings. Only one in five homes currently on the market, according to StreetEasy, has a washer/dryer. Plus, some in-unit laundry setups are barely big enough to do a full load.
Thankfully, an array of neighborhood wash n' fold services, countertop models and laundry delivery apps make it easier than ever to live without laundry at home. Or meet in the middle with laundry in the building, but not the unit. Shara, who recently bought a three-bedroom co-op in Riverdale, found she could live with this set up, since her family had long lacked a washer/dryer of their own. "We didn't mind not having one in the apartment; we figured it was one less appliance to worry about breaking," she says.
Ignore square footage
Size doesn't matter nearly as much as a workable layout, brokers say. For example, a young family can survive with a small second bedroom, but put the dining area right next to where everyone sleeps, and babies will wake up during dinner time, making invaluable kid-less dinners a near impossibility.
For Joy, who recently bought a two-bedroom co-op in Yorkville, a large master bedroom was a must-have, since she planned to halve it and use it as bedrooms for the two kids, and couldn't quite afford a three-bedroom. "In this new apartment, the smaller bedroom is really only big enough for our queen bed and a dresser," she explains. "But we are willing to give up the space in order for our kids to have the privacy they will eventually need, and that our son, who is our oldest, is starting to crave as he gets older." 
Plus, square footage can be deceiving. "Sometimes you'll see spaces with large square footage, but half of it is below street level," says Ari Harkov, an agent with Halstead Property. "That's not going to be very good for resale value." Or getting light in the apartment, for that matter. 
Think communal outdoor space
A private terrace would be lovely, sure, but exterior space is one of the most expensive apartments perks around, and could tack on as much as 20 percent to the price. Data expert Jonathan Miller of Miller Samuel estimates that it costs 25 to 50 cents for every dollar per square foot of interior space. That means that in a $1 million 1,000-square-foot apartment, for example, 250 square feet of outdoor space would add $62,000-$120,000 to the price.
A better solution is to concentrate on buildings with shared al fresco offerings, like roofdecks, interior gardens or communal terraces, which are a lot cheaper. "Very often I have conversations with people who want outdoor space and then they come to a place in their search where they begin to listen to the suggestion that they entertain good communal outdoor space instead, which is barely ever used in a building and can offer much more value," says Mindy Diane Feldman, an agent at Halstead.
Embrace the fringes
When you're on a budget, you might need to buy on the cheaper fringes of a neighborhood you like—or in a part of the city that lacks the shops, restaurants, schools, transit and other amenities you want. But be careful not to give up everything, least of all safety. (If you don't feel comfortable walking around your new neighborhood, it's not the spot for you.)
Narrow down the two most important elements (e.g. proximity to a certain subway line, nearby playgrounds, at least one bodega for picking up milk), and don't sacrifice those. Then, remember that delivery services like Instacart, FreshDirect, Amazon and Google Shopping Express make it a lot less important to live near a large supermarket. (Just be sure they deliver to your new nabe.) 
And when it comes to just how fringe you're willing to go, keep in mind how long-term your plans are. "If you know you're going to stay somewhere for 10 years, or at least five years, a fringe location is great," says Harkov, because you'll see a better return on your investment if you give it time. Otherwise, you'll want to compromise somewhere besides location. "If you think there's a chance you'll have to sell soon, don't go to the fringe neighborhoods [which] get affected the worst in the down markets," says Harkov.
Ditch the dining room
"When I meet with buyers who want a formal dining area I ask them to keep a journal for a week of where they eat and what they eat," says Halstead's Feldman. "They often find out they don't need it. Most people eat Chinese food on the couch."
Pump iron off-site
Except in the case of brand-new buildings, in-building gyms are "usually perfunctory," says Feldman. And if you've ever been in one of them, you've probably noticed that those few treadmills don't get a lot of use. Best to save the extra monthly costs (whether through your common charges, maintenance fees or additional charges) and hit the pavement or get a cheap gym membership.
Slam the doorman
This particular amenity will likely tack about 10 to 15 percent more onto the cost of an apartment. And while some buyers simply refuse to give up the security and convenience of a doorman, it's not an essential to life in New York. (In fact, we compiled a list of doorman replacements.)
The importance of a staffed lobby also depends on where you're buying, and whether a doorman "fits in the neighborhood, like on the Upper West Side, because future buyers will appreciate that," says Harkov. "Buyers in Prospect Heights, for example, won't care as much. The buyers there are more pioneering and may not get as much bang for your buck in resale."
Buy a co-op (not a condo)
A lot of buyers initially want a condo, rather than a co-op, because they tend to be newer, have more amenities, and are more relaxed on everything from sublets to pets to the size of your down payment. (Plus, no board approval!) But, all things being equal, co-ops are significantly cheaper than condos (about 9 to 10 percent, Miller says) and far more plentiful (about 75 percent of New York's non-rental homes). 
"If you're not planning on renting out your apartment, it's not a big deal to go for a co-op," says  Citi Habitats broker Tavia Trepte, adding "the co-op gets a bad rap because you have to deal with other people, but there's always a condo association, too. And most co-op interviews are a formality. You've gotta really try and blow a co-op interview." 
Shop like Don Draper
Post-war buildings, or those built between 1945 and 2000, particularly in the '50s, '60s and '70s, are plentiful in New York City, and though they don't have the classic charm of pre-wars or the flashiness of new developments, they're often more affordable. "It's rare that people say, 'I want a 1960s white brick building,' but I tell people all the time that they have more space, and were built before developers got chintzy," says Feldman.
All things being equal, there tends to be a 10 to 15 percent price difference between pre-war and post-war, Miller says.
Dan, a lifelong New Yorker, recently chose to buy in one of those white brick buildings in Yorkville, which was built in 1960. Though the apartment needed a renovation, Dan and his wife got more space for their money than they would have in other types of buildings. "We preferred a bigger place where we would have to make some upgrades," he says. 
Give up the contingency plan
If you buy an apartment with a mortgage contingency, you can't lose your deposit even if you fail to get approved for a loan (so the risk stands with the seller, not the buyer). But if you can handle losing your 10 to 20 percent deposit, buying without a contingency can make you more attractive in the eyes of the seller. When other buyers are offering all cash, this can help give you a leg up.
Skip the skyline vistas
Many a buyer wants a view from a high floor, but it'll cost you—up to 50 percent more, by some estimates. So it may be something worth giving up, especially since apartments that face the rear of buildings, for example, can be quieter. 
More importantly, even apartments on low floors come with attractive outlooks. "If it's a second-floor apartment, and has pretty treetop views, that's really charming in its own right," says Feldman. Also, don't assume that top floors are the only way to ogle the city. "I was once selling an apartment with great river views on the third floor on Sutton Place," recalls Feldman. "People would call and when I told them it was on the third floor they'd say, 'Forget it.' But believe me, it was better than the 10th floor's views, because all you saw there was Queens," rather than the water. And remember to check out the view while seated, since that's how you'll experience the scenery most of the time.
Overlook the decor 
While changing the location of a kitchen or adding a second bathroom are major (and majorly expensive) undertakings, making cosmetic updates to either room is relatively easy. For that reason, concentrate on the layout of both rooms and look past aesthetic issues. "If it's a cosmetic problem—say, the room is all blue and you don't like blue—don't worry about it," says Citi Habitats' Trepte. With just 10 square feet of tile, you can install a new kitchen backsplash, or change lighting fixtures and paint the cabinets, all of which will have a bigger impact than you'd imagine, Feldman notes. "You don't need a brand new kitchen," she says.
Related:
8 ways to get more space for less money in a NYC apartment 
Brick Underground articles occasionally include the expertise of, or information about, advertising partners when relevant to the story. We will never promote an advertiser's product without making the relationship clear to our readers.