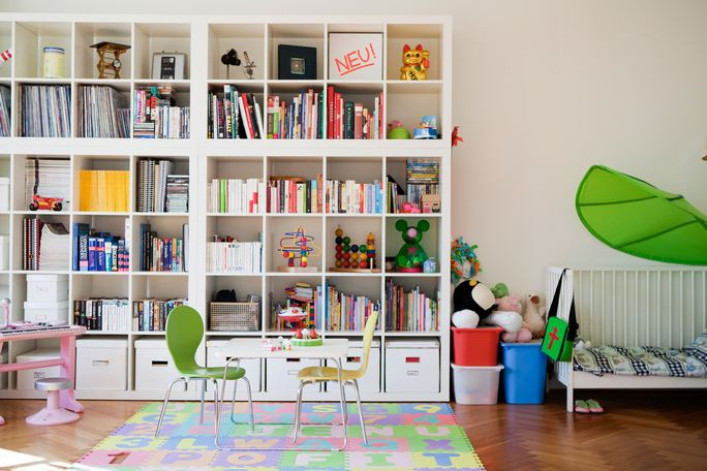 Your average kid has a lot of toys. Your average NYC kid has just as many—in a really small amount of space. So what's a clutter-phobic parent to do? Try these to keep the chaos under control:
No space to spare
The city's newest storage startups, like Boxbee and  MakeSpace, will pick up and store a box or two of your unused toys on a month-to-month basis. Boxbee's service costs $7.50  a month for each 24 by 12-inch bin, while MakeSpace charges $25 a month for a 27 by 17-inch bin and a digital visual catalog of your stuff. Go bigger with Manhattan Mini Storage, a BrickUnderground partner, which rents "personal storage closets" starting at four by four by four-feet for $29 a month if you sign on for a year. Many of their facilities are open 24-7 (and accessible via a free storage taxi) should your spawn experience 2 a.m. separation anxiety from Tickles the Teddy Bear. Still can't decide? 

  

Sparefoot Storage

 doesn't supply boxes, nor do they pick up or deliver, but they will find you all the available storage options in your Zip Code so you can stow your extraneous toys locally. 

A toy subscription service is another answer. Sparkbox Toys works similarly to Netflix: Upon joining, you receive a box of age-appropriate educational toys for your tot to enjoy for a month. Once the 30-day period is up, just pack up the box and send it back, at which point a fresh selection will arrive. 
Or try a chic piece of storage furniture. Groovy baskets, clever cubes, plus ottomans and benches with hidden compartments are all great solutions for hiding toys in plain sight—with style.
A little wiggle room
Go for under-the-bed storage bins. Nothing is faster—or makes better use of this oft-underused area of a child's room—than tossing playthings into a bin and slipping it under a crib or bed until it vanishes from sight. The Container Store's Long Underbed Box with Wheels, for example, is clear so you can see what's inside, and has wheels that make sliding a breeze.
An oversized bookshelf (built-in or free-standing but fastened securely to the wall to prevent tipping) is a great investment. Fill shelves with labeled or color-coded bins and load them up with everything from stuffed animals and blocks to Barbies, Thomas tracks and Legos. Later on, the same shelves can be stacked with puzzles, games and, of course, books.
Spare closets in New York are rare to be sure, but kids' clothes—except for girls' party dresses—are often foldable and/or take up little space. You could retrofit a closet in the kid's room for toy storage by lining existing shelves with labeled bins, hanging a compartment shoe bag from the clothing rod (it can be loaded up with stuffed animals or board games), fastening an over-the-door shoe bag to the inside of the closet door (for Barbies and action figures) and adding a basket or two for open storage.
Related:
Raising kids in an apartment building: 7 classic dilemmas solved
Buy a recycled plastic rug and more ways to design a family-friendly home
Professional organizer Lisa Zaslow shares the secrets to staying clutter-free
One room short: The tricky business of raising two kids in a NYC rental
Brick Underground articles occasionally include the expertise of, or information about, advertising partners when relevant to the story. We will never promote an advertiser's product without making the relationship clear to our readers.