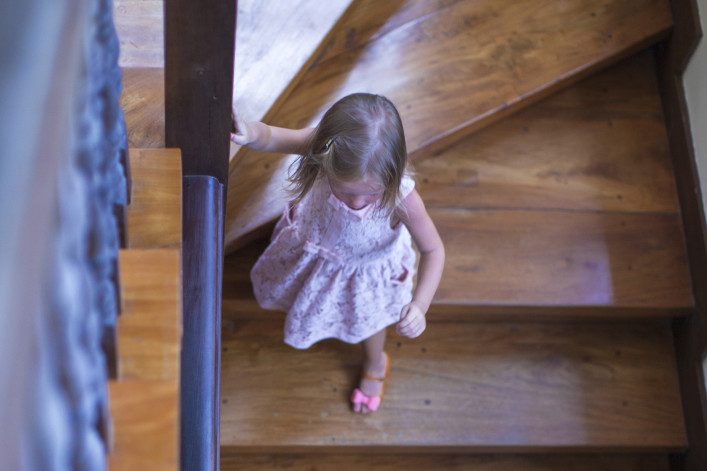 While most New York parents would sooner scrimp and save, move to far-flung locales, or squeeze into fewer bedrooms and less space than forgo a building without an elevator, psychologist Elizabeth Griffin has been raising her kids in a walk-up for almost a decade now. Below, she recounts the problems she's faced, as well as the unexpected upsides—​proving that it can be done, and how.  
My husband and I are raising two kids—a son, 9, and a daughter, 7— in a third- floor walk-up in Harlem and, while the stairs (there are about 30 of them) can be challenging at times, we wouldn't have it any other way.
We moved to Harlem in 2001, when it was not an especially hot place to live. But since I grew up in Manhattan, I was really familiar with how neighborhoods evolved. When my husband and I were looking for a place, we chose to search in a less desirable neighborhood knowing that we would be able to get more space at a better price than in an already popular area and that it would change eventually, which it did. Harlem is thriving and we love our neighborhood.
PROS:
Hands down, the best thing about our rental—and the main reason we put up with the stairs— is the space: about 2,000 square feet of it. It's open and loft-like, but it also has four bedrooms, two bathrooms, lots of closets and a washer/dryer. We have plenty of room, which is rare for families living in New York City.
One of the reasons I was drawn to Harlem was its history—and that included the stock of older, smaller, non-elevator buildings that are found here. Fortunately, I don't really want to live in a new, modern building anyway. And, of course, there's cost. Walk-ups tend to be less expensive than buildings with lots of amenities. And since I don't have doormen, elevator attendants, porters, garbage collectors or concierges, the only person I need to tip at the end of the year is the super.
My kids were weaned off the stroller at an earlier age than other city kids (because it was in my best interest to not have to carry that thing up and down the stairs) and they learned how to walk up and down stairs much sooner than those living in elevator buildings. They started at around a year and half. By 2 they were definitely going up and down on their own. And, soon after that, they were carrying stuff—their own backpacks, bags of groceries and garbage—with them, as well. When there's a lot to carry—like when we've been grocery shopping or we go on vacation and there's bags and luggage to transport up and down—it's all hands on deck.
CONS:
Before kids, the fact that we lived on the third floor was no big deal. I could easily handle the stairs and, besides, it was good exercise! Once I had the babies, who are 21 months apart, it became much more challenging. A car seat alone is heavier than a newborn. Add to that the stroller and bags and stuff that needs to be hauled up and down just to take two kids to the park. … Well, you get the picture.
I would be out with the kids having fun and want to pick up some milk on the way home, and then had to weigh things like: how heavy was the stroller already, how close was it to nap time, how many trips would I have to make up and down the stairs. The fact that I lived in a walk-up just added extra variables to the "mommy calculations" mothers make to begin with. Even today, when it comes to shopping, how much I'm going to have to carry up to the apartment is always in the back of my head. The weight of an item is more of a concern to me than its cost. I'll pay more for an item that weighs less!
Play dates were also tricky since our building didn't allow strollers to be left downstairs for any reason. Anyone who visited had to haul theirs up to our apartment just like us. I had to be very open with potential play dates about our third-floor location. The same went and still goes for delivery. I have dry cleaning and take out food delivered and I'm a big fan of Instacart and Google Express services. I send some of the stuff I order to my husband's office. If it's coming to the apartment, I'm upfront about the stairs—and I tip well.
I've probably experienced a certain amount of added guilt living here. More than once, I've wondered if I was a bad mommy for leaving my kids in their stroller in the locked vestibule while I ran the groceries upstairs. And when my son was 22 months old, he fell—not down a whole flight, but a couple of stairs—and hit his head, which required stitches. These things might not have happened if we didn't live in a walk-up. But then I think about how happy the apartment and my family makes me. Life is full of suffering and if the stairs are mine I can accept it.
Related:
How to survive (and thrive) in a walk-up apartment
Would you rather...live in a fabulous 4th floor walkup, or a plain-vanilla elevator building abode?
How to raise 4 kids in a 4th floor walk-up (no, we're not joking)
Brick Underground articles occasionally include the expertise of, or information about, advertising partners when relevant to the story. We will never promote an advertiser's product without making the relationship clear to our readers.