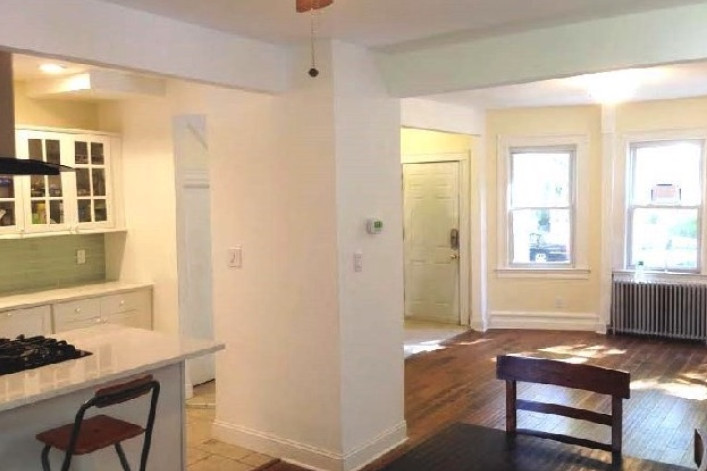 For anyone sick of sharing a wall (and a floor and a ceiling) with the neighbors, this four-bedroom honest-to-god house in Murray Hill, Queens, for $4,500 a month may offer some relief—minus the move to suburbia. With a newly renovated kitchen, 1.5 bathrooms, hardwood floors, a washer/dryer and a finished basement, the two-story abode is also a block from the Long Island Rail Road, which will get you to Penn Station in about 25 minutes, according to the MTA.  But the price tag is steep for a place that's not centrally located—you could find four bedrooms for the same money in Brooklyn—and with the 7 train about a mile away, your non-LIRR transit options leave a lot to be desired. 
We asked our veteran renters—including RentHackr founder Zeb Dropkin, freelance writer Lambeth Hochwald, and myself—to weigh in on whether it's worth it for this week's Take It or Leave It.​
Size: 4-bed, 1.5-bath
Location: 150-23 41st Ave. (between 150th and Murray)
Cost: $4,500/mo
Flexible Layout: Yes
Days on the market: 47 Days
Subway: 7 to Main St.
Pros and Cons:
"A detached house within the confines of the five boroughs sounds great, but Flushing is a trek for those who work/play in Manhattan. That said, it's about the cost of a two-bedroom in Manhattan and parts of Brooklyn, so if space is important to you, it could be worth it. I'm suspicious that there aren't any photos of the second floor. Maybe the bedrooms are tiny?" - Lucy
"A newly refinished two-story house with four bedrooms. What's the catch? Is this in New Jersey? No, you're in Queens, and you're an hour away from Union Square on a good day​." - Zeb
"This four-bedroom house represents the just-right way to experience home living in an urban setting. Love the ocean blue subway tile backsplash in the kitchen and, while it's hard to tell how big the bedrooms are since there are no photos, this place, provided it indeed has 1.5 baths, could be ideal for a young family. Unfortunately, I think this place has lingered on the market for over 40 days because of the steep $4,500 monthly rent, plus a likely broker's fee, and because it's located just under 500 feet from the Murray Hill station of the LIRR, which could mean some pretty noisy days and nights." - Lambeth​
Who would this apartment be perfect for?
"A family that doesn't want to move to the 'burbs and wants to try out the neighborhood before buying. Also, someone who works off of the LIRR." - Lucy
"Great for a family working in Queens, or one that flies in and out of LaGuardia a lot and has roots in Queens or Long Island. It's a bit of a commuter headache, so you should have a reason to choose the area." - Zeb
"A couple who commute to work on Long Island or a bunch of friends who really love Korean barbecue—the noted BBQ spot Su Ra Chung is just steps away." - Lambeth
The Verdict(s):
TAKE IT "Assuming the bedrooms aren't teeny-tiny, this is a whole lot of home. And it's a good way to try out suburban-style Queens without having to buy. " - Lucy
LEAVE IT "Unless you have your own reasons to put your roots down in Murray Hill, Queens." - Zeb
LEAVE IT "If being near Flushing Meadows Corona Park is your dream, surely you can make your dreams come true in a place that costs way less than this one." - Lambeth
Ready to rent? Checkout our How To Rent Guide ...and if the apartment you like requires a guarantor that you don't have, see if the landlord accepts Insurent, a guarantor solution from one of BrickUnderground's sponsors.
Brick Underground articles occasionally include the expertise of, or information about, advertising partners when relevant to the story. We will never promote an advertiser's product without making the relationship clear to our readers.