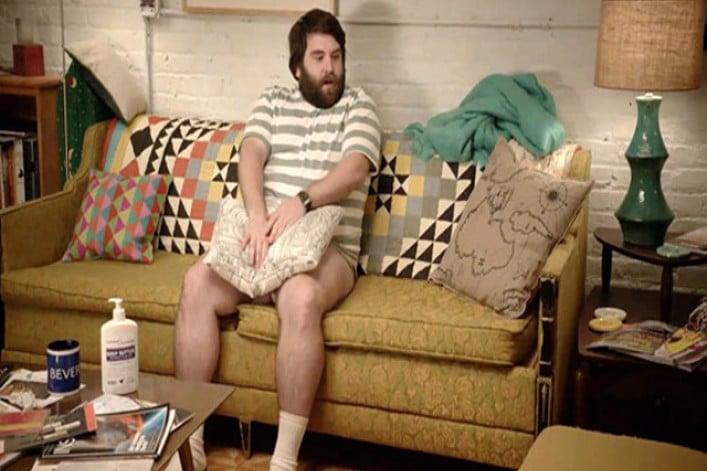 When a movie or TV show is set in New York City—and if the people making it are savvy—real estate becomes part of the story itself. In Reel Estate, we look at some of the more memorable domiciles to grace the screen.
We've already sung the praises of Broad City's brutally realistic take on the apartment hunt—courtesy of a broker played by Amy Sedaris who takes the girls to an apartment with blood spattered all over the walls—and today, it's time to shine a light on another disgusting, but all-too-real part of the show: Bevers.
On the Comedy Central hit (which just released a trailer for its second season) co-creator Abbi Jacobson's eponymous character lives in an Astoria rental with a roommate we never see. The place is pretty nice, all things considered—large common space, separate kitchen—but comes with one hefty hitch. That would be her roommate's boyfriend Matt Bevers, who never, ever leaves the apartment, whether or not his significant other is actually at home. He's everyone's worst nightmare of the freeloading, toilet-paper-hogging, hot-water-wasting, snack-stealing dates your roommates have over:
Among Bevers' litany of offenses: wandering through the common areas naked, pleasuring himself in the living room, constantly eating Abbi's food, and repeatedly ruining her romantic chances with her hot carpenter neighbor, Jeremy:
Like so many bad roommates—or boyfriends of bad roommates—he's always home when Abbi's home, and cheerily tells her, "We're on the exact same schedule!" When Abbi gets fed up and threatens to move out, he apologizes by cooking her bagel bites and arranging them in the shape of an A, explaining, "I know how much you like to label your food!"
Of course, Abbi never actually moves out, thanks in part to her shady broker, as well as her best friend Ilana's sort-of boyfriend, Lincoln (Hannibal Burress), who comes with her as a wingman on her apartment hunt, but gets caught up admiring crown moldings and "toilets with two flush buttons" instead of noticing a prospective roommate who vibes like a would-be Craigslist killer.
As for Ilana (played by Ilana Glazer), she lives in a huge, crappy building in Gowanus, where she doesn't know any of her neighbors, mostly Hispanic families ("It's like I am gentrification," she says). When she mentions a recent incident where a woman was chopped up and found nearby in a dumpster by way of proving her residence in the building, a neighbor brushes her off, saying, "That happens every week in Gowanus." That may be a little over the top for a neighborhood being trumpeted as "the next Park Slope," but for our money, the only really unrealistic part of the show is how two friends who live in Gowanus and Astoria see each other as often as they do. 
Related: 
Broad City: A TV show that actually gets the apartment hunt right
Roommate Week Edition: The best and worst onscreen NYC roommates
Reel Estate: Manhattan Love Story's puzzling housing setups
Reel Estate: Keeping up with Khloe Kardashian's rental budget
Rocker Andrew W.K. on his life as a bad roommate—and why having one isn't so bad
Brick Underground articles occasionally include the expertise of, or information about, advertising partners when relevant to the story. We will never promote an advertiser's product without making the relationship clear to our readers.