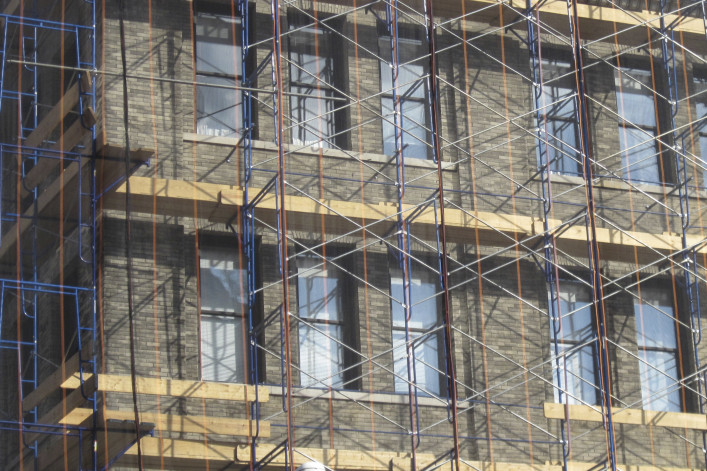 Tight squeezes, construction scaffolding that never goes away, and questionable renovation decisions—five New Yorkers share five sadly typical NYC living nightmares:
Perplexing paint colors: Well, the one thing I would improve is being improved—and boy is it costing us. After buying this new place, we stayed living in our rental in Brooklyn while our contractor took over the gut renovation. It's been months of hard work and I've had all this time to think about paint colors. I bought samples, and slapped them on the walls and thought I had a pretty good idea what I wanted. I don't know how it couldn't have gone so wrong. The color is horrible. I'm not even sure if it is the same color I picked. We walked into our freshly painted, newly renovated apartment and I knew I couldn't live with it. We high-tailed it back to Brooklyn and are now waiting for the re-painting to be done.  If I had been more hands-on in the later phase of the renovation, I might have been able to stop them doing the whole place. You live, you learn. —​Sue, Harlem
A landlord's overgrown backyard: I wish my landlord would clean up his backyard. I live on the third floor of a brownstone and the landlord lives in the ground floor, at least some of the time. He spends more than half his time in Connecticut, so I guess he doesn't care that much about this place. It's just an investment to him and he can't wait to sell up. In the mean time, he doesn't care that the backyard is a total junkyard where I've heard—let's say, animals—scurrying around and the patio is icky and green with moss. We have balconies overlooking this godawful vista and none of us in the building likes to stay out there too long." —Jess, Harlem
Scaffold scenarios: We've had scaffolding on the outside of this building even since we moved in. Since I'm on the first floor, I really, really, I mean, really want the building to finish whatever work they have to do so that they can stop blocking my windows. —Pete, Brooklyn
A little too familiar with the roomie: My apartment is super tiny and I have a roommate who's currently living in the living room/dining area. It's a squeeze, but at least we keep our rents down that way. I'm kind of tired of it though and wish I could afford to just have a bit of a larger apartment. A second bedroom would be ideal. Even just a tiny one. I'm tired of being careful how I pour out my cereal just so I don't wake my roommate. —Molly, Hell's Kitchen
(Hidden) pipe dreams:  When my place was converted to apartments, they didn't bother hiding the new plumbing pipes they had to lay in order accommodate new wet areas. I know there's a certain charm to having exposed pipes all over the place. But I associate exposed pipes with cool lofts in Soho or something—not a tiny, pre-war, one-bedroom on the Upper West Side. It's true I have 12-foot ceilings so the pipes don't feel like they are right on top of my head. But they are really ugly to look at. Especially with the crust of grime and dust that's formed on them. —Cole, Upper West Side
Related:
When scaffolding overstays its welcome (for an entire decade)
NYC Renovation Q's: What are the best paint colors for an apartment?
Brick Underground articles occasionally include the expertise of, or information about, advertising partners when relevant to the story. We will never promote an advertiser's product without making the relationship clear to our readers.