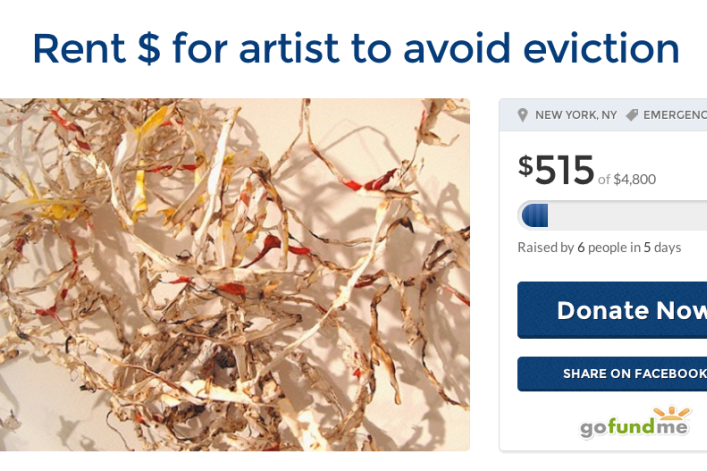 People have been known to crowd source down payments, their move to NYC, and even overpriced cab rides, so it's no surprise that people are turning to the Internet for something a little more straightforward: meeting the monthly rent bill.
More than 232,000 accounts on GoFundMe are dedicated to helping New Yorkers pay the rent, amNY writes, a practice that's only likely to get more popular as low-priced apartments evaporate and wages stagnate. After all, taking to the Internet to ask your friends, family, and even some strangers for cash isn't so different from the old-school concept of a "rent party." 
But some attempts at apartment-related crowd funding are much more successful than others, and amNY consulted "persuasion expert" Kraig Kleeman for tips on launching a successful campaign. Firstly, Kleeman says, people are much more likely to give if they know that friends are doing it, too—on GoFundMe, you can see the names of people who have donated—so it's worth asking a couple of close friends to get the ball rolling to inspire others. And while you want to effectively communicate your story, Kleeman says, "Too much emotion is counterproductive [...] People want to see this is not a long-term thing—that people are taking accountability and have a plan." Or, as one successful crowd funder put it, "keep it real, keep it serious and keep it empathetic."
This one is less universally useful, but studies have shown that men are more likely to donate to attractive women (sigh), and indeed, we noticed more than one rent-focused GoFundMe with glamorous (or cleavage-intensive) photos of the campaigner. Barring that tactic, Kleeman says, swallow your pride and make sure to post links to your crowd funding efforts on your social media accounts—blasting out the link to everyone in your network is probably the single most effective way to up your chances for success. And if, in spite of your best efforts, none of that works as well as you'd hoped? You can always try bartering instead.
Related: 
Want cheap rent? Master the art of bartering with your landlord
The 8 best websites for finding a no-fee apt in New York City
An affordable rental in Williamsburg? Now's the time to prepare
For NYC's rental virgins, the 8 biggest hurdles—solved
No co-signer for your apartment? No problem—check out these workarounds
Brick Underground articles occasionally include the expertise of, or information about, advertising partners when relevant to the story. We will never promote an advertiser's product without making the relationship clear to our readers.