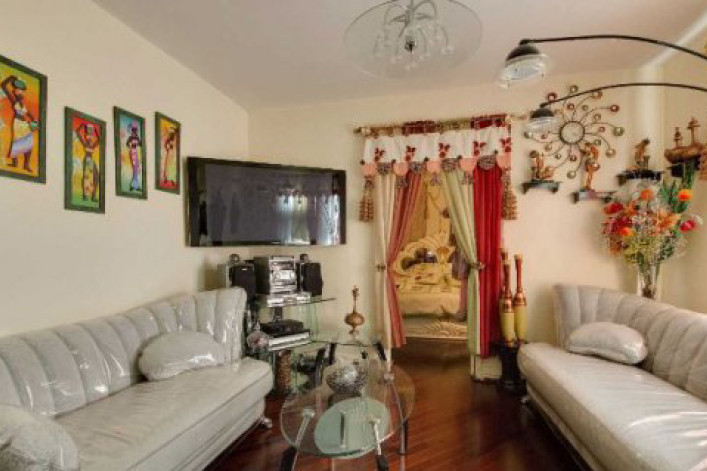 Ridgewood's star is on the rise—just ask the trendspotters at the New York Times—but is it really the best spot for the relocating Brooklynite? In this week's Buy Curious, Cono Natale of Citi Habitats offers up a rundown of what you can buy in the Queens 'hood.
THE WISH LIST:
I have $500,000 to spend on an apartment, and I'm considering moving to Ridgewood, Queens. What can I get for my budget there? Are there any new condo developments?
THE REALITY:
While $500,000 could conceivably get you a one-bedroom condo—something built in the last five years, without much in the way of building perks, save a laundry room, perhaps—the area's perennial problem is a severe lack of apartments to buy. Only about a dozen condo buildings exist in all of Ridgewood, and  as of this writing, a handful of condos and zero co-ops were for sale, according to Zillow. (StreetEasy doesn't cover Ridgewood as extensively.)​
Instead, the neighborhood is dominated by row houses, either for a single family or with a rental unit, particularly as you move deeper into Queens from the neighborhood's Brooklyn-hugging border. They start at around $650,000 for something a little more beat-up, going all the way up to $850,000 for houses with a rental unit or two, and $1.2 million for something on the western side of the neighborhood, closer to the more gentrified Bushwick and the L train. 
Compounding the problem (at least for newcomers) is the fact that this is a tight-knit community. Residents rarely move away, and many Ridgewood homes never make it to the open market because they're sold through word-of-mouth or between family members, some of whom have been living in these houses for generations. Since sellers usually give their neighbors the heads up that they're moving before they officially list, they often manage to line up several would-be buyers—consisting mostly of their neighbors' family or friends—willing to pay all in cash. 
Another challenge is that, unlike in Manhattan, most sellers use local brokers, who often advertise apartments in storefront windows or through their own contacts rather than advertising them online or in city-wide newspapers.
Indeed, while Ridgewood has been getting a lot of attention of late, it's years away from looking like Williamsburg; currently, there are no doorman buildings, let alone swanky new condo developments. Most of the houses (which often consist of multiple apartments) were constructed around the turn of the 20th century. Many blocks have kept their old-school appeal, with solid limestone or brownstone exteriors that have aged well (probably due to longtime residents who take pride in their home's appearance and have maintained them).​
However, some new developments are in the works. At the moment, a new 28-unit condo building is going up at 63-34 Fresh Pond Road; apartments will be available early next year, but prices are not yet public, and 88 new condos are planned for 176 Woodward Avenue, though they're not on sale yet. 
If you're really serious about making the big move to Ridgewood, then I'd recommend working with a broker who knows the area well. Additionally, spend weekends walking the neighborhood's streets and chatting up employees of local stores. They are often the best sources of information if you're looking to get the inside track on what's for sale. 
Ready for Ridgewood? 
Ridgewood two-bedroom/two-bathroom condo, $416,000: This two-bedroom condo at 6316 Forest Avenue between Bleecker and Menahan Streets has in-unit laundry, an eat-in kitchen, two balconies and a parking spot.  
Ridgewood two-family townhouse, $800,000: Located at 5715 Catalpa Avenue between Onderdonk and Seneca Avenues, this renovated five-bedroom/three-bathroom townhouse has a backyard and a finished basement.
Ridgewood three-bedroom/two-bathroom condo, $575,000: The home at 607 Onderdonk Avenue between Grove and Linden Streets has new appliances, hardwood floors, central a/c and in-unit laundry.
Ridgewood two-family townhouse, $789,000: With seven bedrooms and three bathrooms, this home at 6518 Forest Avenue between Linden Street and Gates Avenue also features a full finished basement and a new gas boiler with two new water tanks.
Related:
Ridgewood: The dirt-cheap radioactive Queens nabe that may be the next Greenpoint
Which part of Queens is right for you?
Buying, renovating or refinancing next year? 5 mortgage trends to watch in 2014 (sponsored)
7 questions to ask about the building before you buy an apartment there (sponsored)
---
Buy Curious is a weekly column in which NYC real estate brokers help buyers develop a realistic search strategy. Want some advice on your search? Send us your wish list.  
Brick Underground articles occasionally include the expertise of, or information about, advertising partners when relevant to the story. We will never promote an advertiser's product without making the relationship clear to our readers.