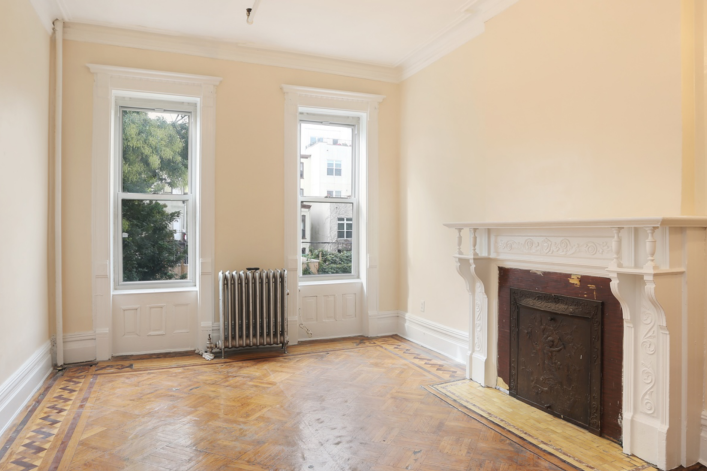 At first glance, $1,200 for a Prospect Heights studio within an easy walk of Prospect Park and about eight subway lines seems like a good deal. On the third floor of a pet-friendly, four-story townhouse, the place has two big windows and a fireplace as well. Unfortunately, there's one major, brake-screeching catch: you'll be sharing a bathroom with your neighbor down the hall, a fate most of us haven't endured since living in a dorm. 
But hey, park-side apartments are popular, and you'd potentially get more privacy than splitting a two-bedroom with a roommate. Our experts, including RentHackr founder Zeb Dropkin as well as real estate bloggers and veteran NYC renters Julie Inzanti and Lambeth Hochwald (who have a combined 27 years of experience in the world of New York rentals), weigh in for this week's Take It or Leave It.
Size: studio
Location: 388 Park Place (between Underhill and Washington)
Cost: $1,200/month
Flexible Layout: No
Days on the market: 20 days
Subway: 2,3 at Eastern Parkway-Brooklyn Museum; B, Q at 7th Ave; S at Park Place; S, 2, 3, 4, 5 at Botanic Garden; C at Clinton/Washington
Pros and Cons:
"We know Prospect Heights is cool and everything, but this apartment takes one-room living to new heights. Sure there's an old-world feel to the space—the fireplace is quaint and the floors are old-school—but sharing a bathroom down the hall with another tenant, aka a stranger, for a $1,200 walk-up plus a broker's fee? Of all the apartments we've seen, this one pretty much leaves me speechless." - Lambeth
"This is about as cheap a studio as you're going to find in a decent neighborhood. The catch is the shared bathroom—shared with how many others, and who are they?" - Zeb​
"I love the charm of this studio: the high ceilings, pretty woodwork on the floor, crown molding, fireplace! So pretty, plus you're close to Prospect Park and the trains. But for the size, $1,200 is a joke. You basically get one tiny room and you have to share a bathroom! Yikes! Unless you're a freshman at NYU and this dorm-style rental comes with an unlimited food plan, you would have to be insane to rent this place! The owner would have to offer a real SCREAMING deal for a shared bathroom situation to be appealing. Maybe I'm being a bit dramatic but we're constantly surrounded by people all day in NYC, on the train, in the streets, at work. It would be nice not to have to interface with a stranger while you're battling gastrointestinal issues. Yuck!" - Julie
Who would this apartment be perfect for?
"Someone desperate to try out Prospect Heights who doesn't mind walking down the hall in a bathrobe." - Lambeth
"If you're on a really tight budget but you just can't live with roommates this time, this is a step in between that you can afford." - Zeb​
"I don't know anyone who would pay $1,200 per month for a tiny room and a shared bathroom, but this place might be perfect for a recent college grad who lived in the dorms all four years with shared bathrooms and who still gets a stipend from mom and dad so they can afford the rent. That, or someone who is used to living with roommates and doesn't mind the bathroom share." - Julie
The Verdict(s):
LEAVE IT "I promise you can do way better." - Lambeth
LEAVE IT "Sharing a bathroom with roommates is bad enough. Sharing it with neighbors beyond your control is a whole other level." - Zeb
LEAVE IT "If this place were $600 per month you could ignore the shared bathroom but for $1,200 there are plenty of other options to explore."​
Ready to rent? Check out our How to Rent Guide...and if the apartment you like requires a guarantor that you don't have, see if the landlord accepts Insurent, a guarantor solution from one of BrickUnderground's sponsors.​
Brick Underground articles occasionally include the expertise of, or information about, advertising partners when relevant to the story. We will never promote an advertiser's product without making the relationship clear to our readers.