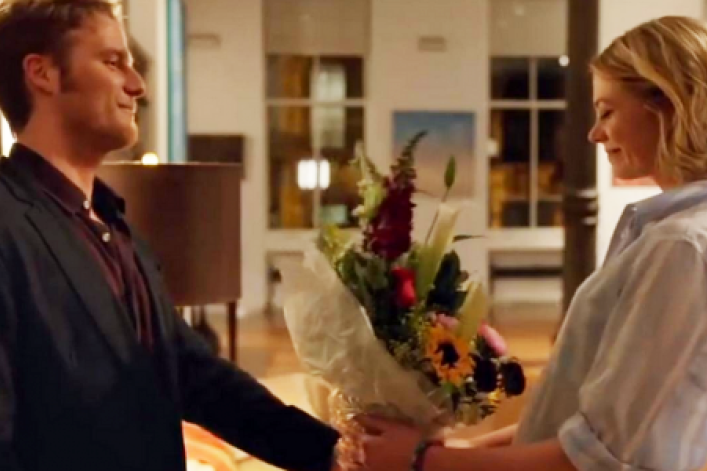 When a movie or TV show is set in New York City—and if the people making it are savvy—real estate becomes part of the story itself. (Anyone who's ever lived in this place will tell you it's a character, alright.) In Reel Estate, we look at some of the more memorable domiciles to grace the screen.
Fall TV season means at least one new pilot about Young People Living in New York, and this year's standout entry is Manhattan Love Story. The idea is a meet-cute story between Dana, an Atlanta girl chasing her dreams of a publishing career, and jaded native New Yorker Peter, who makes big bucks at his family's trophy-manufacturing company. Along the way, we hear their inner monologues and learn fun facts: Men think about sex all the time! And women? They think about purses. 
Critics (and armchair critics) have already lambasted the show for its lack of realism: a publishing peon with an immaculate designer wardrobe, a company that makes children's trophies with sprawling Manhattan headquarters, etc. But our focus is on the apartments, which are right in line with the show's "creative" take on New York life.
Though the characters don't talk much about their housing—again, the show isn't concerned with how New Yorkers actually behave—it seems that Dana is shacking up rent-free with her sorority sister, Amy, and Amy's creepy husband, David, in their gigantic Soho apartment while she gets on her feet: 
Three episodes in, no one's mentioned her apartment search, so it's fair to assume she'll be crashing there indefinitely. (If she were actually looking for a place to live, we'd assume it would be the primary topic of conversation.) And while some of us might want to abscond from David's weird attempts to get the two women drunk in hopes they'll hook up for his entertainment (seriously?), it does look like she gets her own room with a big window:
The characters are mum on the exact location of the apartment, but at one point, Dana and Peter are standing directly outside it, and the Soho Ugg store can be seen in the background. That puts the building on Mercer Street between Broome and Spring. In fact, it's just about the right location for their apartment to be in the luxe 40 Mercer, where two apartments are currently available, one for $11.5 million, another for $13.995 million. (Last year, Marc Jacobs rented out his apartment there for $37,500 a month.) A vague mention is made that Amy is somehow "loaded," though she seems to be a yoga/SoulCycle instructor. But we'd have to assume she's got cash to burn—or bought long long ago—if this is where she lives. 
As for Peter, he says he lives in Brooklyn Heights, where the median rent for a one-bedroom is $3,060 a month—chump change for a trophy mogul?—but his apartment is otherwise never seen or discussed. (We're bracing for cringe-y Brooklyn jokes in subsequent episodes.)
The fate of the show and the characters is still unclear—the ratings haven't been good—but maybe there'll be a storyline down the road where Dana and Peter move in together way too soon when she realizes her Junior Editor salary isn't enough for a place of her own. Now that would be a Manhattan love story.
Related: 
If these (nonexistent) walls could talk: the drawbacks are moving into a loft
Reel Estate: the eponymous brownstone bachelor pad in 1960's The Apartment
Reel Estate: the Upper East Side (and Urban Haute Bourgeoisie) apartments of Whit Stillman's Metropolitan
Reel Estate: Keeping up with Khloe Kardashian's rental budget
Reel Estate: Giant West Village lofts are "As Good As It Gets"?
Reel Estate: How to Marry a Millionaire? Shack up in an $8,000 a month apartment
Brick Underground articles occasionally include the expertise of, or information about, advertising partners when relevant to the story. We will never promote an advertiser's product without making the relationship clear to our readers.