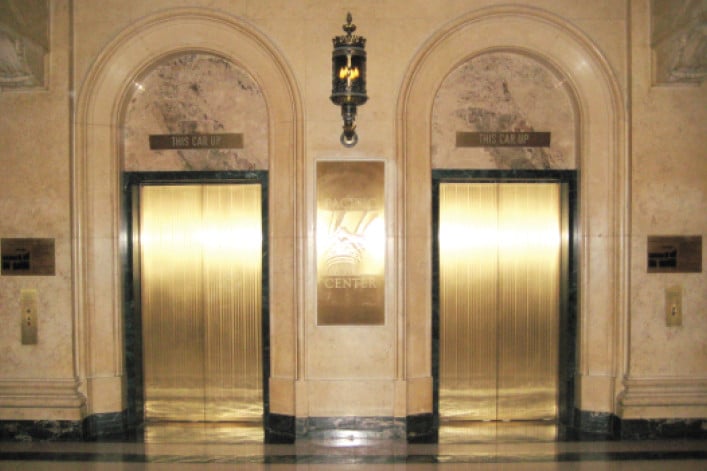 For many New York buyers, an elevator is a necessity. But saying goodbye to a walk-up comes with a price: not only are apartments in both doorman and non-doorman elevator buildings more expensive to buy, they're also more expensive to own, since common charges and maintenance fees tend to be higher every month. (Even the most minor repair can cost hundreds of dollars to fix, and elevator buildings are often swankier than walk-ups, and come with expensive extras, like doormen, that also bump up monthlies.) 
If you're on a budget but still dread a daily stair-climbing workout—we totally understand—know that not every neighborhood is created equal. We wanted to find out how prices for apartments in elevator buildings differ across the city, so we enlisted real estate search site Perchwell to crunch the data. The ranking, below, is based on asking prices for one-bedroom condos and co-ops in elevator buildings with and without doormen throughout Manhattan. (Since many co-op listings don't include information on square footage, we decided not to use prices per square foot, and instead focused on one-bedrooms to make it easier to compare similarly sized apartments.)
Not surprisingly, if you're looking to save, head uptown. One-bedrooms with elevators in Inwood, Fort George, Washington Heights, Hamilton Heights, Hudson Heights and Morningside Heights—all in Upper Manhattan—are the cheapest in the city, ranging from about $284,000 to $483,000, with monthly fees averaging a relatively reasonable $675 to $917. Meanwhile, your worst bet is probably Central Park South, a micro-neighborhood that extends a few blocks south of the park, where the average asking price for a one-bedroom with an elevator is almost $2.5 million, plus a whopping $4,272 a month in fees. (The numbers are likely skewed somewhat by a series of uber-luxury condos on sale along West 57th Street. Also, there aren't many non-elevator buildings in this area.)
Within those two poles, there's quite a lot of variation. For example, elevator one-bedrooms in the East Village shake out to about $1 million, with average monthlies of $1,185. Not far away on the Lower East Side, however, prices are half that: $575,530, with monthlies of under $600. 
The reason is partly because of the types of buildings prevalent in each neighborhood. The Lower East Side and Inwood are full of no-frills buildings—they may have an elevator, but they lack the doorman, gym or roof deck. Indeed, about three quarters of Manhattan apartments currently for sale come with elevators, but only about 10 percent are in these kinds of "basic" buildings, according to Perchwell founder Brendan Fairbanks.
"Battery Park City is relatively cheap based purely on average asking price, but since there is such a concentration of full-service buildings there, monthlies are very high," Fairbanks says. (The buildings also pay rent to a governmental agency to occupy the land, which increases monthly costs.) The average "PerchPrice," a Perchwell figure that takes into account both the asking price and monthly costs, is relatively high, at more than $1.1 million. 
Related:
How much extra will it cost to live in an elevator building?
Is your elevator too slow? Find out
New website Perchwell offers a different way of valuing apartments
Brick Underground articles occasionally include the expertise of, or information about, advertising partners when relevant to the story. We will never promote an advertiser's product without making the relationship clear to our readers.