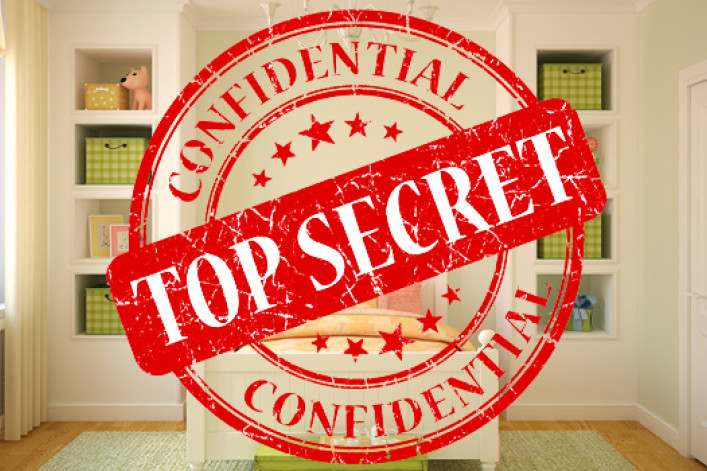 As part of our three-part series exploring the world of off-market listings, today, we dive into the ups, downs, and logistics for sellers looking to offload an apartment without a traditional listing that's easily accessible to the public. (For yesterday's guide to industry lingo, click here, and for our guide for would-be buyers of 'whisper' listings, click here.)
THE UPSIDES:
Sellers typically want to get as many eyeballs as possible on their real estate—the more interested parties, the higher the sale price—but there are plenty of reasons people choose to sell off-market (or find themselves talked into it).
Often, apartment owners who haven't officially decided to sell—or have been approached by an interested buyer—will let brokers know that they'd consider it, for a set price. An off-market sale can happen if a buyer materializes who's willing to pay up. "There's not always that much negotiation since it's not really on the market," says Citi Habitats agent Nathaniel Faust.​​ That's particularly true these days when demand for apartments wildly outpaces supply, and buyers are inclined to be extra accommodating. "The market is strong enough that you don't have to open your doors to everybody," says Coldwell Banker Bellmarc Group agent Lisa Garey.​ But, Faust notes, "It depends on how unreasonable your demands are, and most people who really want to sell will list their apartment."
Still, there are other reasons someone might opt to sell behind close doors. It can be a good option for anyone who doesn't want strangers tromping through their home for open houses, or those with kids whom they'd rather not shoo out of the apartment for every viewing (the Times profiled one such seller back in 2011). Celebrities and other VIPs often prefer off-market sales to keep their transactions out of the newspapers (see: Alan Cumming's Gramercy studio). Off-market can also be a wise choice for owners who have tenants they'd rather not spook until a sale is final.
It's been known to be a popular choice with flippers, too, says Donald Brennan, the principal of Brooklyn-based brokerage Brennan Realty Services. "The timing is key," he says. "With these types of sales, we're usually trying to get a deal done very quickly, with no contention. In order to make things easy for the seller, it's often all-cash and non-contingent. Quick closings are important." If a professional flipper knows a broker with a buyer lined up, the listing may never go public, though this is less common in a fast-paced market where it doesn't take long for sellers to get a deal done the traditional way. 
And then there's that broker's fee. With off-market deals, there's often only one broker involved, as the listing broker tries to bring in buyers they've already got on hand (as opposed to the normal process of blasting the listing out to other brokers, who bring in their buyer clients). With just one broker involved, the standard 6 percent commission—paid for by the seller and split between a listing broker and a buyer's broker—becomes much more flexible, sometimes as low as 3 percent, says HomeCanvasr co-founder Jonah Landman. With a lower fee to pay, a sale price that isn't the absolute maximum might not be the end of the world. "I've definitely seen people leave money on the table because they sell without hitting the market," says Landman, "and they know that and are OK with it." 
THE DOWNSIDES: 
In a market heated enough to breed an entire network of behind-the-scenes deals, almost everyone we spoke with agreed that if you're a seller and looking to get the highest price possible, your best bet is to openly list your apartment. "It's a disadvantage to the seller to go off-market," says Faust. "A person making an offer on an off-market property probably isn't competing against anyone else, so they have no incentive to bid higher. This process can benefit the buyer, and benefit the broker, but it rarely benefits the seller."
Aside from the nagging feeling that you might've gotten more if there had been a bidding war, your whisper listing might not go over well with the building's board, so they might not approve the sale, Garey warns. "A board might wonder if you'd actually gotten market price," she explains. "To protect everyone else's property values, they want the highest comps possible." 
HOW TO MAKE IT HAPPEN
That said, if you want to go this route, there are different ways to handle an off-market sale, depending on your situation. If a broker has approached you because a buyer is interested in your property—an increasingly common tactic in this market—you'll want to do a little background research to make sure they're legit. Other than that, you can more or less name your price (within reason, of course), kick back, and wait to see what they bring you.
If you're thinking it may be time to sell but want to gauge interest first, Faust says, "What usually happens is that a seller makes one or maybe a few brokers aware that they'd sell for a certain price, and that gets spread around quietly." At this point, you won't have signed an "exclusive" listing agreement with any one broker, and instead of typical open houses, you and your broker (or brokers) can schedule individual appointments on a case by case basis. If you're casting a wider net, Garey notes, your listing might hold a "broker's open house" for professionals who may have buyers interested in your home. Another option for dipping your toes in the water: HomeCanvasr allows sellers to list their homes (either on their own or through a broker) to assess potential interest without making their information public.
If you do want to move forward with one specific broker while keeping the listing hush-hush, you'll likely end up signing what's known as an "off-market exclusive." In this case, information about the apartment will be circulated more widely—we recently saw a blast from a Douglas Elliman broker touting an "OFF MARKET 2-BEDROOM—BREATHTAKING VIEWS" that was not officially listed.
One logistical thing to keep in mind: brokers who are members of the Real Estate Board of New York trade group are required to enter the apartment into REBNY's listing database within 24 hours of signing an "exclusive" contract with the seller—otherwise the listing would become the illegal version of a "pocket listing." This lets thousands of other REBNY brokers in the city know that the apartment is up for sale. That is, unless the seller specifically requests to keep the place off the open market. It's still possible to do everything above board, and REBNY's attorney Neil Garfinkel tells us that as long as you specify in writing that you'd like to sell without a formal listing, you (and your broker) will be in the clear.
Related: 
Buy and sell like a NYC insider: your guide to elusive 'whisper' listings (part 1)
Buy and sell like a NYC insider: your guide to elusive 'whisper' listings (part 3)
Broker trying to talk you into selling? How to make sure you get the best deal
Buying a Brooklyn brownstone? New website unearths "secret" listings
But do you have compassionate cojones? (And other questions to ask before hiring a broker)
Brick Underground articles occasionally include the expertise of, or information about, advertising partners when relevant to the story. We will never promote an advertiser's product without making the relationship clear to our readers.