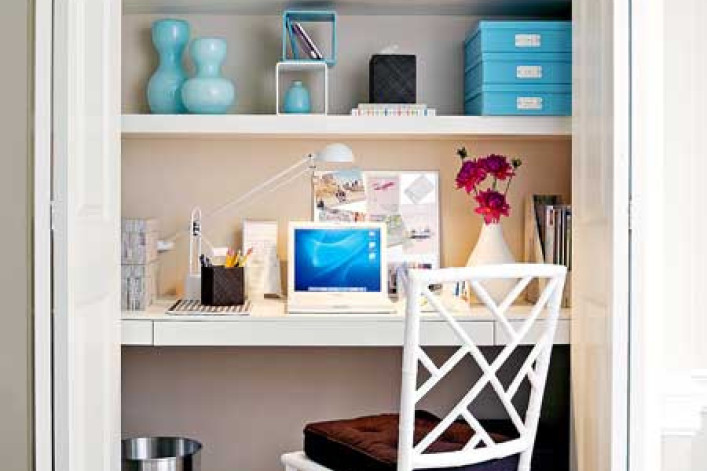 Maybe you work from home, or just need a spot to sit while you pay the bills, or want a designated place for the kids to do their homework. Whatever the reason, the home office is becoming more and more of a necessity. But in New York City, where the term "spare room" is pretty much unheard of, where to squeeze in such a space is often a challenge.
Here, a few tips for carving out a home work space that, well, works in even the tiniest of apartments, courtesy of Zillow and Sacramento-based interior designer Kerrie Kelly:
Location: You don't need a whole room. Any area large enough to accommodate a surface and storage will do. A simple desk set up in the bedroom/living room/foyer is the quickest and easiest way to create a "home office." Minimize mess by choosing a desk with built-in drawers of varying sizes (including one that can hold files). An underused closet is another option. Clear it out, paint or paper it a cheery color or pattern, then install shelves including one with enough clearance to accommodate a work station (that is, tall enough so you aren't bashing your head on the shelf above). Add a filing cabinet below and, voila. A kitchen counter with a free corner and open space underneath so you can sit there (think breakfast bar) will also do. Assign a nearby cabinet for office storage and keep any food free and clear to avoid crumbs and spills.
Must-haves: Besides a surface, you'll need a good chair. Choose one with an adjustable seat and, ideally, armrests to prevent aches and pains. Natural light is great but a workspace requires ambient and task lighting as well, so invest in one or two desk lamps. Storage is the third MVP of home offices. Make sure you have enough space to store the inevitable mass of paper and paraphernalia that will accumulate. A filing cabinet is an easy add-on to any work area. If the space is to be used by more than one person, assign each a drawer or color-coded area of the filing cabinet for their use only.
Accessories: The more functional and fun the space, the more you're likely to use it. Make sure it's well stocked with everything you need (paper, pencils, clips, tape, research materials, etc.). Organize it colorfully, with a punchy desk set, or creatively in, say, clear glass jars. Customize the space with a vase of flowers, a few fun photographs or, for kids, blackboard paint on the desktop (it's both fun and practical).
Related:
Home offices so swanky you'll never want to step foot in a cube again
New condos let you work from a home office—but not in your apartment
A space-saving desk for the tech addict in all of us
Does a home office at this $2,950 a month Upper East Side one-bedroom offset the trek to transit?
Brick Underground articles occasionally include the expertise of, or information about, advertising partners when relevant to the story. We will never promote an advertiser's product without making the relationship clear to our readers.