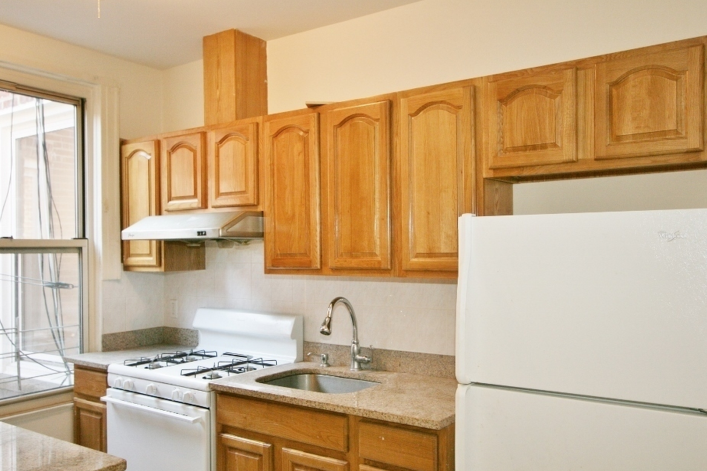 Bay Ridge may be in the outer reaches of Brooklyn, but it's beloved by its fiercely loyal locals, and just about the only waterfront neighborhood in NYC where you could conceivably score a deal like this one: a spacious two-bedroom (with a real kitchen and lots of natural light) for just $1,500 a month. Of course, no good deal is without its tradeoffs, and in addition to the long commute, this apartment happens to be right above a local watering hole, LoneStar Bar & Grill, best known as a haven for sports fans.
Is it worth dealing with the noise (and extra train time) for a solid apartment at a good price? We consulted our experts, including RentHackr founder Zeb Dropkin as well as real estate bloggers and veteran NYC renters Julie Inzanti and Lambeth Hochwald (who have a combined 27 years of experience in the world of New York rentals), for this week's Take It or Leave It.
Size: 2-bed, 1-bath
Location: 8703 5th Avenue (between 87th and 88th)
Cost: $1,500/month
Flexible Layout: No​
Days on the market: 19 days
Subway: R at 86th St.; N at 8th Ave; N,R at 59th St.; D at 18th Ave.
Pros and Cons:
"This space is pretty cookie-cutter. But the price is great for a spacious two-bedroom with plenty of natural light and newly renovated interiors. Bay Ridge is also a fun neighborhood with great food options and shopping. There is probably plenty of street parking, too. Plus you can have pets, shares, guarantors... It is nice to have an understanding and cooperative landlord! I'm not crazy about the plain boxy room style or the Home Depot country cabinets in the kitchen, but $1,500 a month for 1,000 square feet sounds nice. There are some suspicious cables dangling outside of the kitchen window that someone should probably take a look at." - Julie
"It's an affordable, decent-sized, recently renovated two-bedroom that allows pets and guarantors. It's a lot closer to Staten Island than Manhattan, though, and it will take you 45 minutes to get to Union Square on a good day." - Zeb 
"This shipshape two-bedroom is a steal at $1,500, so, if you're up for a hike to Manhattan, not to mention a walk-up, there's a lot to recommend this place. Best of all, if you want to pop right downstairs for a drink, you're in luck as this apartment is right upstairs from the 
LoneStar Bar & Grill
, a local favorite, which may be why the price on this pad was recently reduced." 
- Lambeth
Who would this apartment be perfect for?
"A couple with one or two kids. Or perhaps a couple where one partner works from home and can use the second bedroom as an office. In either case they should be interested in exploring Bay Ridge rather than partying in Manhattan." - Julie 
"Some hustling roommates who are just getting to NYC and are starting out on a tight budget. We've all been there. You can make this far off spot work until you can afford to relocate, and you can live in decent space." - Zeb
" A new grad who doesn't mind a commute, or football fans screaming at the multiple TVs at LoneStar, and need a guarantor to secure the deal."​ - Lambeth
The Verdict(s):
TAKE IT "Even though the design is pretty underwhelming, the apartment is spacious with plenty of light and close to the train. You can make it interesting with the right decor. Plus, Bay Ridge is a fun and friendly neighborhood to live in."  ​- Julie
TAKE IT "If you know you can make this location work for you and a roommate for at least the next year, it looks like a good deal." - Zeb
​LEAVE IT "Otherwise you'll have to be prepared to do a lot of reading on the R or when you can't sleep in the wee hours thanks to the LoneStar partiers down below." - Lambeth
Ready to rent? Check out our How to Rent Guide...and if the apartment you like requires a guarantor that you don't have, see if the landlord accepts Insurent, a guarantor solution from one of BrickUnderground's sponsors.
Brick Underground articles occasionally include the expertise of, or information about, advertising partners when relevant to the story. We will never promote an advertiser's product without making the relationship clear to our readers.